Grant Cordell
REALTOR®, Licensed in Missouri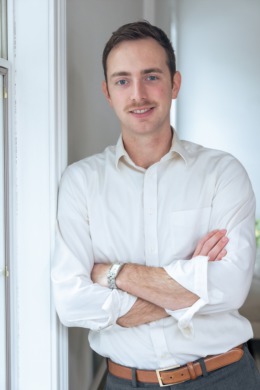 Commercial Real Estate Specialist
Grant Cordell is a seasoned REALTOR® with a remarkable talent for building robust and lasting relationships in the industry. His professional journey is a testament to his strong work ethic and unwavering dedication to excellence.

As a husband and father of two, Grant is not only committed to his career but also to his family, embodying the values of balance and responsibility. When he's not immersed in the world of real estate, Grant can be found helping his family on their ranch and . This dual passion for both real estate and farming underscores his holistic approach to both life and business.

Grant approaches his real estate endeavors with a data-driven mindset, utilizing analytics and market insights to provide his clients with the most informed decisions. His continuous quest for knowledge and growth is evident through his ongoing studies of science, history, and the classics, which he enjoys in his leisure time. Beyond his professional pursuits, Grant is a musician who finds enjoyment and creativity in playing music.This artistic outlet allows him to balance the demands of his busy career with personal expression and fulfillment.

Grant Cordell is not just a hard worker; he's a passionate professional who thrives on connecting with people, serving his clients' needs, and creating value in every transaction. Whether he's closing deals or enjoying quality time with his family, Grant's dedication and commitment shine through, making him a respected and trusted figure in the world of commercial real estate.
Testimonials
Grant is about the best realtor you could get. He is genuinely caring, and works around the clock to find you the best deal. He is honest, thoughtful, and always keeps the customers best interest at heart. I would recommend him to anybody. If you want to buy a home, Grant is your man!
Kellie Stewart & Jackson Bick, St. Louis Buyers
Working with Grant was a great experience. As a first time homebuyer I had a ton of questions and Grant helped answer all of those and walk us through the process. He took my home preferences seriously and looked out for our best interests throughout the entire process. Most importantly, Grant was super easy to reach and communicate with. I highly recommend working with Grant.
St. Louis Buyers
We worked with Grant and he made our First Real Estate Purchase a breeze! Very knowledgeable and helpful throughout the entire process. He even took time out of his vacation out of state to assist us in getting our first home, I would recommend Grant to anyone looking for a real estate agent.
St. Peters Buyers
Would definitely work with Grant Cordell again. He was very knowledgeable in helping us understand the contract Grant, worked hard to get us the highest price for our house and kept us up to date about potential buyers. Grant had two open houses to show our house plus put lots of work in advertising. We had the perfect realtor. In our case, the house was an inheritance so Grant had to work with three sellers. He did a great job and was very patient. Would highly recommend Grant to sell your home!!
Union Sellers
Grant helped my husband and I find our new home. He quickly understood what we were looking for and helped to find the right home. He went above and beyond through closing and has even followed up with up afterward. I would highly recommend Grant
Wentzville Buyers
More Testimonials