5 Reasons Now is a Great Time to Sell Your Home
Posted by Beth Carr on Monday, November 2, 2020 at 3:00 PM
By Beth Carr / November 2, 2020
4 Comments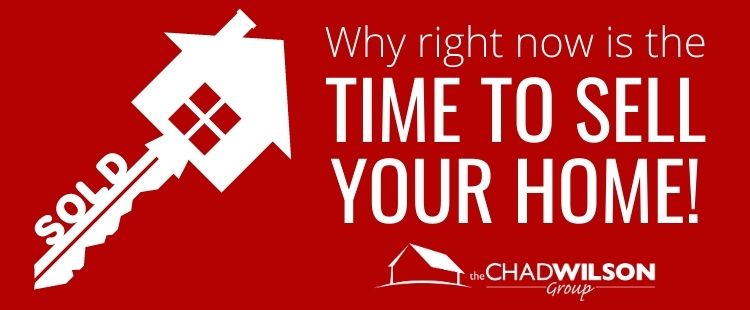 Like so many others, you might have found yourself thinking about what else you want from your home. More space, more land, more rooms. The list goes on and on. If you feel like you can't make the move you've been dreaming of, you may be surprised. The real estate market changes often, so it can be hard to know when the best time to sell your home may be. What we do know is that we are in a strong sellers market.
"Sellers shouldn't get caught up in trying to perfectly time the market to sell their home," Chad Wilson, team leader said. "It is difficult, even for those who pay close attention to all the market indicators, to predict a market shift until it is already happening, and by then you have already lost the equity you once had in your home."
For anyone thinking about selling their home and moving into something different, the time is NOW. Let's take a closer look at why.
1) Home buyer demand is high
There are many reasons that more people are looking to buy right now. Changing needs and lower interest rates in the mortgage industry are both driving home buyers to the market. Homesite Mortgage, a local lender we frequently work with and trust, has seen close to a 50% increase in volume year over year. While some of this is due to people refinancing to the lower rates, over 60% of that can be attributed to those who are obtaining mortgages to purchase a new home. Buying power is higher than ever, and buyer needs are changing, which have new and first-time home buyers entering the market at a rapid rate.
2) Home inventory is low
It is no surprise to anyone in real estate to see seasonal trends in the market. It's typical for the inventory of homes for sale to build from the start of the year and peak around May or June, then decline again. However, in 2020, the inventory never really grew to its normal numbers. Instead, it stayed fairly steady and has begun the normal, seasonal decline. We can speculate as to why, but what it really comes down to, is that there are more buyers than sellers. This means that supply and demand is driving the home prices up as more buyers are competing for fewer homes and often buying them at more than a home sellers' list price. With sellers getting more for their homes, they're able to make moves they never dreamed of before.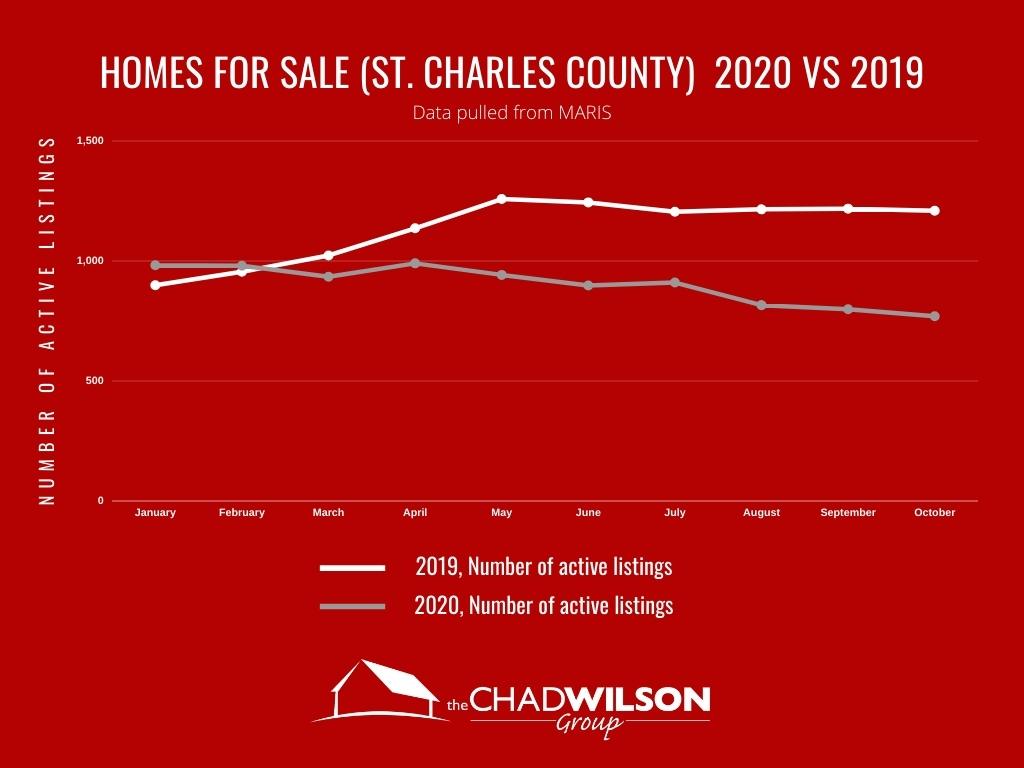 3) Home prices are up
With more buyers and fewer sellers, those that do sell are reaping the benefits. The median existing-home price in St. Charles County for the month of September 2020 was $261,000, which is up from $235,000 in September 2019. That's a $26,000 increase! Median sale prices have continued to trend upward, as supply struggles to meet buyer demand. With more first-time home buyers entering the market due to rising rent prices and lower interest rates, the need for homes below the $425,000 price point can hardly be met. Homeowners are finding that they have gained tens of thousands of dollars in value over a short period of time. Now is the perfect time to take advantage of increased home prices, especially if your home has some of the popular features that so many buyers are looking for.
4) Mortgage rates are at record lows
Low interest rates have been accelerating the decision-making process for buyers and sellers alike. Fall 2020 brought historically low rates for a 30-year, fixed-rate mortgage, with interest rates sitting around 3% or less for those who qualify. This means that buyers who were contemplating making a purchase are more inclined to do so, and they are able to qualify for more than they could before.
James Randall, with Homesite Mortgage explained, "A borrower putting 10% down on a $300,000 purchase would pay $150 less per month at a current market 3.00% rate then they would at the 4.00% rate that would represent the current 52 week high average. Another way to think about this is that a borrower buying a $330,000 home with 10% down at 3.00% would have the same principal and interest payment as a borrower putting 10% down on a $300,000 at 4.00%."
For home sellers, this not only means that they will likely have a larger buyer pool and more competitive offers, but they can also take advantage of the ability to increase their own buying power for their next home.
5) Home buyers needs have changed
Coronavirus has already left its mark on the world in many ways. There's no doubt, it has homebuyers rethinking what they want most in their next home. City dwellers are being drawn to more suburban areas, with land and room to grow. Homes are doubling as schools, daycares, offices, and gyms more than ever before. Homes with pools can hardly stay on the market, as people look for backyard entertainment options. People are home more often and using their homes in more ways. This means that people who didn't plan on moving before are now looking to make a move that better suits their new needs. The demand for homes with land, amenities, and home offices is huge.
The Bottom Line
Simply put, there are not enough homes for sale to meet the current buyer demand and houses are selling for more than ever. If you have even been thinking about a move, there may not be a more opportune time than now. Home sellers are leveraging their current equity to make moves they never dreamed of before. You might be surprised to find out what your home is worth today.
If you are looking to sell your house, our highly experienced, full-service, team of real estate agents is ready to serve you. See how our strategic and innovative marketing plan and experienced negotiators can help you get the most from your home sale and get you into your perfect home today!