8 Western St. Charles County Parks that Your Teens will Love to Explore
Posted by Jennifer Smith on Saturday, May 2, 2020 at 9:29 AM
By Jennifer Smith / May 2, 2020
Comment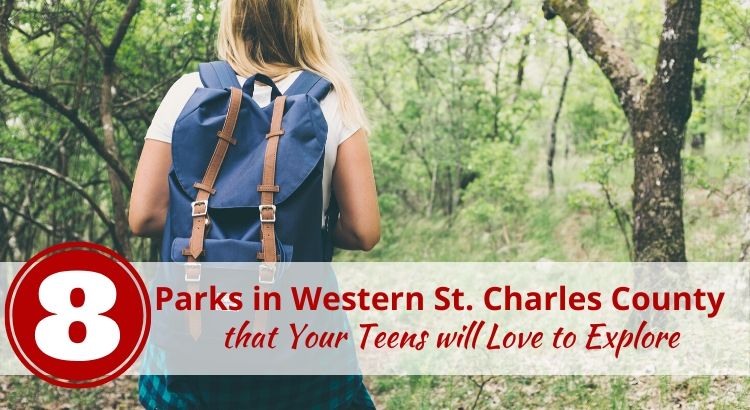 Let's face it. Families are maxed out right now. They are sick of their same 4 walls and their own backyard. Yet, they also want to keep their families safe by only going places when necessary. Many upcoming vacations have been cancelled, and plans for the summer are up in the air, leading to stress and anxiety. My family has found a remedy to feeling cooped up.
When my kids were little, we visited the local parks quite often, usually spending hours on the playsets. As they've gotten older, now 19 and 16, the time spent at the parks has lessened significantly, although we had a good run there when Pokemon Go was really popular a couple of years ago since PokeStops were plentiful at the local parks.
During this COVID-19 pandemic, we have rediscovered the joy of visiting the beautiful parks in our area. And in fact, we are viewing the parks through a very different perspective now that we are in a different phase of life. We are discovering new areas of the parks that we never even knew existed. Note that during this time, social distancing must be adhered to and that the playground equipment, including swing sets, are fenced off.
I think we may take for granted that our St. Louis metro area communities have an amazing park system. In talking with my family in other parts of the country, they indicated they need to travel more than a half hour to get to the nearest park. From my home in St. Charles County, there are 16 county parks to visit, all within a half hour of my home, and also several parks within each city owned and maintained by the cities' park districts.
I thought I'd turn our adventures into some inspiration for you to consider exploring our beautiful parks, maybe in ways you have never seen or experienced before.
The list below, based on MY kids' personal preference, ranks Western St. Charles County's top parks for their overall teenage enjoyment to better help you discover new parks you may want to visit this summer with your teens, or even without your teens.
1. Indian Camp Creek Park
On one beautiful 80 degree day, just after Chad and I finished talking about our budget, the kids and I hopped into the car (a little guiltily, I might add) to visit Indian Camp Creek Park in Foristell. It's St. Charles County's largest park with over 600 acres to explore. Frankly, when my kids were little, we probably explored 2 acres of the park. We often frequented the playground area towards the front of the park and the splash zone adjacent to the fishing lake with the frog and turtle sculptures. We usually finished the park visit with a climb to the park's iconic restored silo, which never failed to provide an outstanding view of the beautiful park prairies.
Well on this day, we had intended to hike some trails at the park, and yet we stumbled upon something that we had no idea was there. After randomly stopping at the first playground pavilion, and following the sign towards a hiking trail...just across a little footbridge, we felt like we had been teleported to the Smoky Mountains (minus the mountains). There in front of us was Indian Camp Creek. A few families were wading, little preschoolers with beaming smiles were back floating; Moms were relaxing on the "beach", Dads were skipping rocks. We all let out a gasp. How did we not know that this was here! We followed the trail along the creek for a long way, finding beach areas and more families enjoying the day.
When the realization hit that we would have to come back another day with appropriate "beach" accessories, we thought, "what else haven't we explored here?" And from there the challenge was born to find more unexplored areas! We drove further into the park to find another trailhead along the Indian Camp Creek Circle drive. This trail ran along Big Creek. This trail offered a great view of the creek, as it ran along a small cliff overlooking the creek, although we found 1 area with a path leading down to the creek. We shared the trail with some bicyclists.
So we plan to come back soon, bringing water shoes and beach towels. And we can't wait!
WHERE: Located 7 miles North of I-70 on Hwy-61 in Foristell. Exit Hwy-61 at Dietrich Road.
2679 Dietrich Road, Foristell
HOURS: 7 a.m. to half an hour after sunset.
WEBSITE: Indian Camp Creek Park
ACTIVITY/AMENITIES: ✪ Biking ✪ Camping ✪ Creek ✪ Disc Golf ✪ Fishing ✪ Hiking ✪ Horse Trails ✪ Observation Tower ✪ Picnic Shelters ✪ Playgrounds ✪ Trails ✪ Spraygrounds ✪ Wildlife Viewing
2. Klondike Park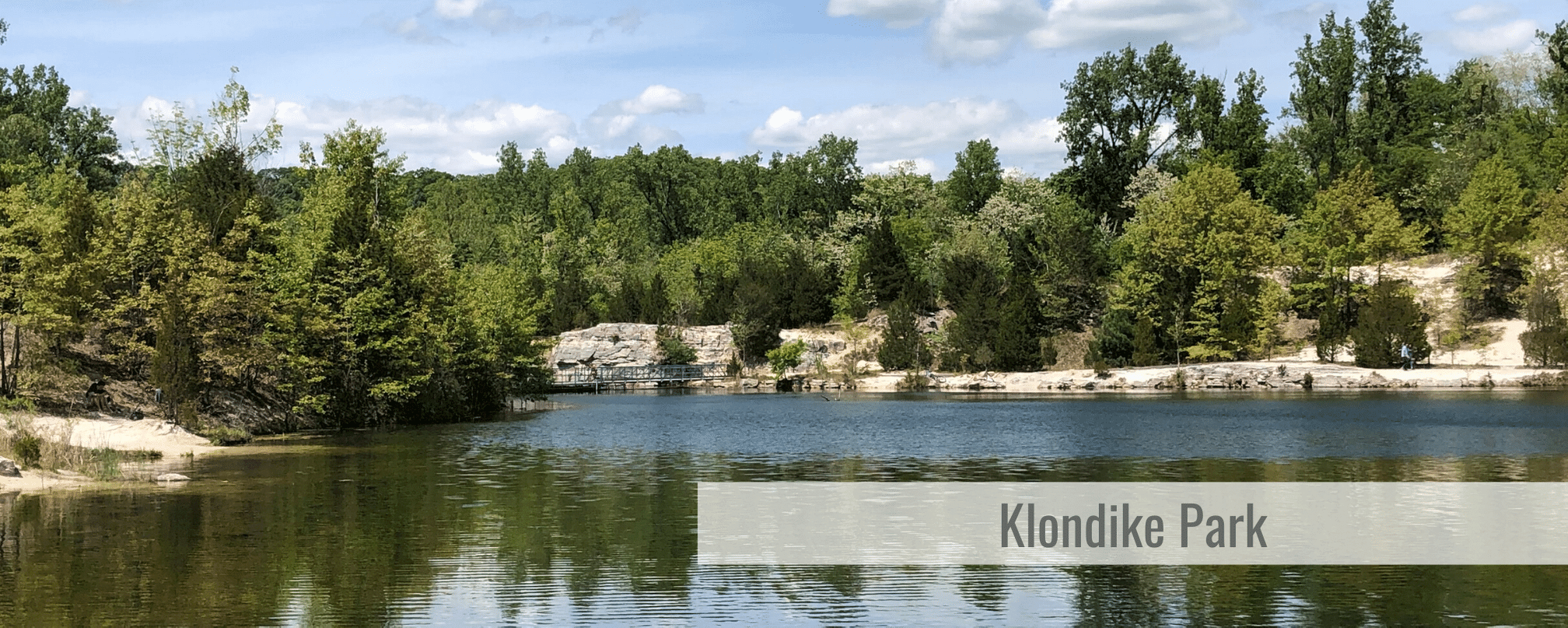 Why, oh why, had I never been to Klondike Park before?! My college-age daughter has frequented this park with her friends many times since she started driving and going on adventures independent of me. And I have often marveled at the pictures she has taken at Klondike Park. I can tell you, the pictures did not do it justice.
The drive to Klondike was so beautiful, traveling through Augusta wine country with a glimpse at slower life in "downtown" Defiance. The drive along Highway 94 runs alongside the Katy Trail in some places. But I digress, our mission was to explore Klondike Park.
From the main entrance, we drove to the wedding/special events center and parked in the adjacent lot to pick up our trailhead. The trail begins paved and climbs up very sharply for a ways. At the top of the hill, you can venture to the scenic overlook of the Missouri River, or take the 1.16 miles "Hogsback" wooded trail. The scenic overlook provides a beautiful view from the bluffs of the Missouri River Valley. We headed back to the Hogsback Trail; it was a wonderful trail which at first ran along the top of the bluff with scenic views of the river, and then it ran at a gentle decline, zigzagging its way back down the hill, where we hopped over little springs, leapfrogged across rocks and had a lot of laughs along the way.
Afterwards, we set out to find the area where a lot of high school seniors take their senior pictures, a setting with a lake, rock cliffs, and a rock beach. We found it off the main road which loops around the park. The lake was once an old silica sand quarry, and it was breathtaking. It is the perfect location for fishing, non-motorized boating, and just basking on the rock beach (Canoe rentals were closed at the time we were there.).
Further down the road, we found access to the Katy Trail, wildlife viewing areas, and campsites, including rustic cabins.
The park also boasts a boat ramp to the Missouri River.
Although our family really enjoys the comforts of air conditioning, I think we would all welcome spending a night in the cabins at Klondike Park. There was just so much to see and explore at the Park, that I've put an overnight camping adventure on our summer bucket list.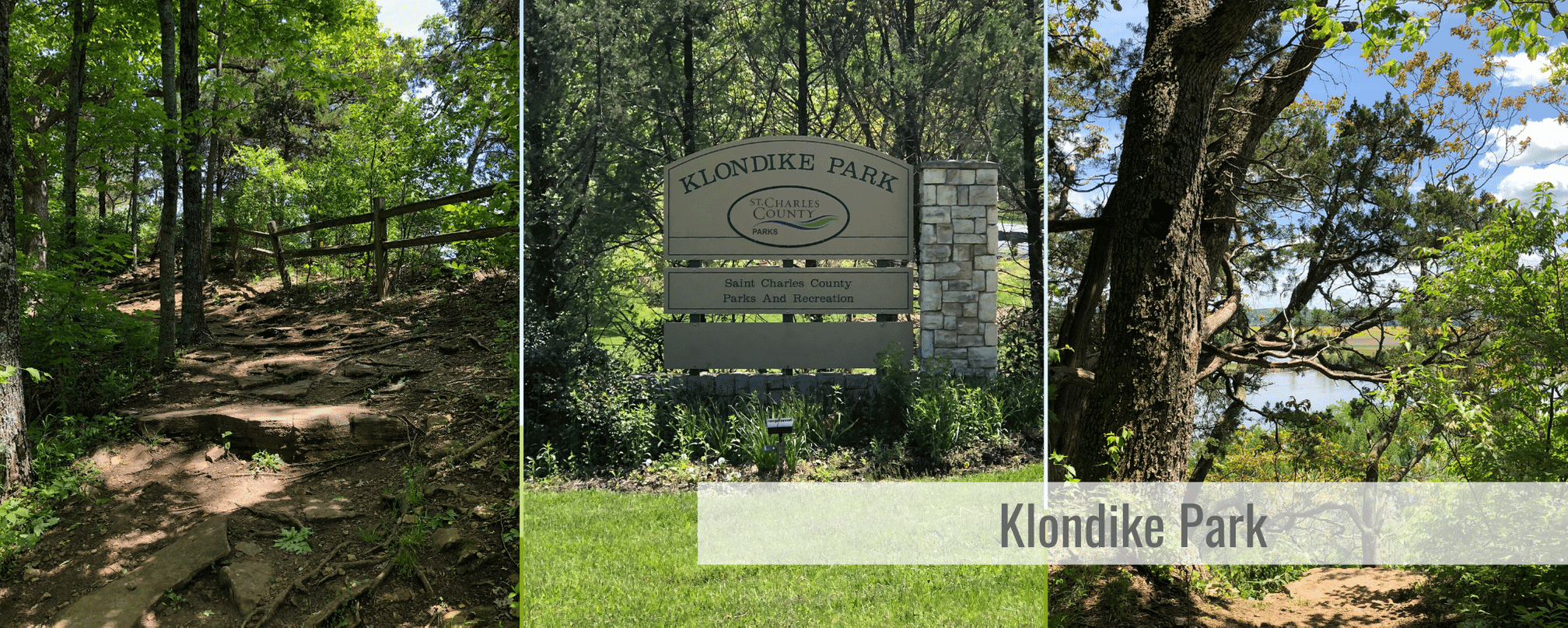 WHERE: Located 14 miles West of I-64/40 on Highway 94 South in Augusta.
4600 Highway 94 S., Augusta, MO 63332
HOURS: 7 a.m. to half an hour after sunset.
WEBSITE: Klondike Park
ACTIVITY/AMENITIES: ✪ Biking ✪ Boating ✪ Boat Ramp ✪ Camping (Both Campsites and Cabins) ✪ Fishing ✪ Hiking ✪ Lake ✪ Pedestrian Trails ✪ Picnic Shelters ✪ Playgrounds ✪ Party and Special Event Rentals ✪ Trails ✪ Wildlife Viewing
3. Quail Ridge Park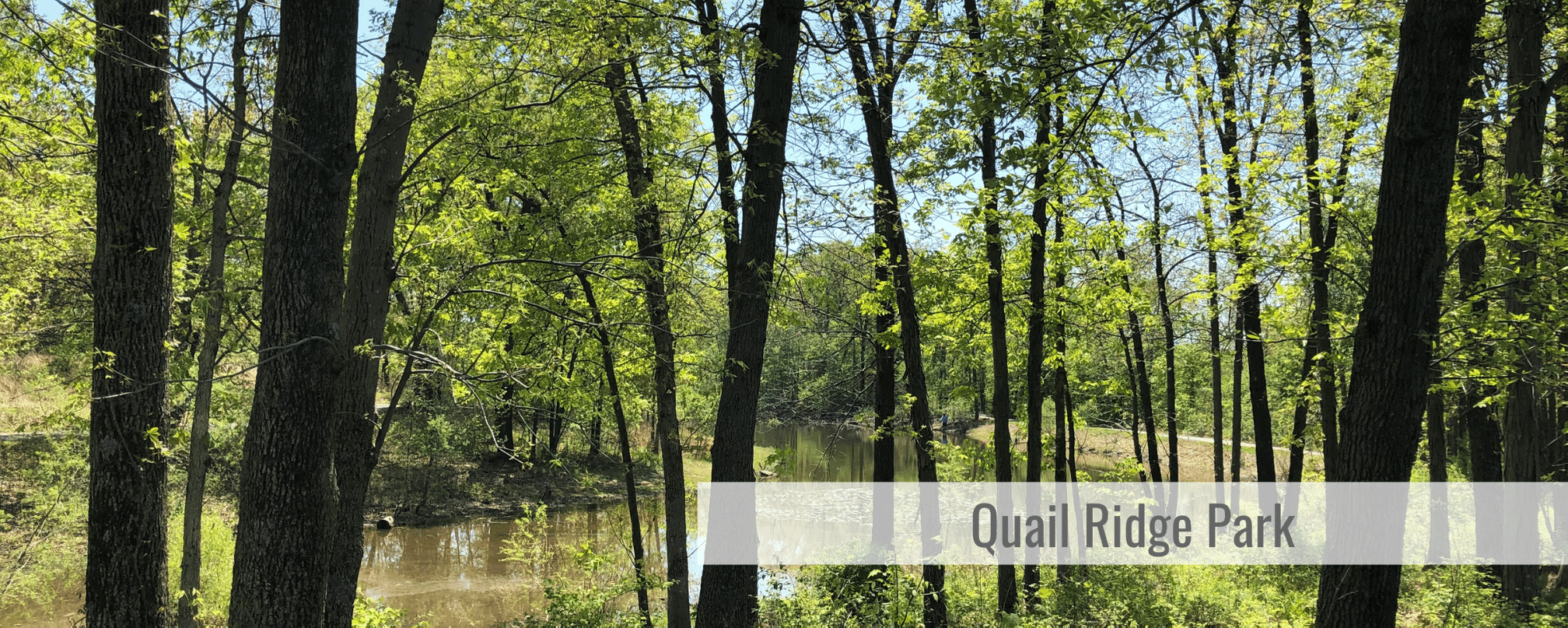 Quail Ridge Park in Wentzville is perhaps the park that my family has visited most often in our 20 years of living in St. Charles County. The teenagers often pick this park for their Homecoming and Prom pictures. When the kids were little, we enjoyed the playgrounds frequently. Briefly one summer, we have great memories of letterboxing at the park on the trails.
This spring we have enjoyed finding new trails and going further than we have ever gone before on natural surface hikes, covering much more of the 250 acres of meadows, wooded hillsides and wooded paths along Peruque Creek. Some of the hiking trails intersect with the disc golf course located deep in the woodlands, which makes for an entertaining hike.
The off-leash dog area is currently closed during COVID-19, along with the picnic areas and playgrounds.
We are planning on visiting again soon, and this time with our fishing poles, enjoying a leisurely afternoon along the pond.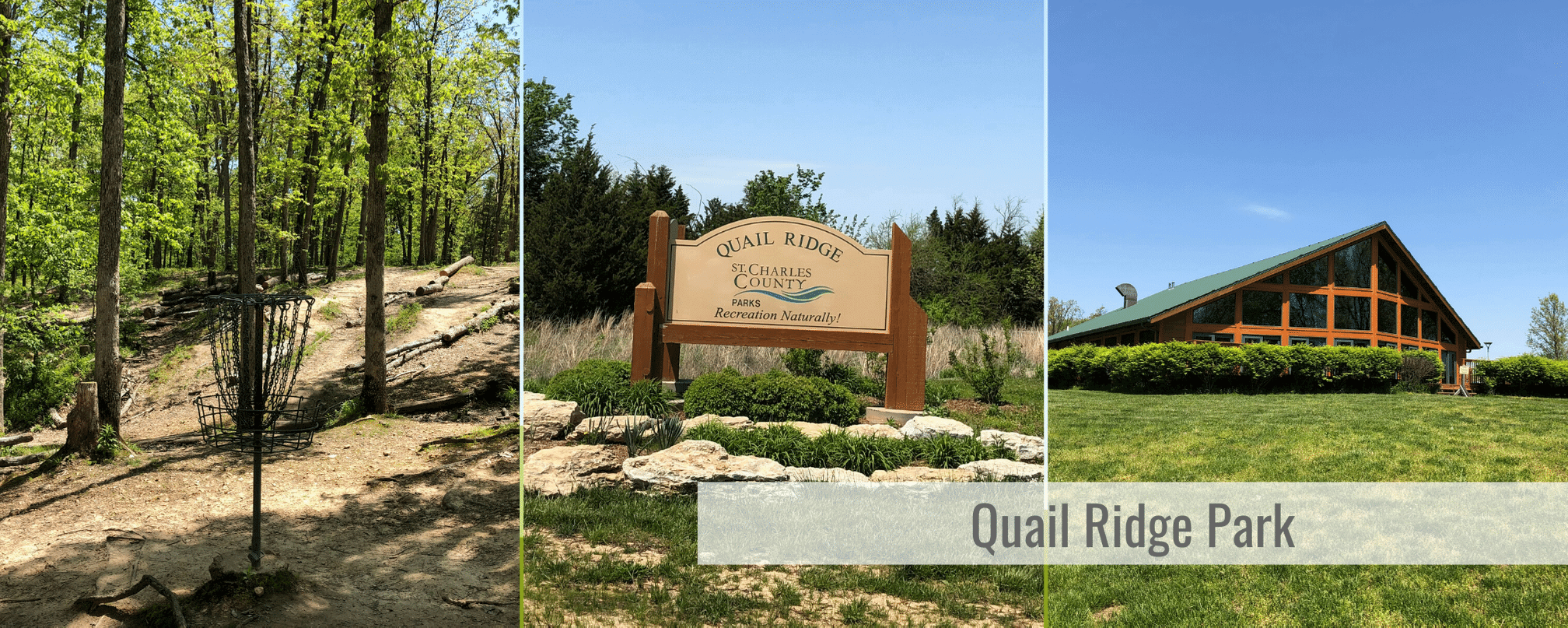 WHERE: Located at the crossroads of I-70 and I-64/40 in Wentzville. Exit I-64/40 at Prospect Road and head East onto Duello Road. Make a Right onto Interstate Drive. Park is about 1 mile on the left.
560 Interstate Drive, Wentzville, MO 63385
HOURS: 7 a.m. to half an hour after sunset.
WEBSITE: Quail Ridge Park
ACTIVITY/AMENITIES: ✪ Biking ✪ Camping ✪ Creek ✪ Disc Golf ✪ Dog Park ✪ Fishing ✪ Hiking ✪ Party and Special Event Rentals ✪ Picnic Shelters ✪ Playgrounds ✪ Trails ✪ Wildlife Viewing
4. Broemmelsiek Park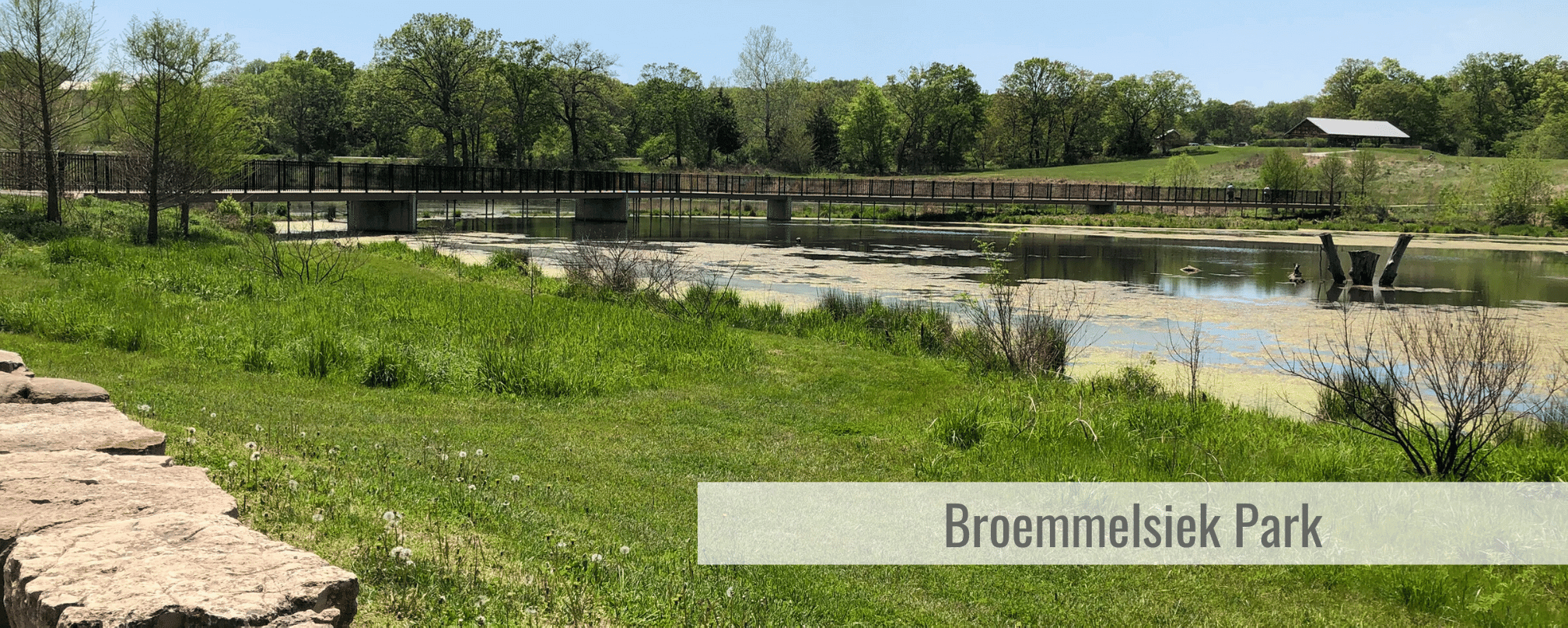 Broemmelsiek Park in Defiance is a newer park to our family. The park was built shortly after my kids outgrew their love of playgrounds. We've only been to the park for fall pictures in the meadows at sunset, so we didn't know all of the amazing amenities that this park offers.
The first thing that struck us was how many people brought their bikes to this park. We started out on the hiking trails through the woods and quickly realized that this park must be a hot spot for bikers. We saw bikers of ALL ages enjoying the hillside wooded trails. We made a note to ourselves, next time we'll bring our bikes. The trailhead started at a bridge which overlooked a creek with beautiful natural stones flanking the shoreline. Kids were running through the shallow creek, making this a perfect spot on a hot, summer day.
After the hike, we drove to the large fishing lake, and noticed for the first time that they allow non-motorized boating on the lake. If we had a canoe, the day would have been perfect! We noticed that they had a kiosk for renting canoes, and yet, unfortunately, it was closed that day.
I understand that there is an astronomy viewing area, but we couldn't find it, so we'll have to come back another day, with our bikes.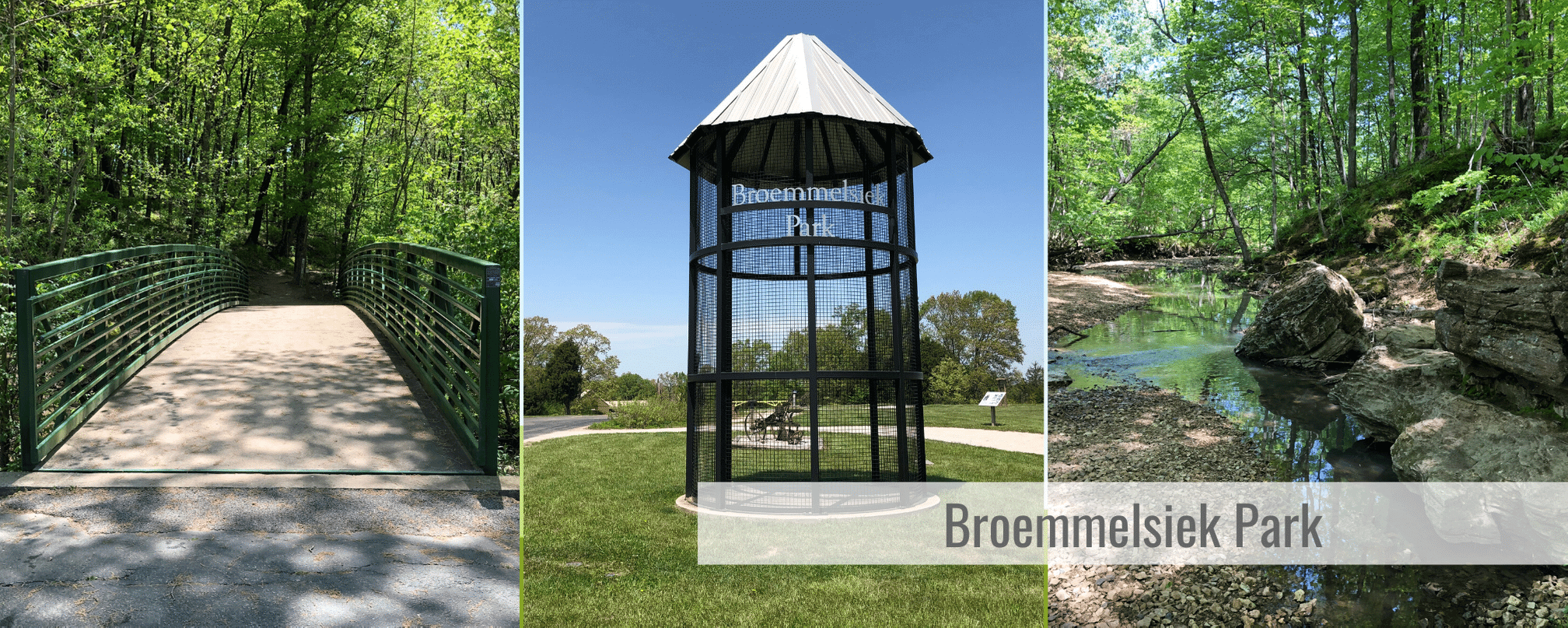 WHERE: Located about 4 miles West of I-64/40 and WingHaven Boulevard off of Highway DD. An additional entrance is located on Wilson Road for the dog park and small fishing lake.
1795 Hwy DD, Defiance, MO 63341
HOURS: Open dawn to dawk
WEBSITE: Broemmelsiek Park
ACTIVITY/AMENITIES: ✪ Astronomy Viewing Area ✪ Agriculture Educational Garden ✪ Dog Park ✪ Fishing ✪ Horse Trails ✪ Party and Special Event Rentals ✪ Picnic Shelter ✪ Trails
5. Towne Park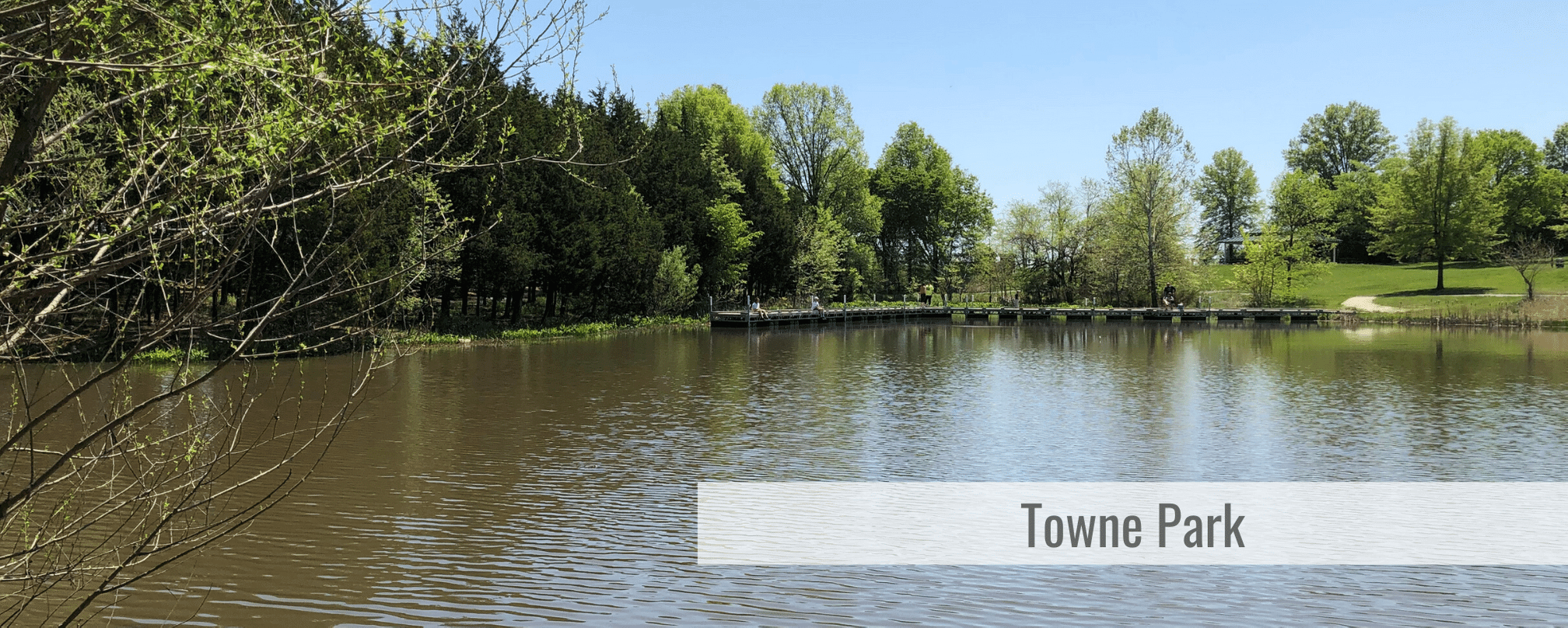 In Foristell, Towne Park was donated to St. Charles County by the Towne family. Long-time residents of the area probably remember the grounds with the plantation home by the name the "Pink Plantation," where Betty Towne painted the home pink. Again, this is a newer park in the area, so we had not explored this park as teenagers other than a brief visit to take Homecoming pictures.
Towne Park has a walking loop detailing the rich history of the area, with a reconstructed 1800s historical homestead including an outhouse, and the restored Pink Plantation home with summer kitchen. Deeper into the park and beyond the playground is a large fishing pond with a dock, the perfect spot to fish. But since we didn't think to bring fishing poles, we started a hike around the pond, and found a nature exploration classroom hidden in the woods with natural playground equipment. Beyond that, we found natural surface walking trails through a beautiful wooded area, hopping over a small creek. My daughter exclaimed "it looks like the forest in Harry Potter." Our next visit will entail exploring more trails and possibly a fishing excursion.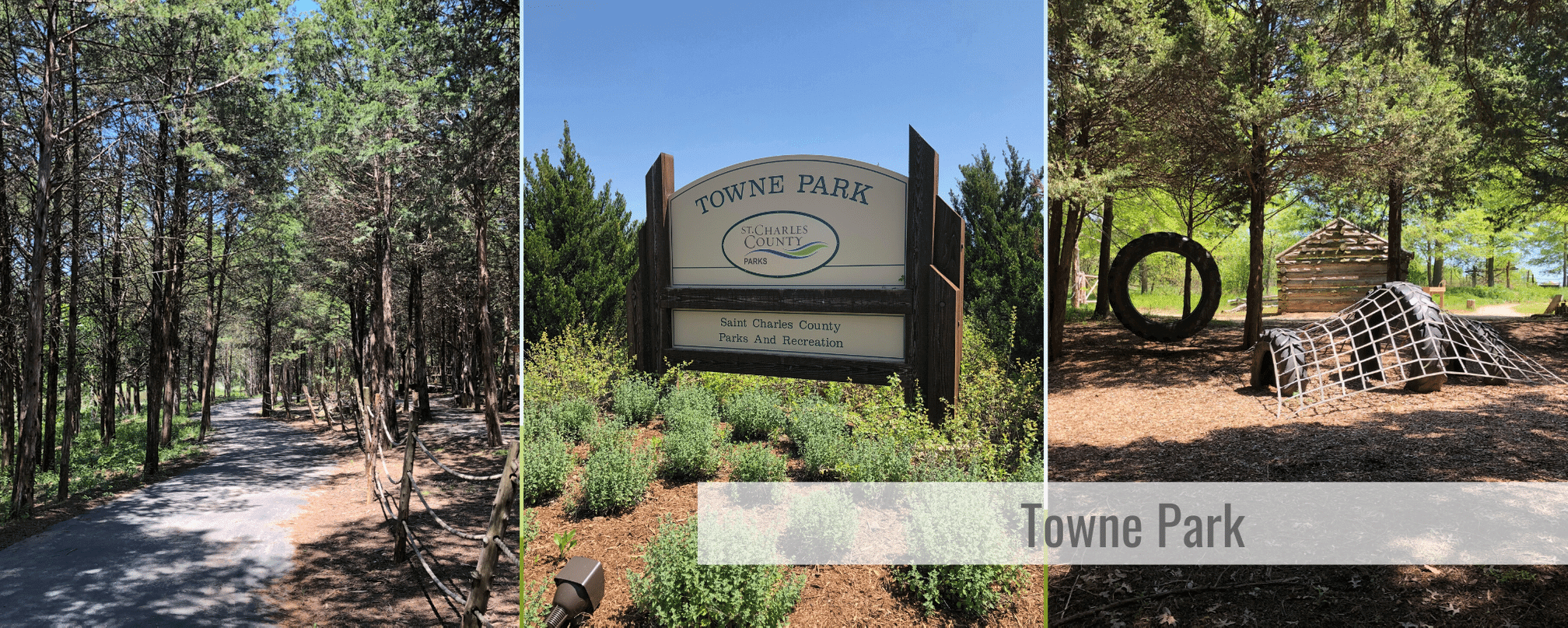 WHERE: Located 6 miles North of I-70 on Hwy-61 in Foristell. Turn Right at Farris Road exit, then Right at Towne Park Drive.
100 Towne Park Dr., Foristell, MO 63348
HOURS: 7 a.m. to half an hour after sunset.
WEBSITE: Towne Park
ACTIVITY/AMENITIES: ✪ Biking ✪ Fishing ✪ Hiking ✪ Historic Sites ✪ Nature Exploration Classroom ✪ Pedestrian Trails ✪ Picnic Shelters ✪ Pond ✪ Playgrounds ✪ Trails ✪ Wildlife Viewing
6. Veterans Tribute Park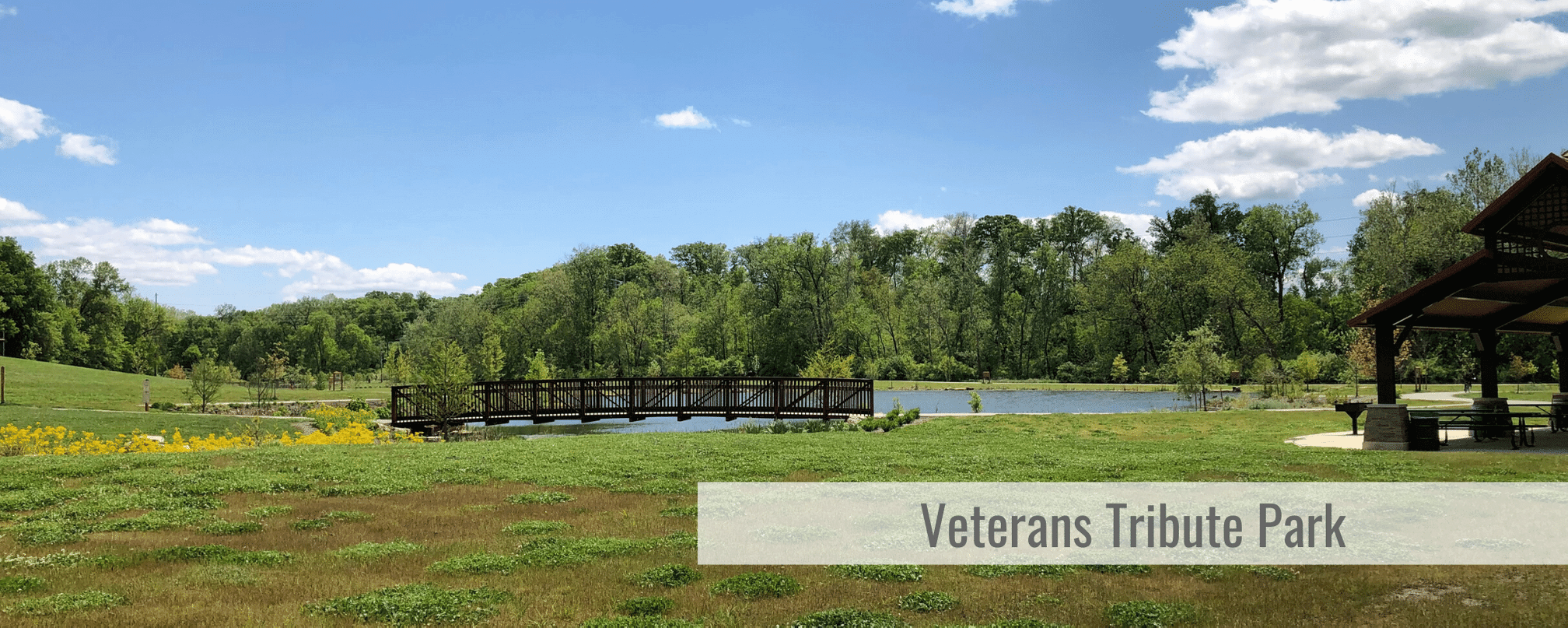 One of the newest parks in St. Charles County, Veterans Tribute Park provides a scenic and peaceful setting nestled within the hustle and bustle of suburban living. In contrast to the other parks that we visited which were more geared to hiking, this park was great for a casual stroll along a 1.16 mile paved trail which looped around a large lake. The park itself is 120 acres with 3 acres for a dog park. A highlight of the trip was enjoying a beautiful memorial garden, which honors our local veterans killed in action.
Oh, to be a little kid again! The all-inclusive playground was so unique. It was built around the existing silo on the property, with slides built into the hillside and a raised boardwalk path providing a scenic overlook of the lake. While currently closed over due to COVID-19, I think my teens would enjoy a couple of minutes on that playset when it opens again.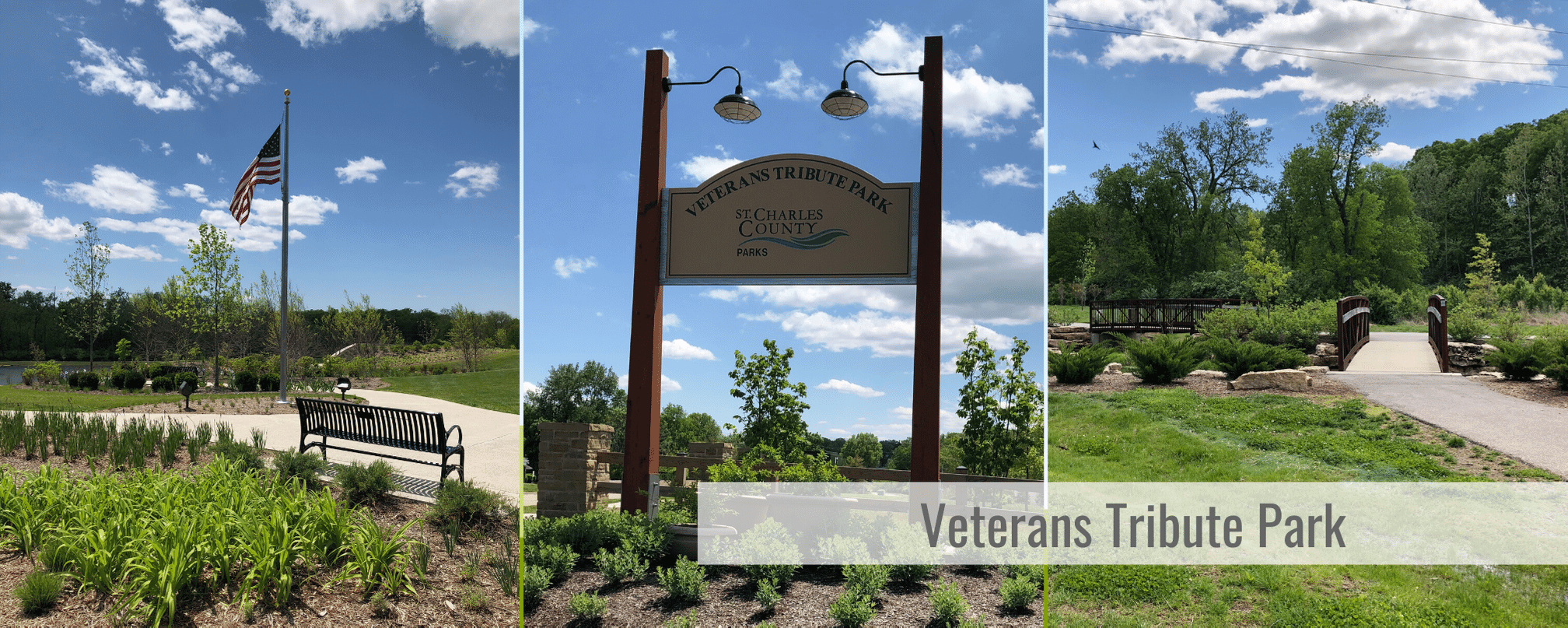 WHERE: Located 1 mile South of MO-364 off of Kisker Road in Weldon Spring.
1031 Kisker Rd., Weldon Spring, MO 63304

HOURS: 7 a.m. to half an hour after sunset.
WEBSITE: Veterans Tribute Park
ACTIVITY/AMENITIES: ✪ Biking ✪ Dog Park ✪ Fishing ✪ Pedestrian Trails ✪ Picnic Shelters ✪ All-Abilities Playgrounds ✪ Splash Area ✪ Sports Fields
7. Rotary Park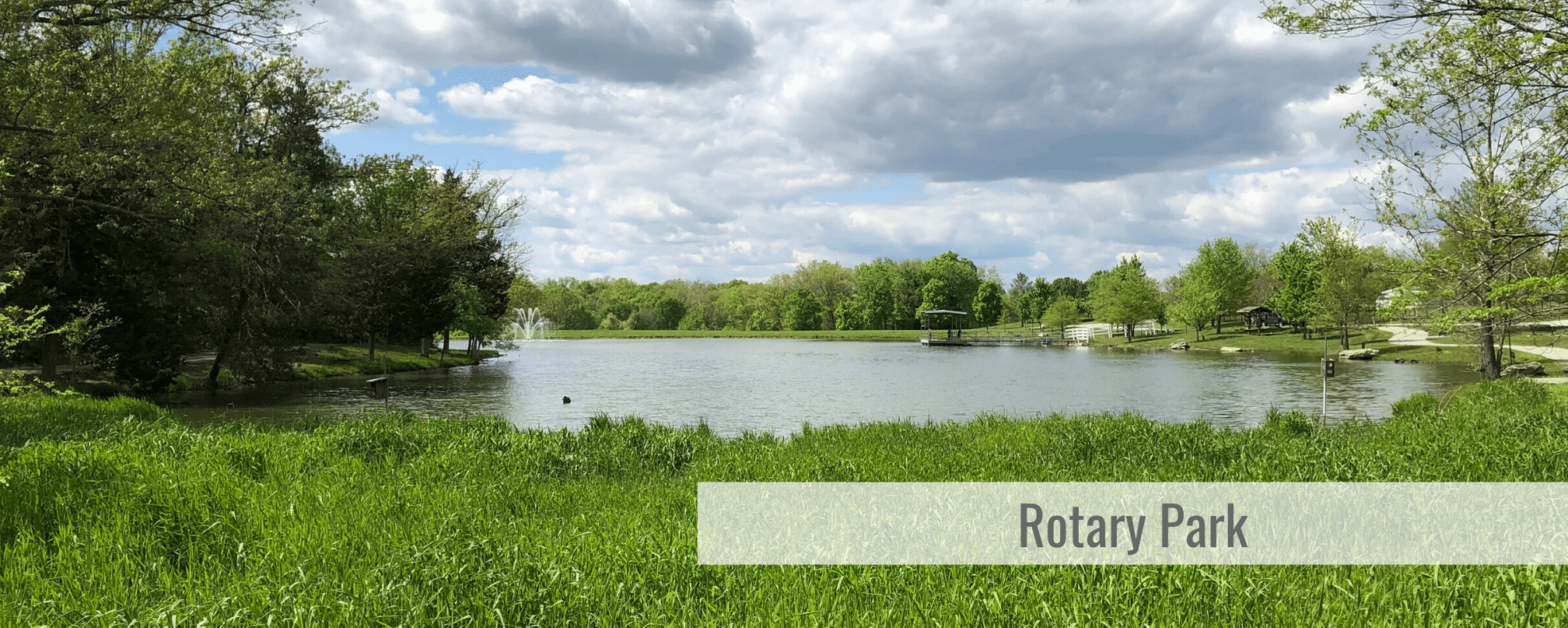 Holiday Night Lights, the Renaissance Faire, and the St Charles County Fair are hosted at Rotary Park in Foristell. Wentzville Parks and Recreation also hosts "Movies in the Park" at the amphitheater. But in the off-season, there are plenty of reasons to explore the 72 acres of parklands in scenic Rotary Park. Bring your fishing pole and enjoy relaxing fishing on the 5 acre lake at the front of the park.
On this visit, my kids and I headed towards the very back of the park and found that the Renaissance Faire area was open. So we enjoyed a leisurely stroll through the abandoned shopping kiosks and theater areas. It was a little surreal being there without any people around and added to the adventure.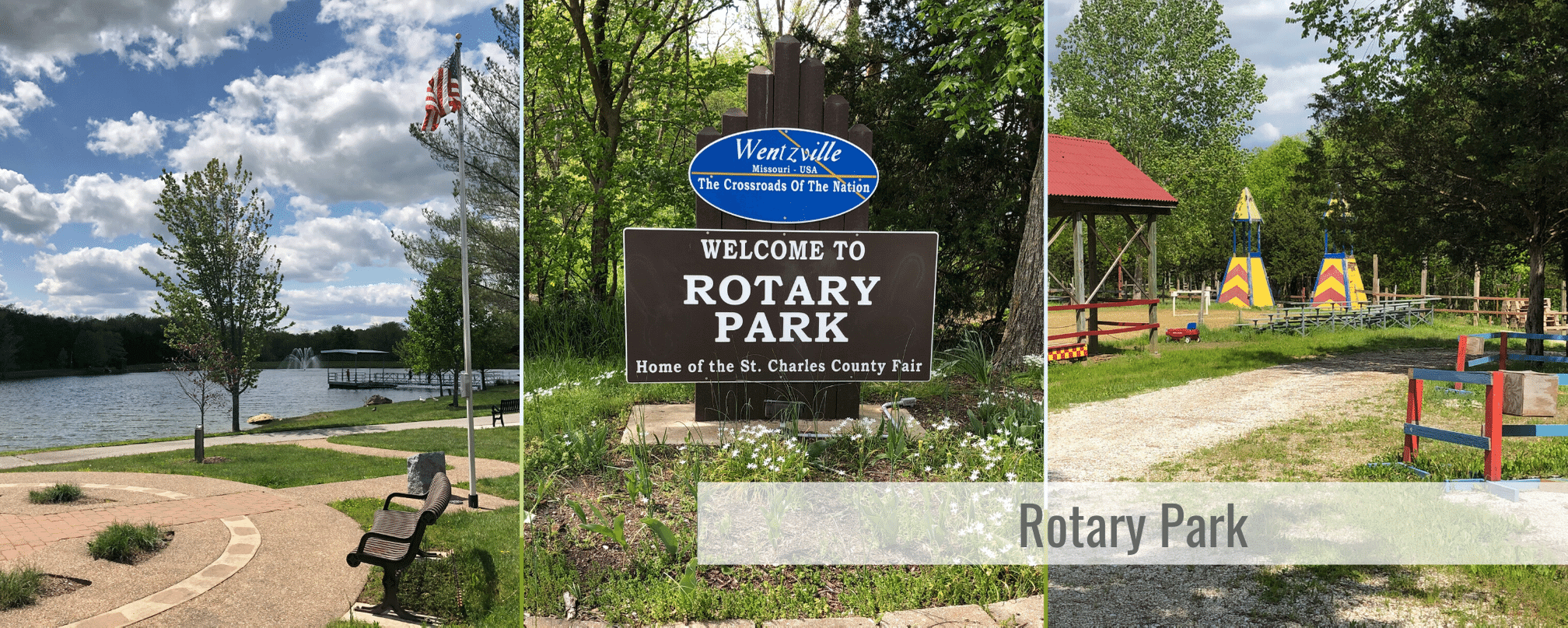 WHERE: Located 7 miles west of Wentzville Parkway off of West Meyer Road in Foristell.
2577 W Meyer Rd, Foristell, MO 63348
HOURS: Open dawn to dawk
WEBSITE: Rotary Park
ACTIVITY/AMENITIES: ✪ Amphitheater ✪ Fishing ✪ Picnic Shelters ✪ Playgrounds ✪ Pedestrial Trail ✪ Wildlife Viewing
8. Peruque Valley Park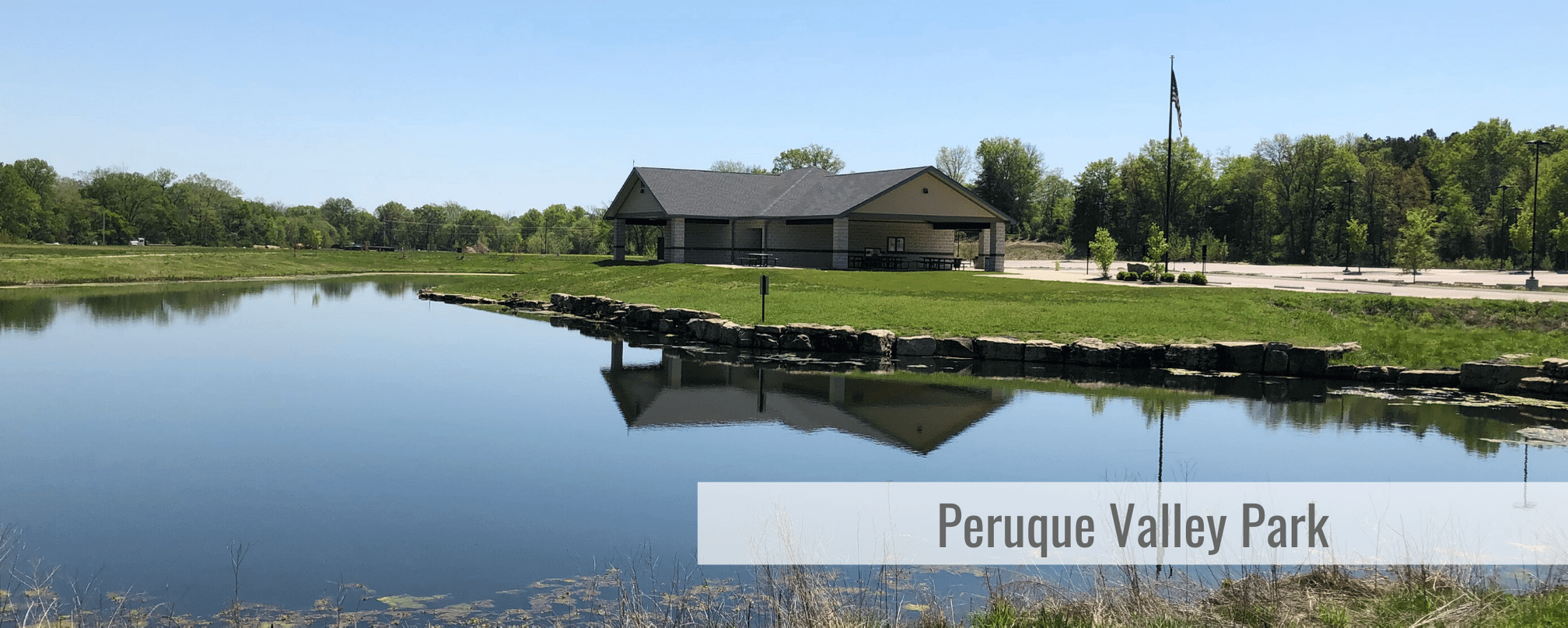 Peruque Valley Park is Wentzville's newest park, with the first phase opening in 2017. So true confession, we had never visited the park. The backdrop is absolutely beautiful, surrounded by meadows and woodlands. The center of the park includes four completed ball fields and practice fields, which from our t-balls days, I remember the City of Wentzville desperately needed. We followed a paved trail around the perimeter of the park for a peaceful stroll with absolutely no one around.
The park will be developed in phases as funding permits. So at this time, there are not a lot of amenities available right now. Although even with the limited amenities, we found the park a relaxing and much-needed getaway, as we were sneaking out at lunch time from my work and the kids' school work. While my kids ranked this park at the bottom of their "must see" list, I would anticipate they would enjoy going back in the future as more attractions are built in this park.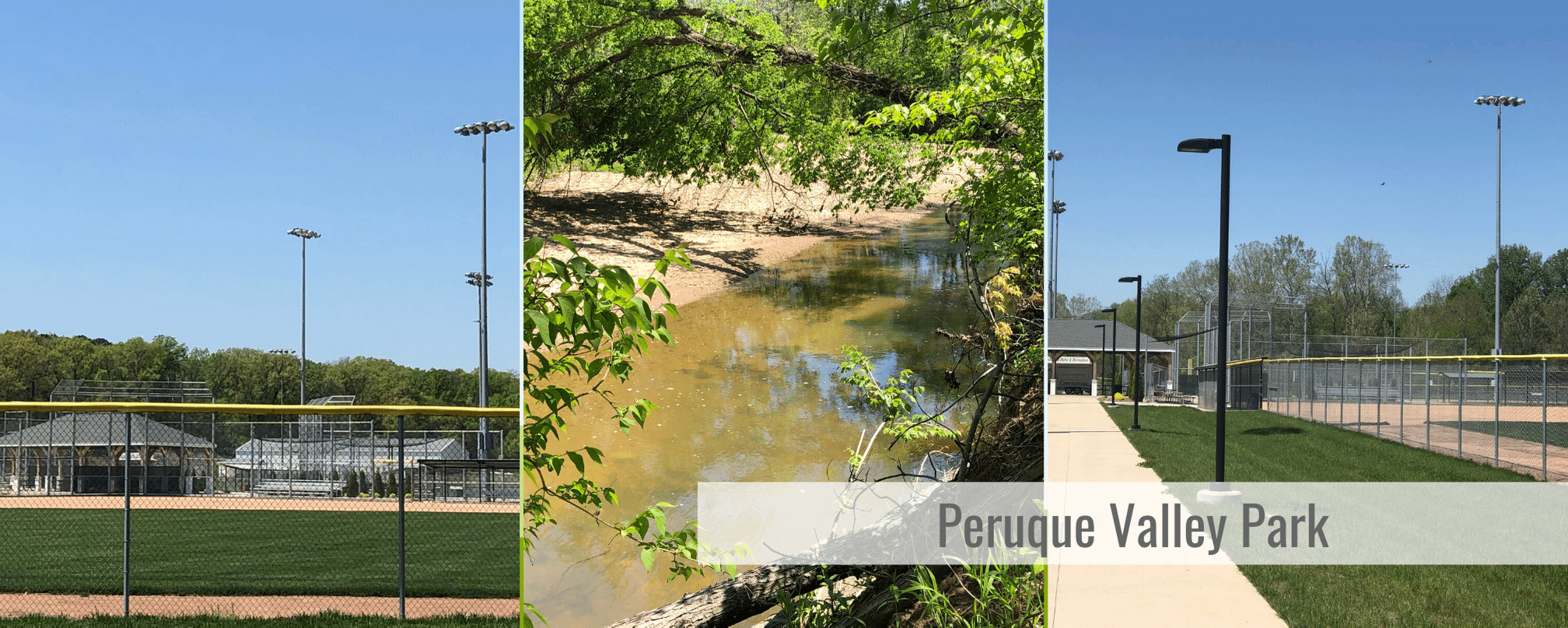 WHERE: Located 1.5 miles west of Wentzville Parkway along Veterans Memorial Parkway in Wentzville. Head south on S Point Prairie Rd for almost a mile.
1335 S. Point Prairie Rd., Wentzville, MO 63385
HOURS: Open dawn to dawk
WEBSITE: Peruque Valley Park
ACTIVITY/AMENITIES: ✪ Ball Fields ✪ Creek ✪ Picnic Shelter ✪ Pedestrial Trail
So what parks do you plan to visit?
So what is your favorite park to visit in St. Charles County? What secret areas of the parks have you explored or what amenities have you enjoyed recently?
Please comment below and share with anyone new to the area, or anyone thinking about relocating to St. Charles County, about the amazing parks in our county and what to expect at the parks.