One Couple's Solution to Beating the Bidding Wars
Posted by Heather Weber on Friday, January 17, 2020 at 3:53 PM
By Heather Weber / January 17, 2020
Comment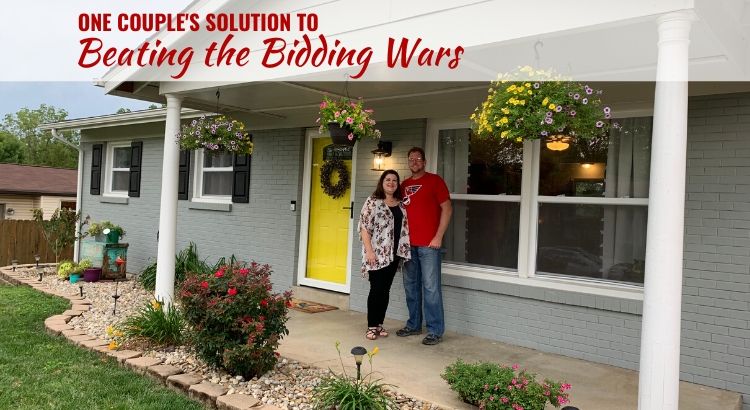 Buying a home in a popular area on a limited budget can be very frustrating and challenging, especially in today's current real estate market where listing inventory remains low. Just ask Steve and Laura Young.
They had been searching for a home in St Charles, Missouri to meet their needs and stay within their $200,000 budget for months. They had written a number of contracts, always ending in a bidding war, and lost out on all of them. To say they were discouraged is an understatement.
Steve and Laura are not first-time home buyers, but this is a common problem those buyers face. Steve and Laura had recently gotten married and sold their individual homes, so finding a home to blend their new life together was imperative. Their buyers' agent, Kelly Moore, was doing everything she could to uncover options that might work for them.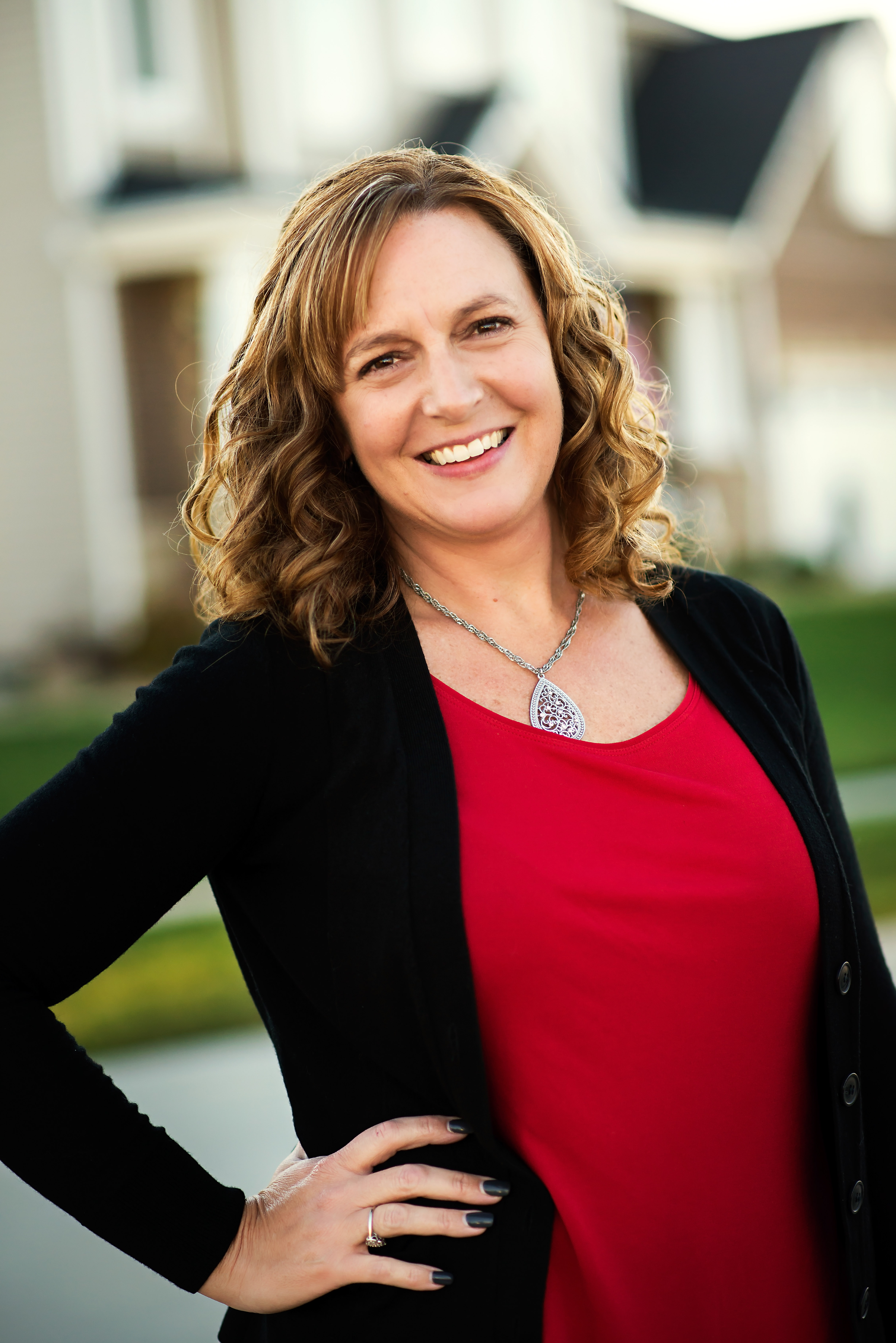 "After we had written 4 contracts and been outbid on all, we knew this home search journey might take us down a non-traditional path," said Kelly. "Steve is a professional painter and Laura is very creative, so I knew they had the vision and skills to look at homes that needed some work. We thought this might be our way to find a home that would meet their needs and keep them within budget."
Kelly continues, "I had solicited the help of everyone on my team to be on the lookout for a home that might be a good fit for the Youngs. My hope was that we might see something before it hit the market so they could be the first buyer to see a new listing."
When The Chad Wilson Group was hired by the owners to list the home at 2405 Gallaher in St Charles, Kelly knew this one had possibilities. She arranged an early showing before the home hit the MLS, and even though the home did not check all of the boxes on Steve and Laura's list of wants and needs, it came close enough that they made an offer, and this time it was accepted.
They closed on the home purchase in August of 2018, and over the past year, they have been very busy updating and renovating to make the home a perfect fit for their family. In this HGTV House Hunters, Property Brothers, Flip or Flop age, when many home owner wannabes dream of tackling a home renovation project while sitting on their couch watching 30-minute makeovers magically happen on TV, only a few have the stamina and patience to live in the midst of construction.
Curb Appeal
One of the first projects Steve and Laura tackled was the curb appeal of the home. The red brick was in good shape, but the house felt very dated. It was built in 1970, and still had that same look.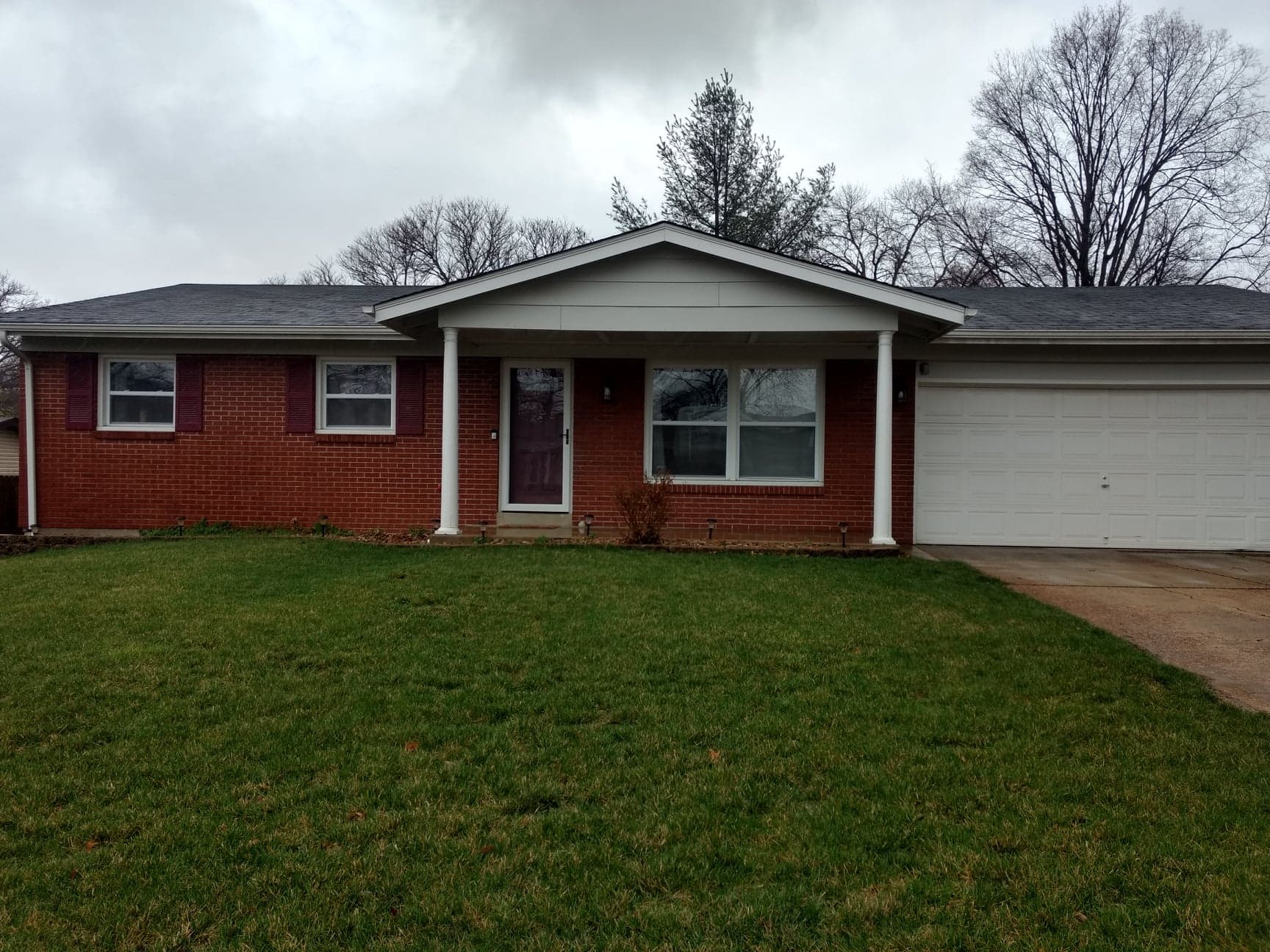 "I had painted exterior brick many times before, and while it is time-consuming, it really makes a difference in the home's appeal," said Steve. "We used one coat of primer and two coats of a light grey paint. I am a brush-and-roll guy, kind of old fashioned but I believe it does a much better job of coating than spraying paint, so I rolled the brick and Laura used a brush to cover the grout and brick details. We also painted the shutters black and added a nice pop of yellow to the front door, and all together, it really brought the home to a more current look."
More Open Living Room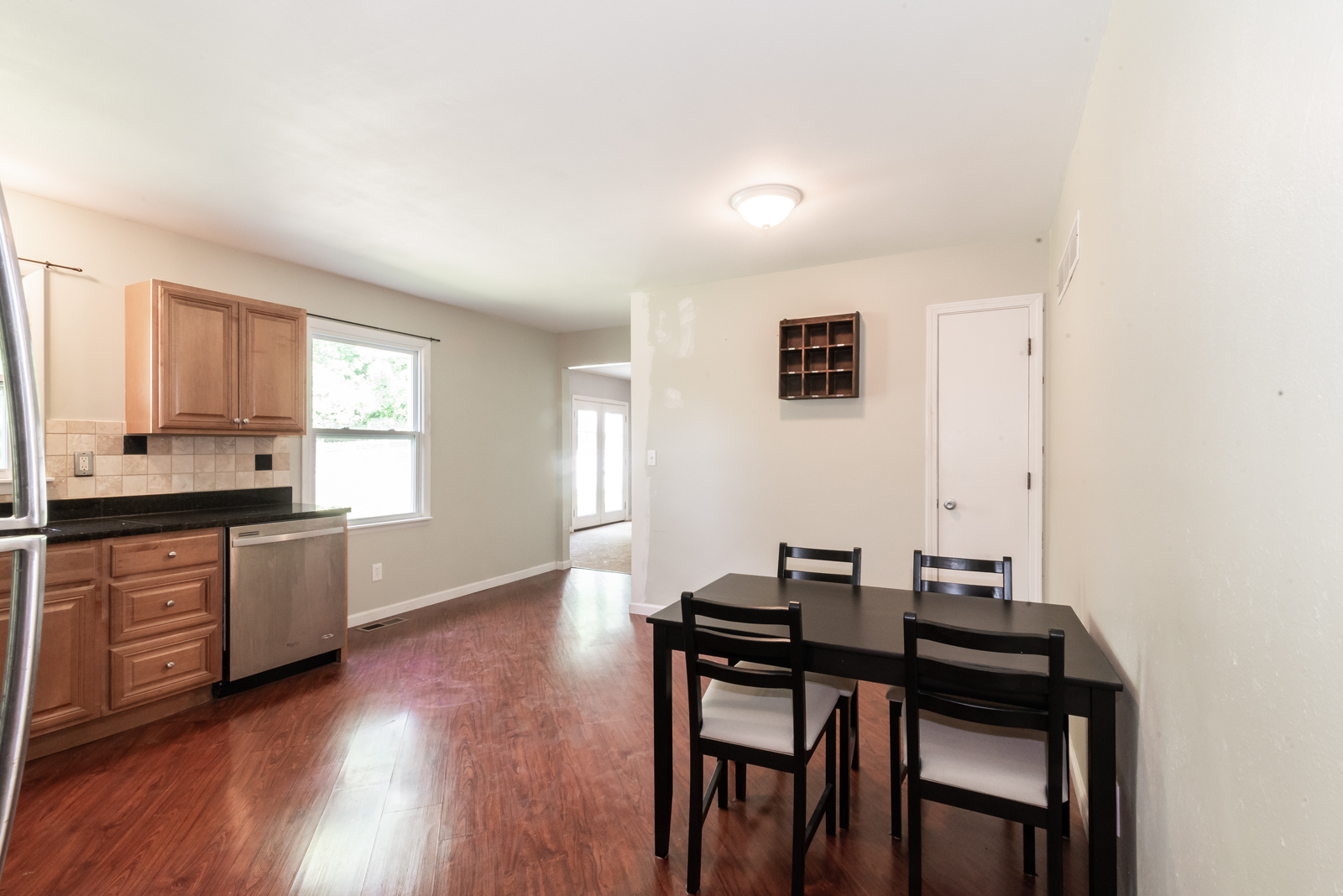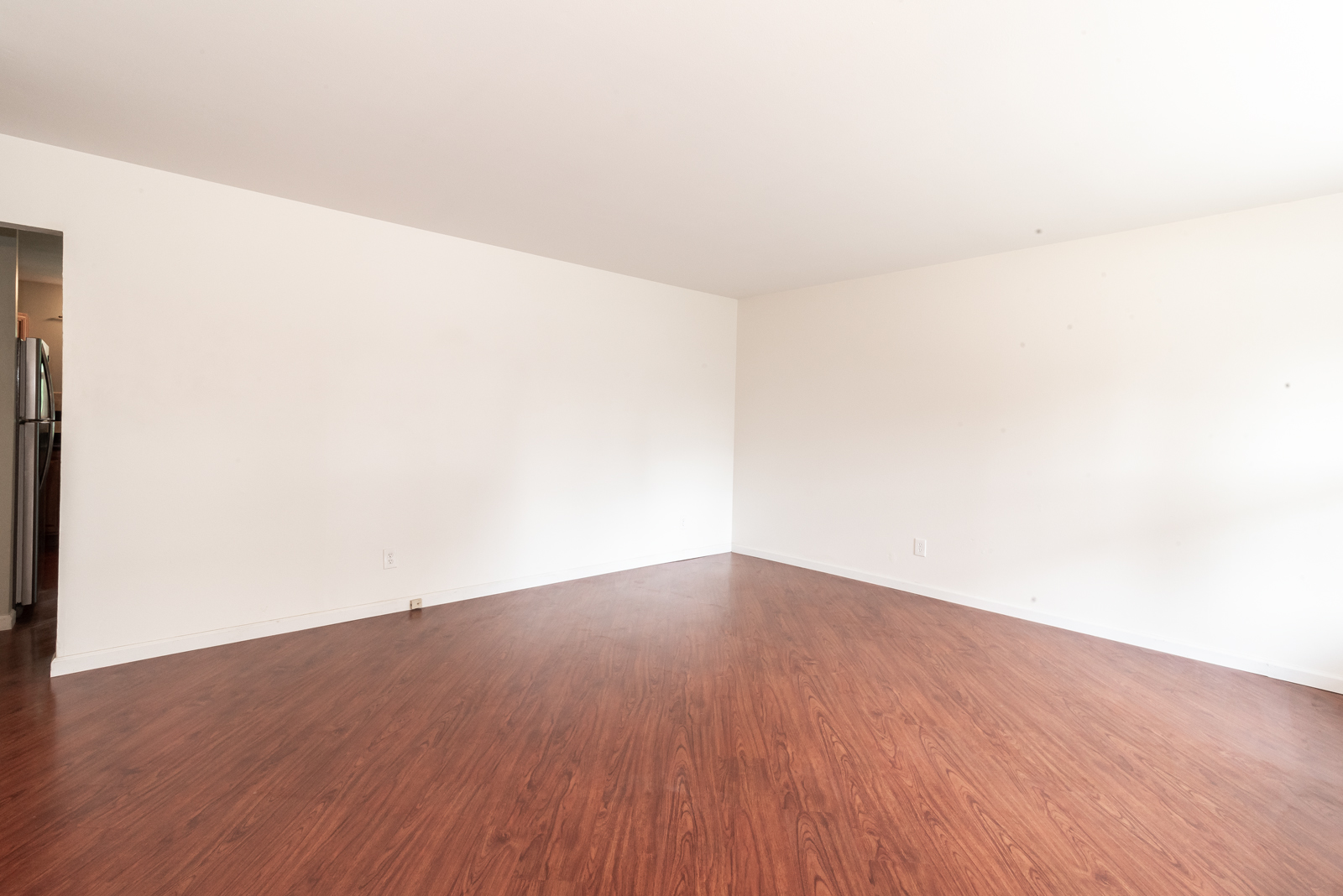 Next, they opened up the floorplan by removing a wall between the living room and kitchen. There was just a narrow doorway between those rooms, and Steve and Laura wanted a sight line from the front door to the back of the home. After removing the wall, they painted everything a soft grey to unify the spaces, with a pop of fun color on one kitchen feature wall. The kitchen now has freshly painted walls in soft grey with a colorful feature wall and you can see the addition of the French door to the music room.
Their future plans include replacing the flooring in this open area.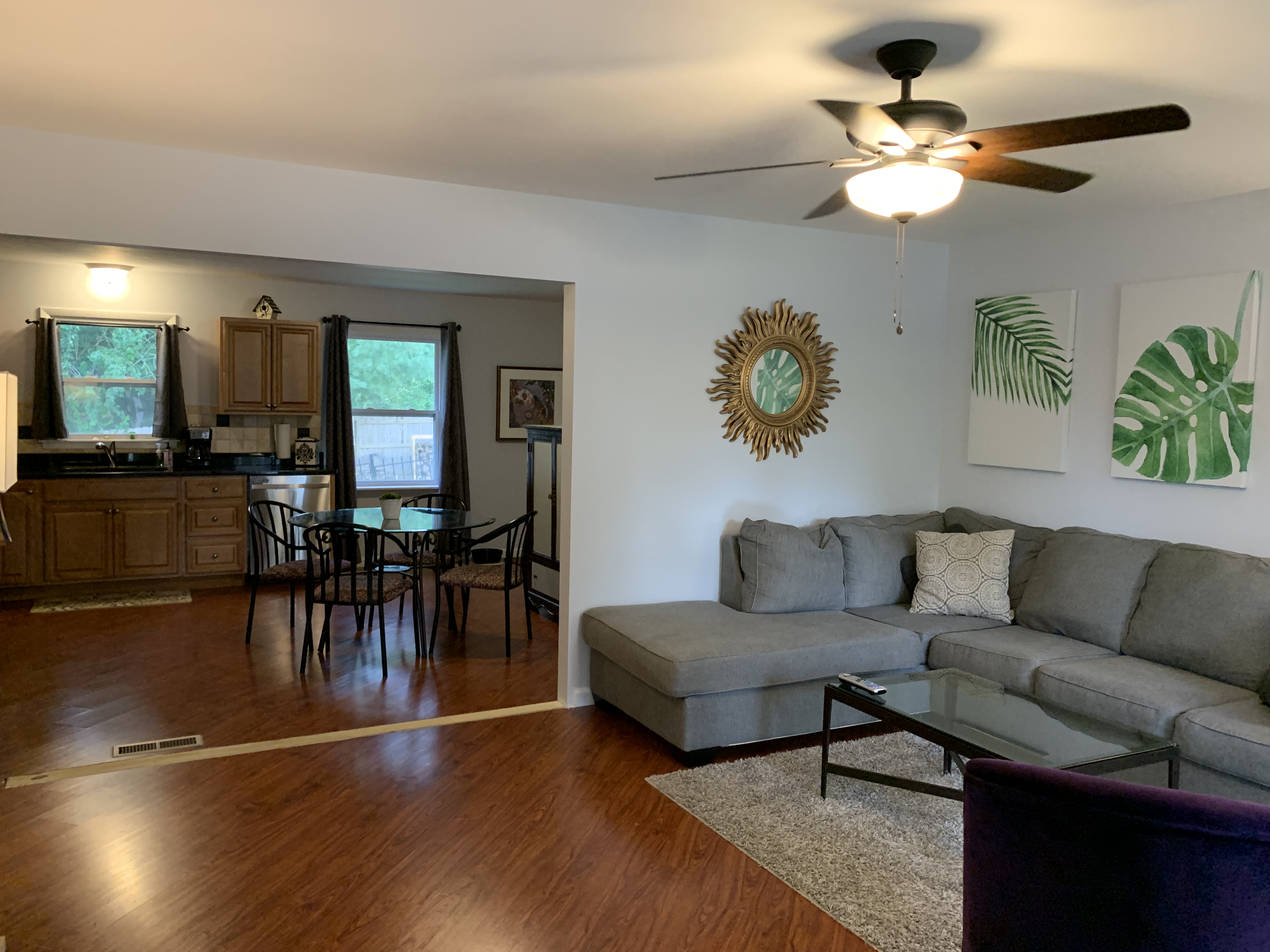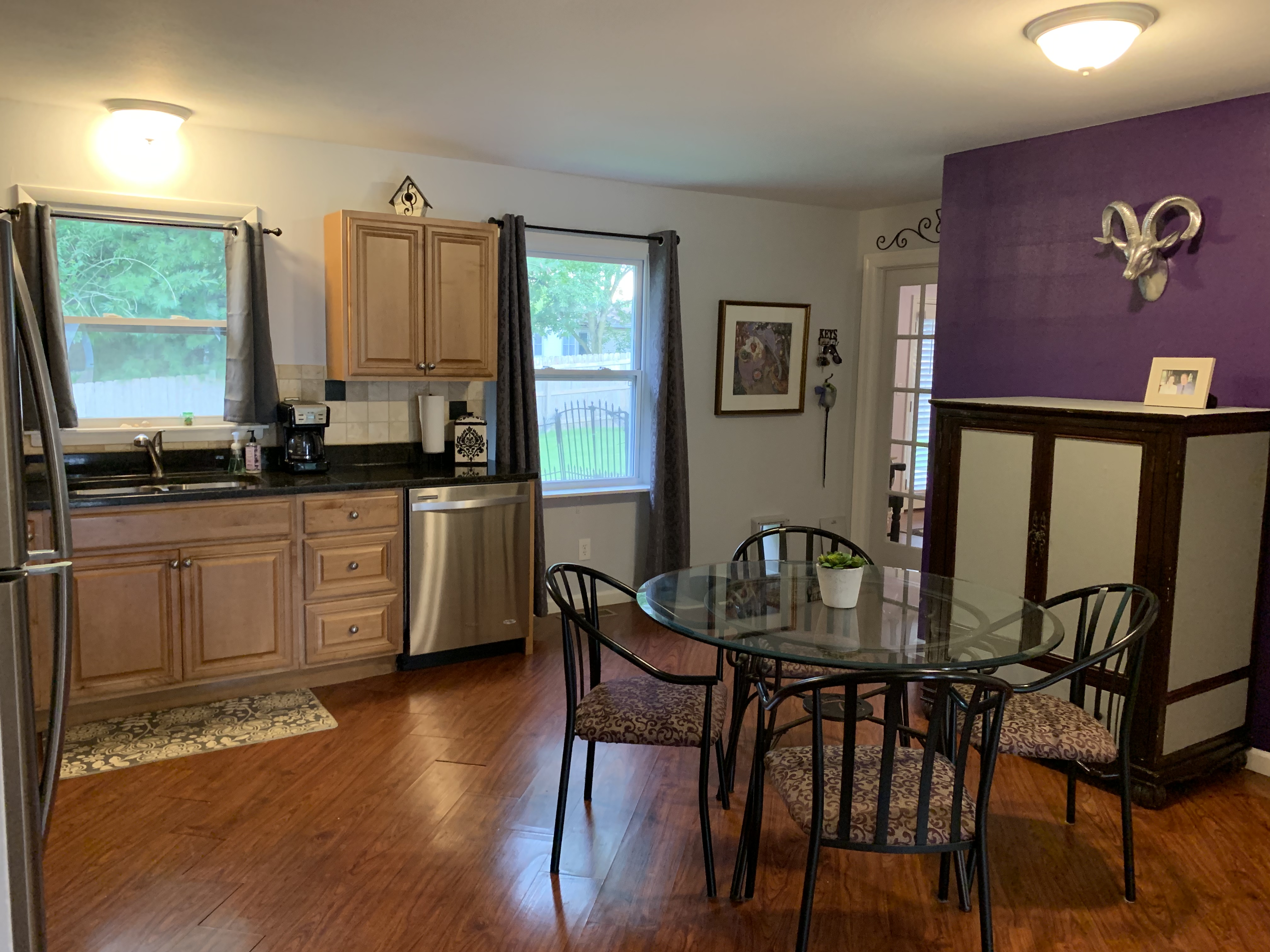 Dedicated Space for Teaching
Their big project was finishing the back family room. The previous owners had not painted or installed flooring in this space.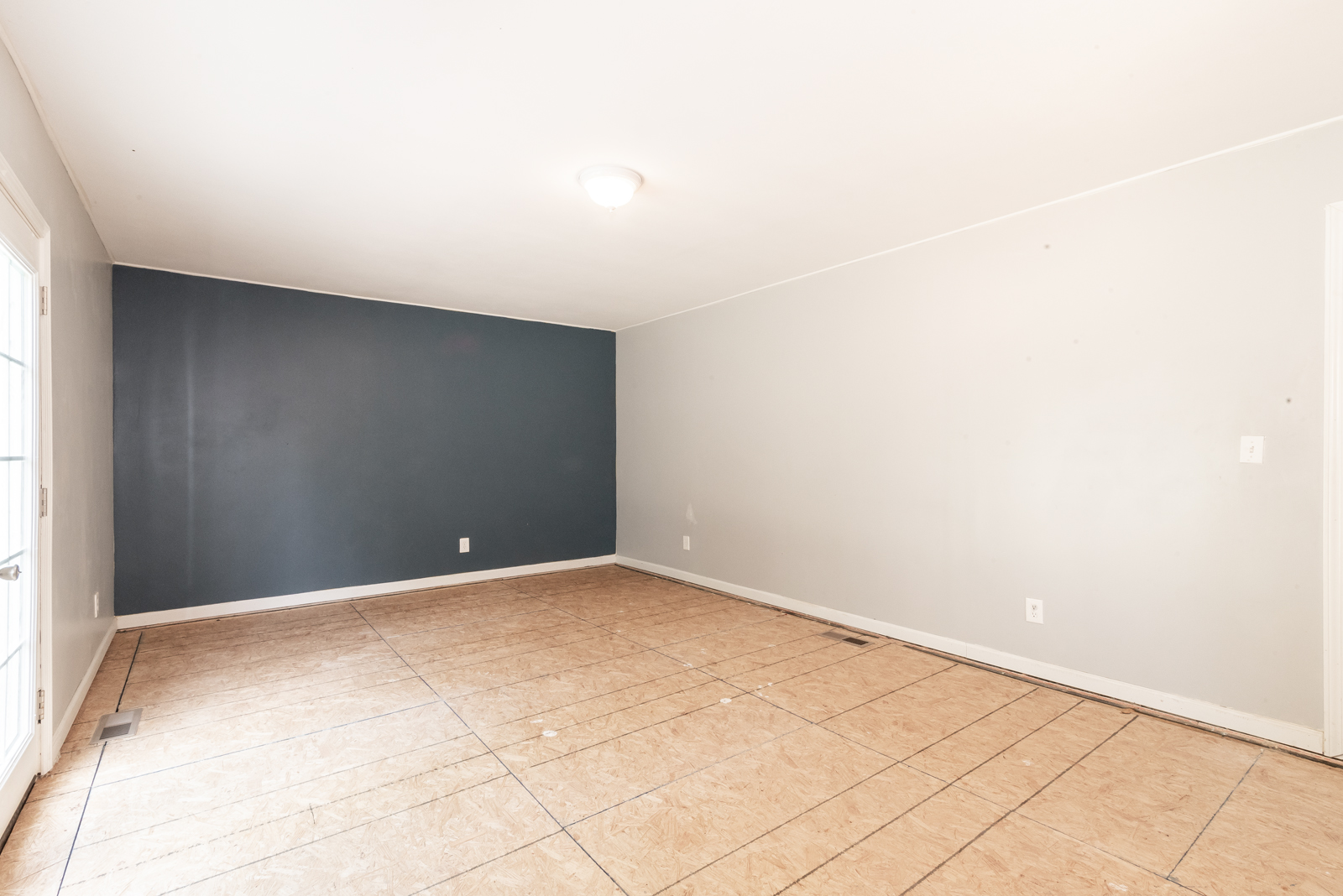 Laura is a music teacher and teaches private string lessons as well, so she needed a dedicated space with a separate entrance that wouldn't disturb the rest of the house during teaching hours.
"Steve and I could see that this big room had the potential to make a wonderful studio with a little work," said Laura. We added durable laminate floors and baseboards and then installed a French door to separate this space from the rest of the house. Then we painted everything and added a ceiling fan for climate control."
Did we mention this couple is creative? They needed something to separate the practice space from the waiting space, but they didn't want to make the practice space feel dark and closed in. Their solution…they bought leftover glass divider walls from an IHop restaurant renovation, turned them on their sides, connected them and added feet. This allowed light to filter through to both sides of the room while still providing some privacy. The total cost for this adorable project was less than $100.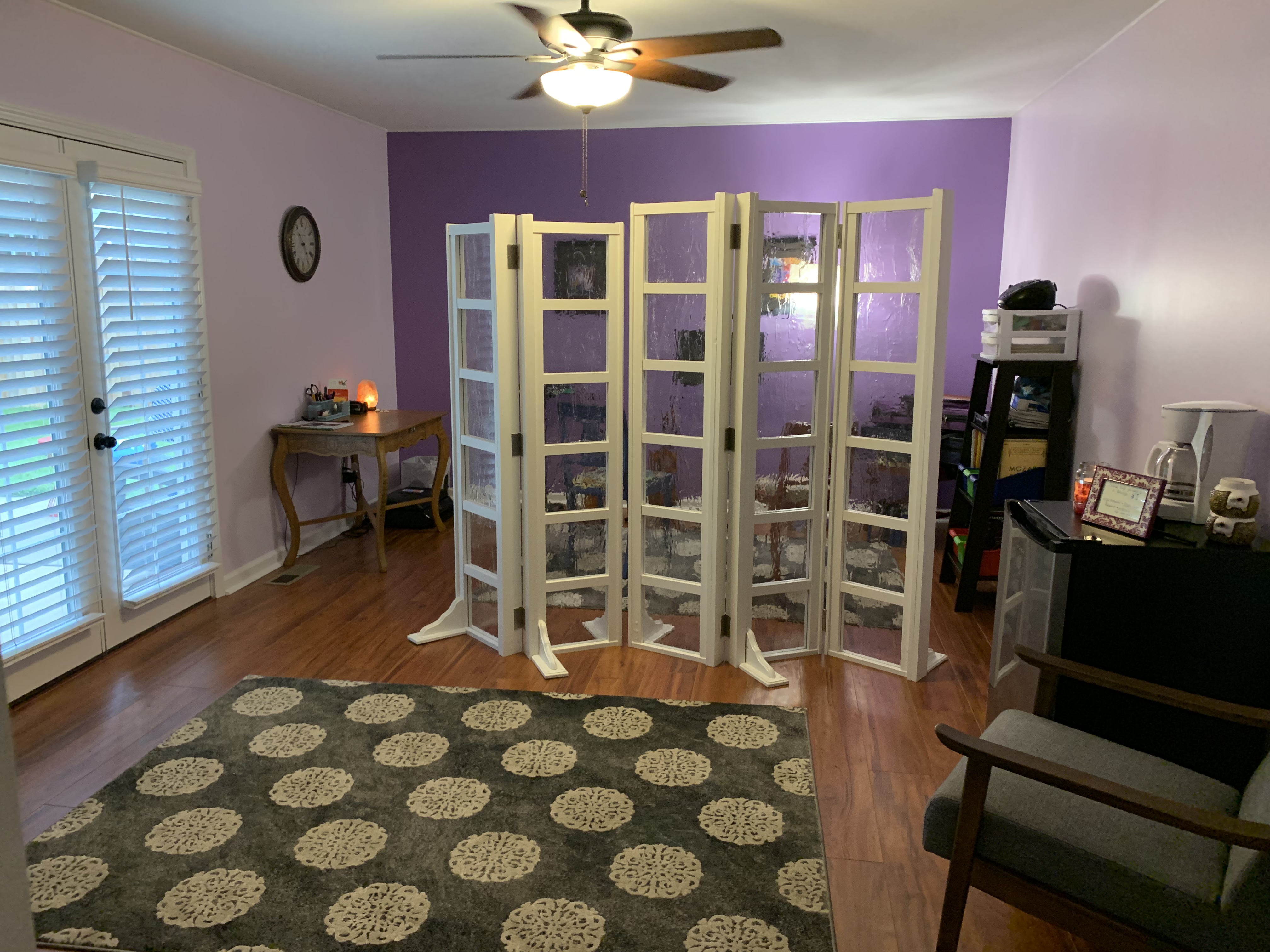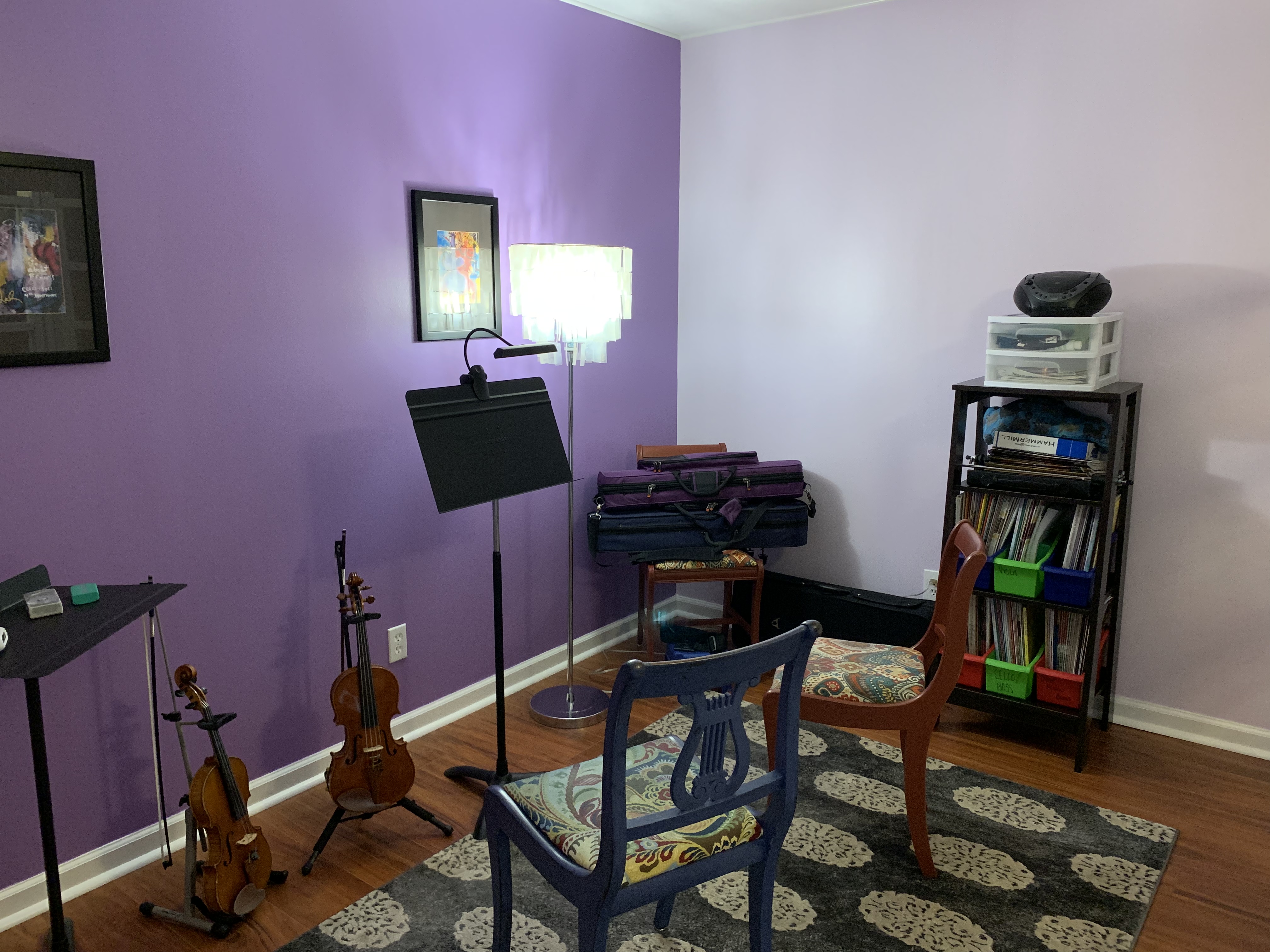 The music studio with its own entry from the back patio, has space for parents to wait and enjoy refreshments while their students practice on the other side of the lovely up-cycled screen. The music practice area has separation from the rest of the room thanks to the glass screen, but is still a bright and welcoming place to play.
So what's left on their to-do list? "I want to replace the interior doors with panel doors and replace the Masonite siding with vinyl, in addition to replacing the flooring in the main living area," said Steve.
Benefits of Out-of-the-Box Home Selection
Laura admits this move has taken some patience. "My plan was to buy something that was move-in ready, but we came to realize that was going to be extremely difficult on our budget, in our target area and within our limited timeframe. I was not in love with this home when we first saw it. I felt like I was compromising a lot in making this purchase," she admits, "but after thinking it over, we realized we could make some changes rather quickly that would make it fit our needs. Today, I really love how this home works for our family and we love the location. You could not find a better bunch of neighbors!"
In total, Steve and Laura believe they have spent between $3,000 and $5,000 on this labor of love. With their home purchase price of $185,000 and this renovation budget, they still kept the total cost below their $200,000 purchase ceiling with room to afford most of the rest of their plans.
So what's the takeaway? Kelly says home buyers who have a limited budget in today's competitive market need to work with an experienced Realtor® who has strategies for finding homes in atypical ways.
"A buyer's agent needs to really understand the needs of their clients, then use creative strategies for finding properties that might not be widely publicized, and help their clients see potential." Kelly has done this many times in her career and it is one of the reasons her buyers love her so much and her online profile is filled with 5-star reviews. Way to go, once again, Kelly Moore!
Thank you to Steve and Laura Young for allowing us to showcase their beautiful rehab project. We wish you many years of joy and happiness in your new home!