Downsize Doesn't Mean Compromise
Posted by Heather Weber on Friday, January 31, 2020 at 1:32 PM
By Heather Weber / January 31, 2020
Comment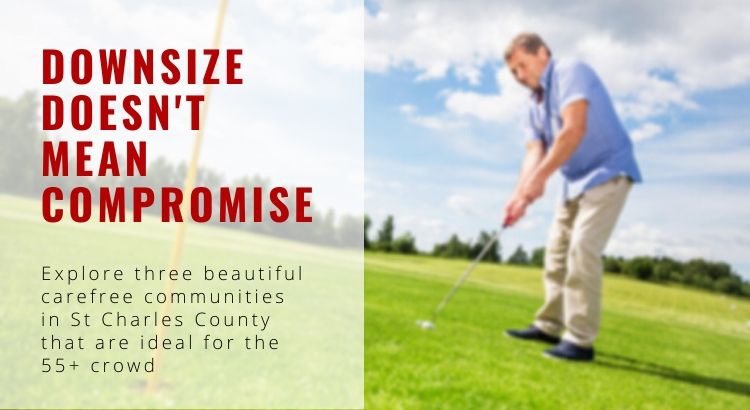 When is the right time to downsize? Americans are working longer and living longer than previous generations. As a general rule, their health has allowed them to do this. Having lived through the recession in the first decade of the 2000's, and with more of them relying on 401K's rather than pension plans for their retirement funds, many need to work longer to feel like their financial future is more secure. Add in the rising cost of healthcare, and many fear their future medical expenses could crack their retirement nest egg.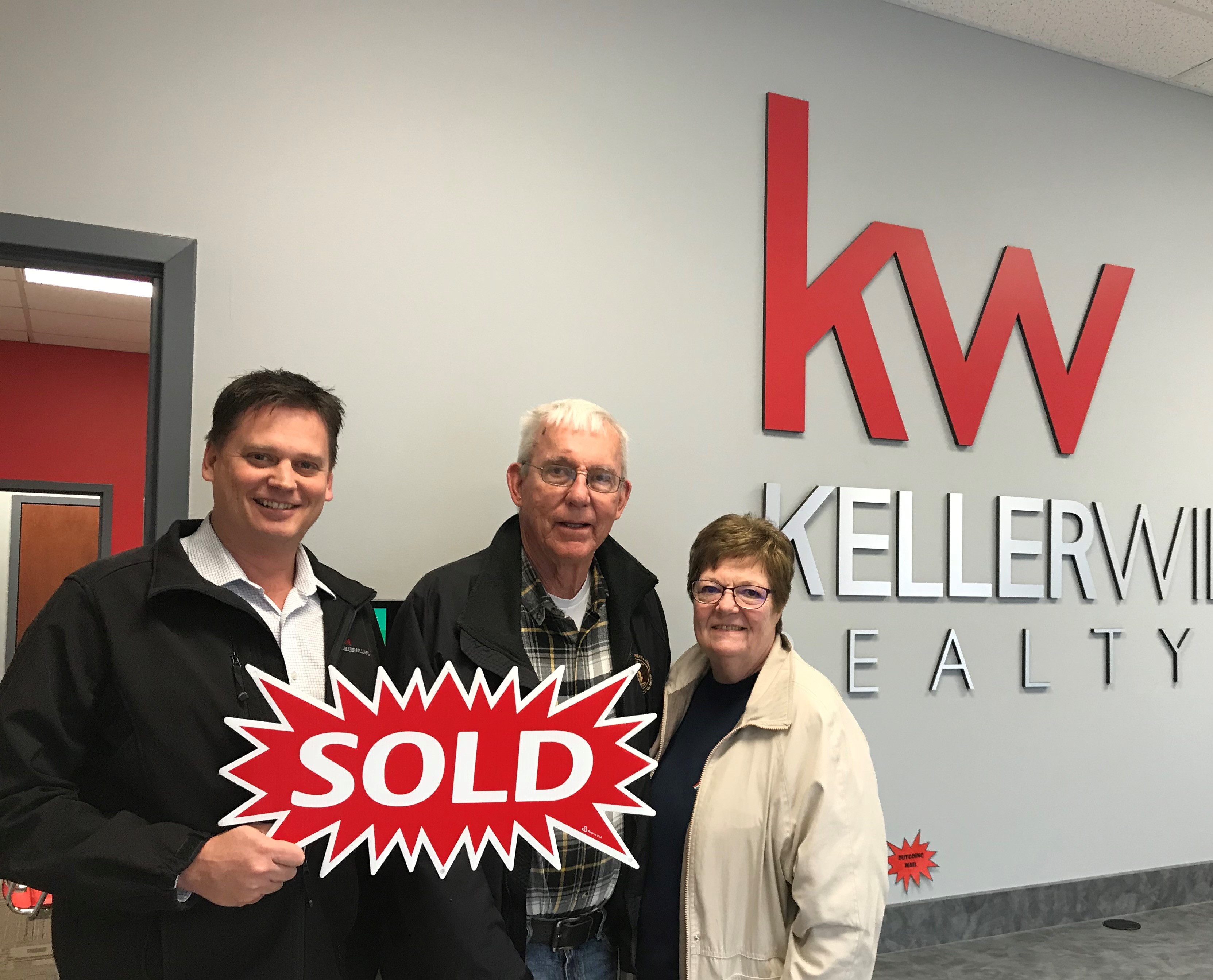 Research shows that the trend is for retirees to do all they can to age in place for as long as possible. The thought of selling their home and moving into a senior community is less attractive to the majority of adults than the burden of maintaining their current home. Perhaps part of this aversion to change is the impression people have about what living in a senior community is really like. Just the term, "senior housing" carries a negative connotation.
While many feel aging in place has its advantages, including remaining in a home that has sentimental value and where neighbors may be longtime friends, it can also bring disadvantages to home owners, including:
Declining home conditions – Regular maintenance and repairs of an aging home that is often bigger than a retiree needs can be costly and time-consuming. It can be physically difficult to continue doing the work themselves, making it necessary to hire professionals. Too often, stories are shared about a senior who is hurt working on home projects that are physically stressful. No one is excited to see mom or dad climbing a ladder or shoveling the driveway. Delaying home maintenance projects due to cost or lack of motivation can exacerbate even minor issues, which can lead to decreased home values.
Declining physical health – Many seniors choose to delay making a move until their 80's, when their health has gotten to the point that they need more predictable care and connection to others to remain well. This delay may mean the senior is no longer physically able to enjoy all of the benefits and amenities that many communities offer, many of which are designed to help them remain active in retirement.
Declining mental health – Living in a community of similarly aged people offers retirees a social support they can't get in a typical neighborhood. Not only is it enjoyable to converse with others who have lived through similar life experiences, but it is also helpful to learn from others who may be encountering the same issues that they are navigating. Being active and engaging with others is mentally stimulating and prevents the isolationism that can accelerate the health decline of seniors.
What if downsizing to a smaller, more manageable home didn't have to mean giving up on the luxuries and privacy home owners desire? Would more adults in their 50's and 60's choose to make a move to lighten the load of responsibility if it meant they could still own their own home in a new neighborhood?
Here are three carefree communities offering options that adults nearing retirement or already living a retired lifestyle might enjoy. Each of these is located in St Charles County in areas near every possible convenience, including some of the best healthcare resources in the region, and they all offer lawn service and snow removal as part of the deal.
Heritage of Hawk Ridge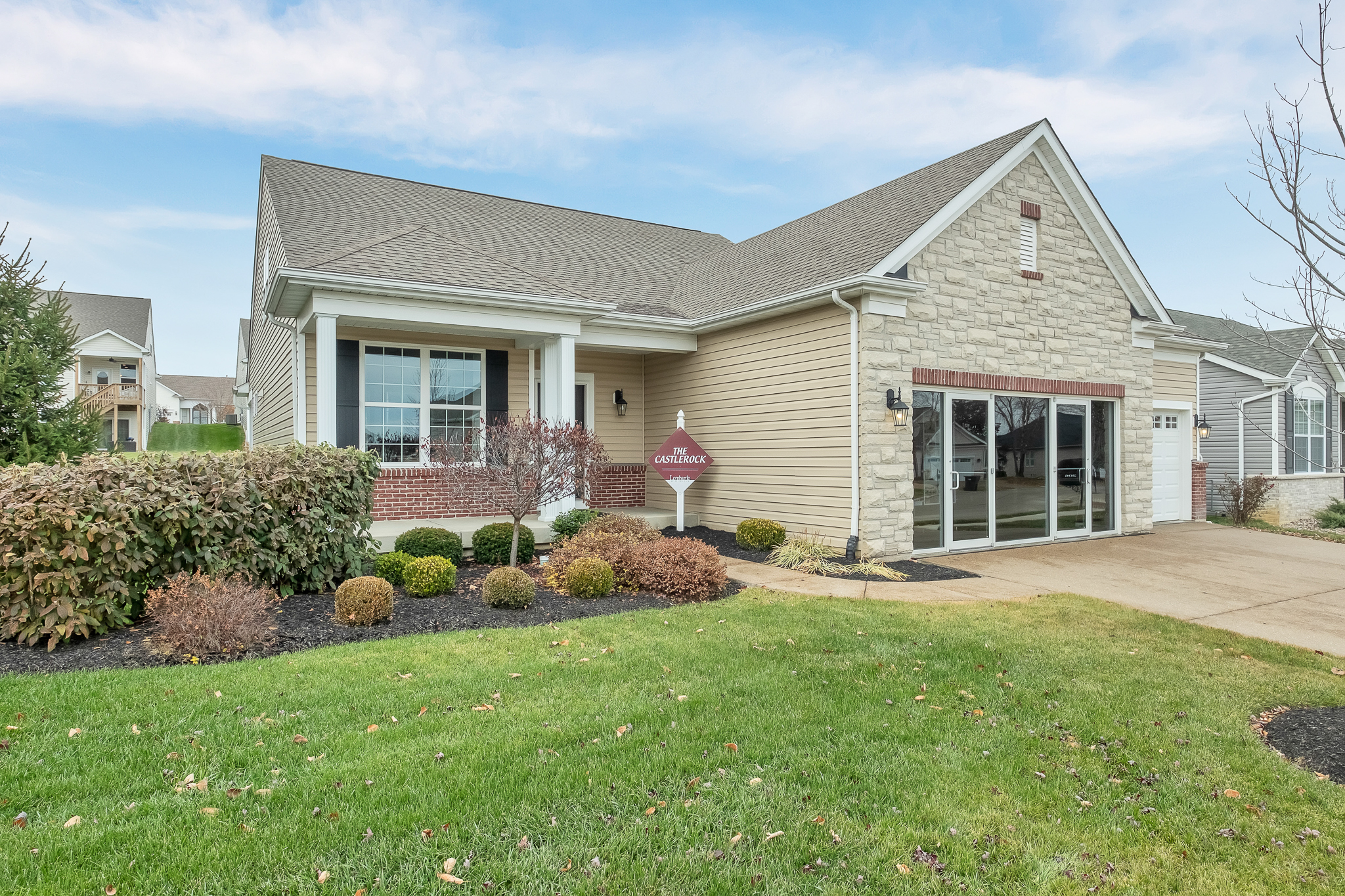 Lombardo Home For Sale in Heritage of Hawk Ridge Lake St Louis, MO
Nestled in Lake St Louis is an active 55+ community tailor-made for retired or nearly-retired adults. Home owners enjoy wonderful amenities, including a 10,000 square foot clubhouse with a ballroom that plays host to a plethora of clubs, events, dances and community gatherings. Neighbors can choose to take exercise classes, play poker, join in dance classes, or meet friends at the many weekend parties, just to name a few. A 9-hole golf course with a pro shop and grill, swimming pool, tennis courts, and bocce ball courts are just a few of the ways to maintain an active lifestyle throughout retirement. This resort-like community provides social outlets for those who may miss interacting with co-workers on a daily basis.
Below are some photos of the incredible amenities in Heritage of Hawk Ridge.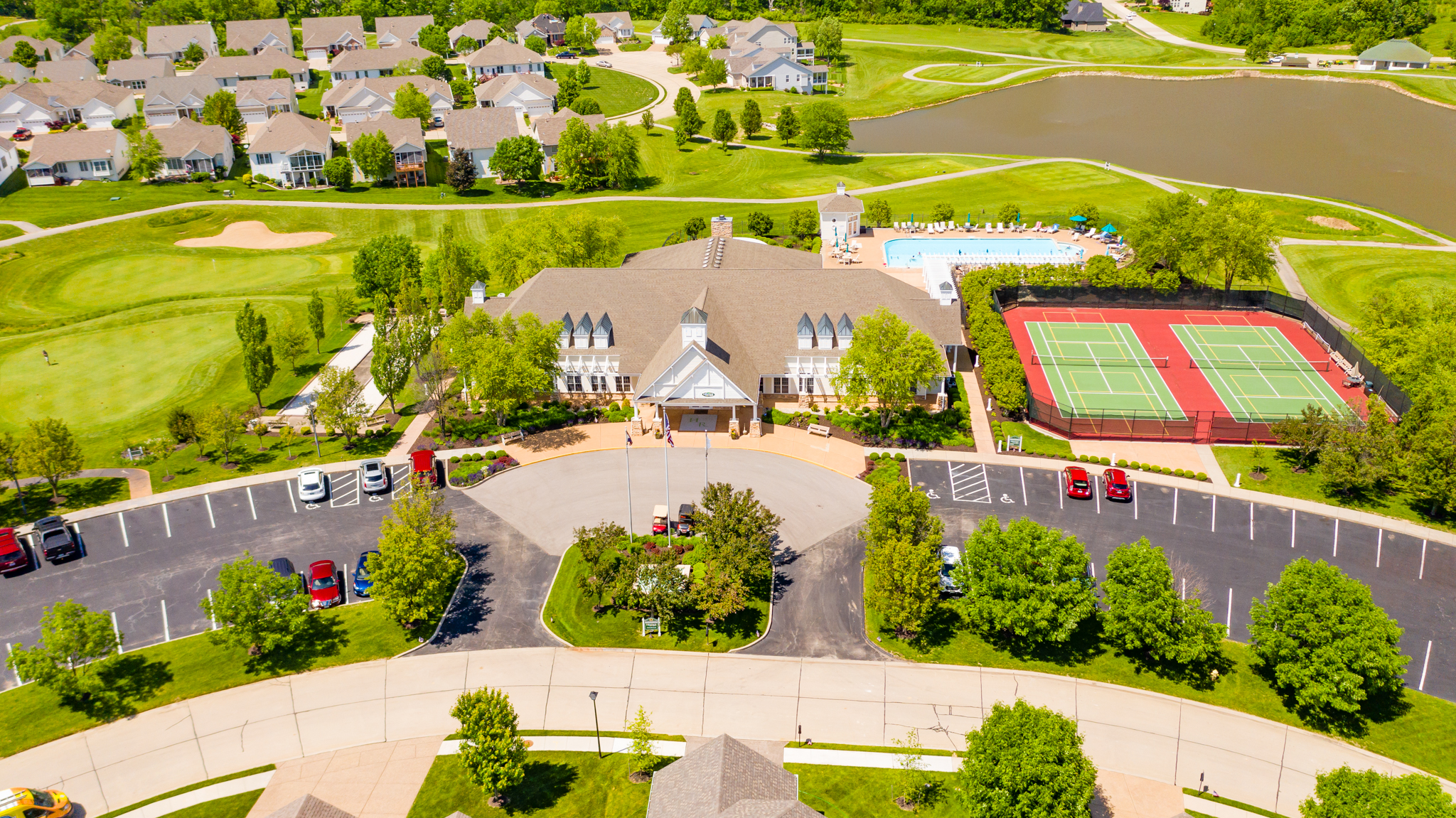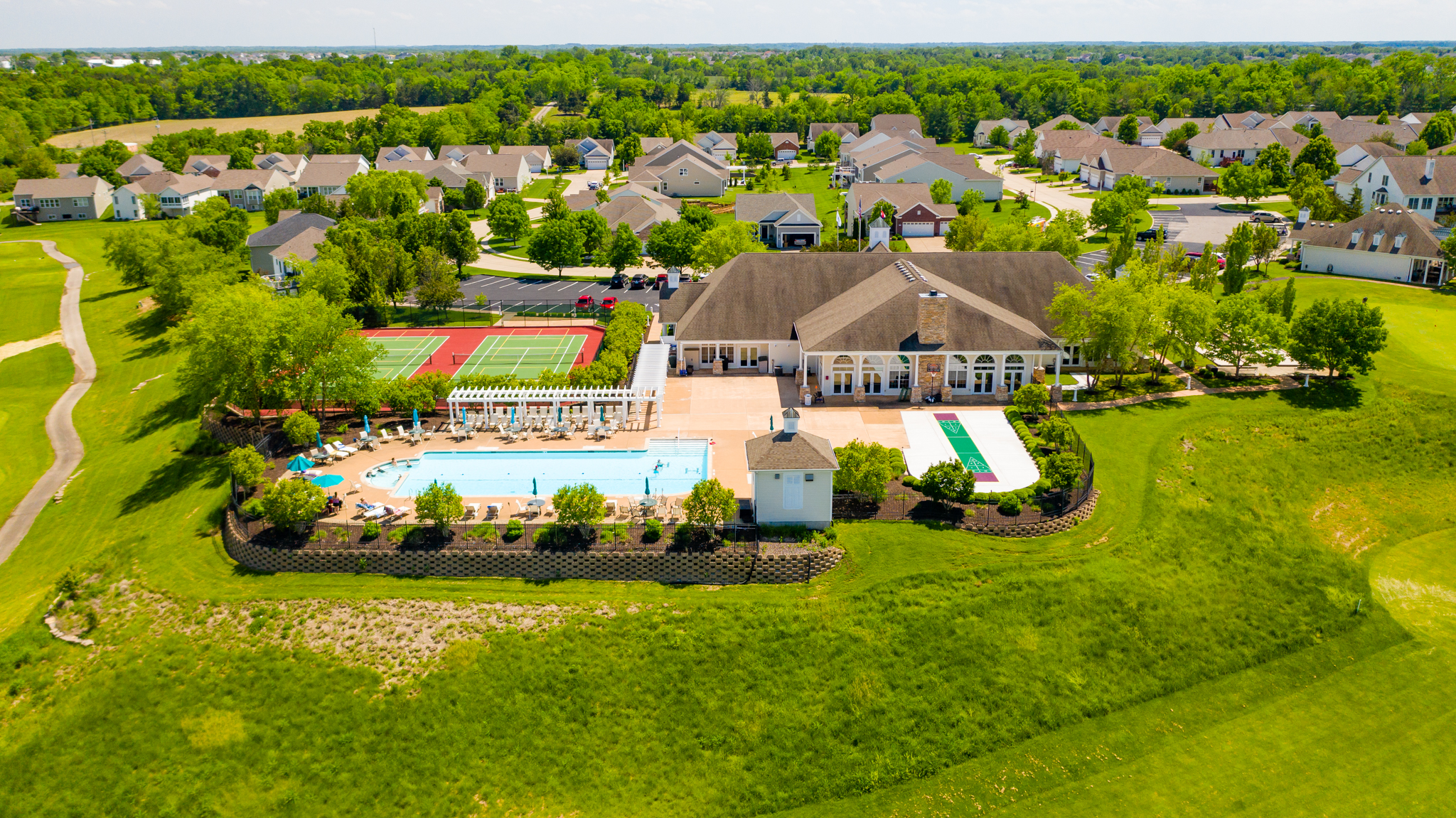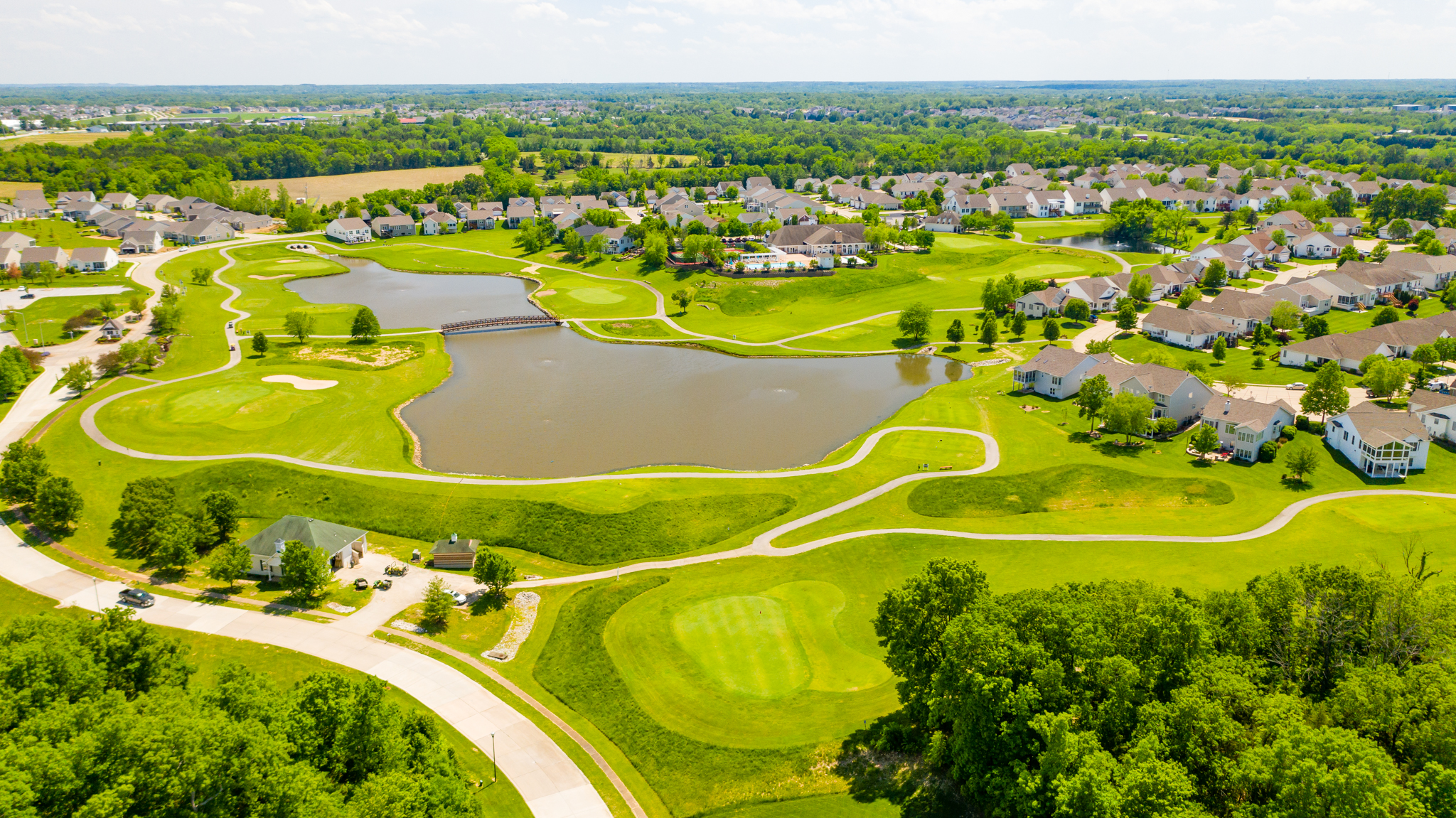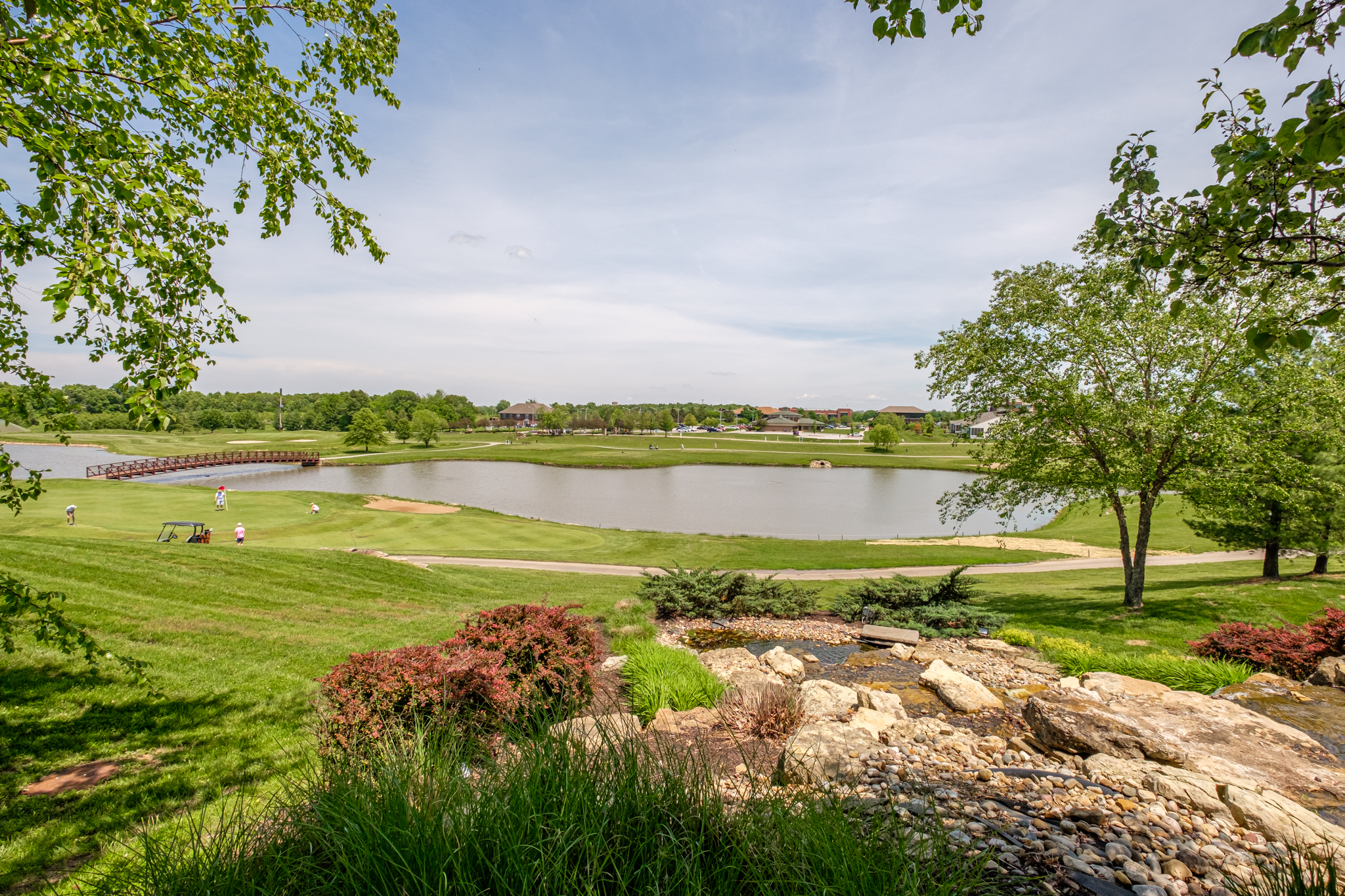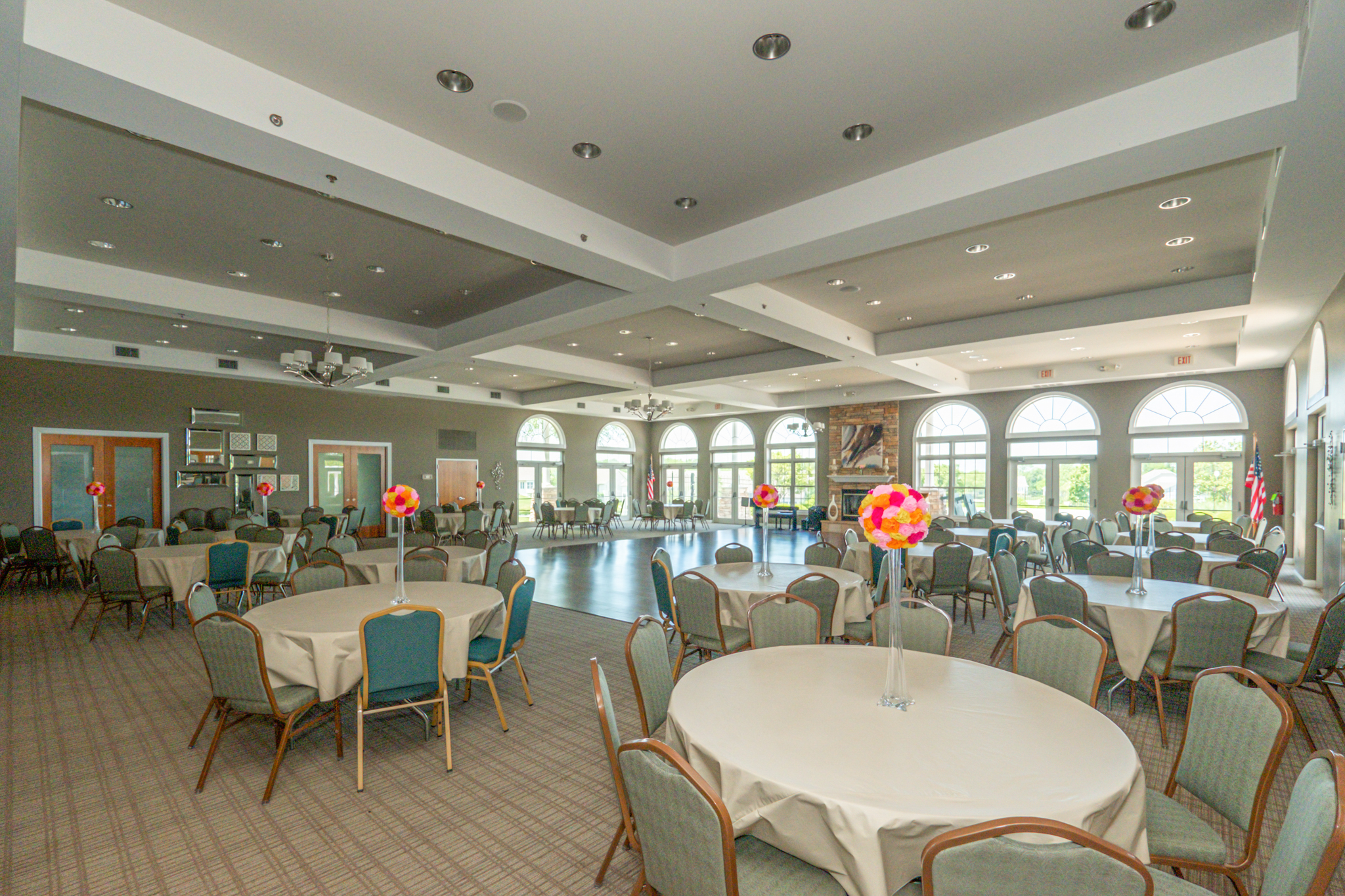 Single-family homes and a few attached villas make up this community. Homes were built by Pulte Homes and Lombardo Homes, and at the time of this writing, a few lots were still available for new construction. Many homes have extended garages to park their golf cart, as that is a favorite mode of transportation around the neighborhood. Home prices range from the high-$200,000's and up. Most are ranch or 1.5-story floor plans to allow for a main floor master bedroom and laundry. The neighborhood HOA covers the yard maintenance and snow removal. HOA fees are paid monthly, and are currently $247/month.
Home owners find the smaller homes much easier to maintain than their previous family homes, but they don't have to sacrifice their independence. They can continue their active lifestyle without the constant worry of regular home maintenance and they are surrounded by neighbors who are all similarly aged.
Cordoba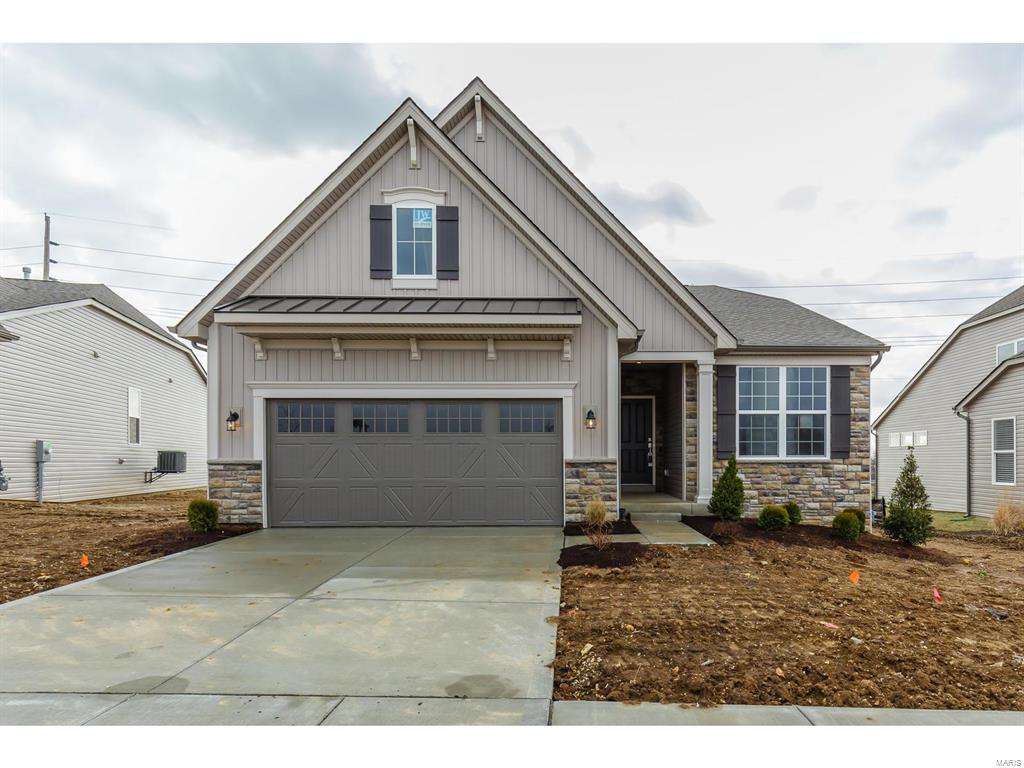 Payne Family Home for Sale in Cordoba Dardenne Prairie, MO
Payne Family Homes developed a community of detached villas in Dardenne Prairie with 51 home sites surrounding a lake with a fountain, walking trail, community park and playground. While this community has no age restriction for home ownership, meaning owners may be from every stage of life, first-time homeowners to retirees, the HOA covers lawn care, landscaping and snow removal to free owners from those chores. HOA fees are paid monthly, and currently run $150.
Like Heritage of Hawk Ridge, these homes are ranch or 1.5-story models, generally range in size from 1,600 to less than 2,500 square feet, and prices start just under $300,000.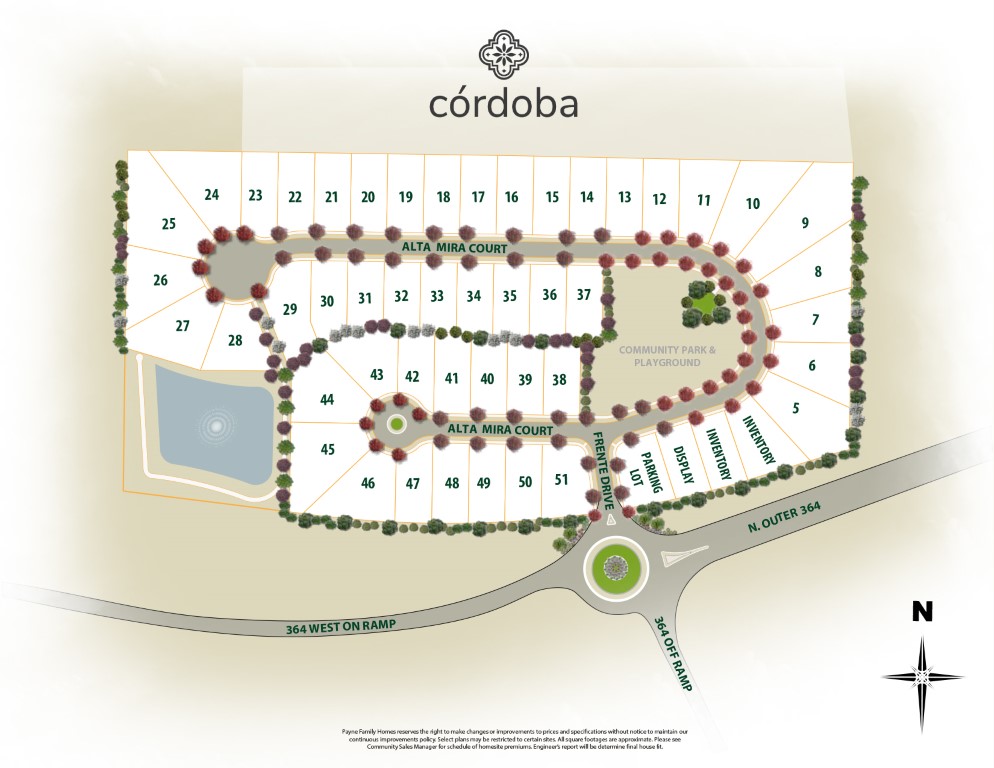 This community might be a great step for adults whose children have flown from the nest, but they intend to work for a while before retirement. Located off Bryan Road and MO-364, the location has excellent highway access for commuting. The monthly HOA fees are slightly less than Heritage of Hawk Ridge, so those who are still working with less available leisure time might find that more practical, but the community doesn't provide those social outlets that are so easily found in the 55+ community.
Inverness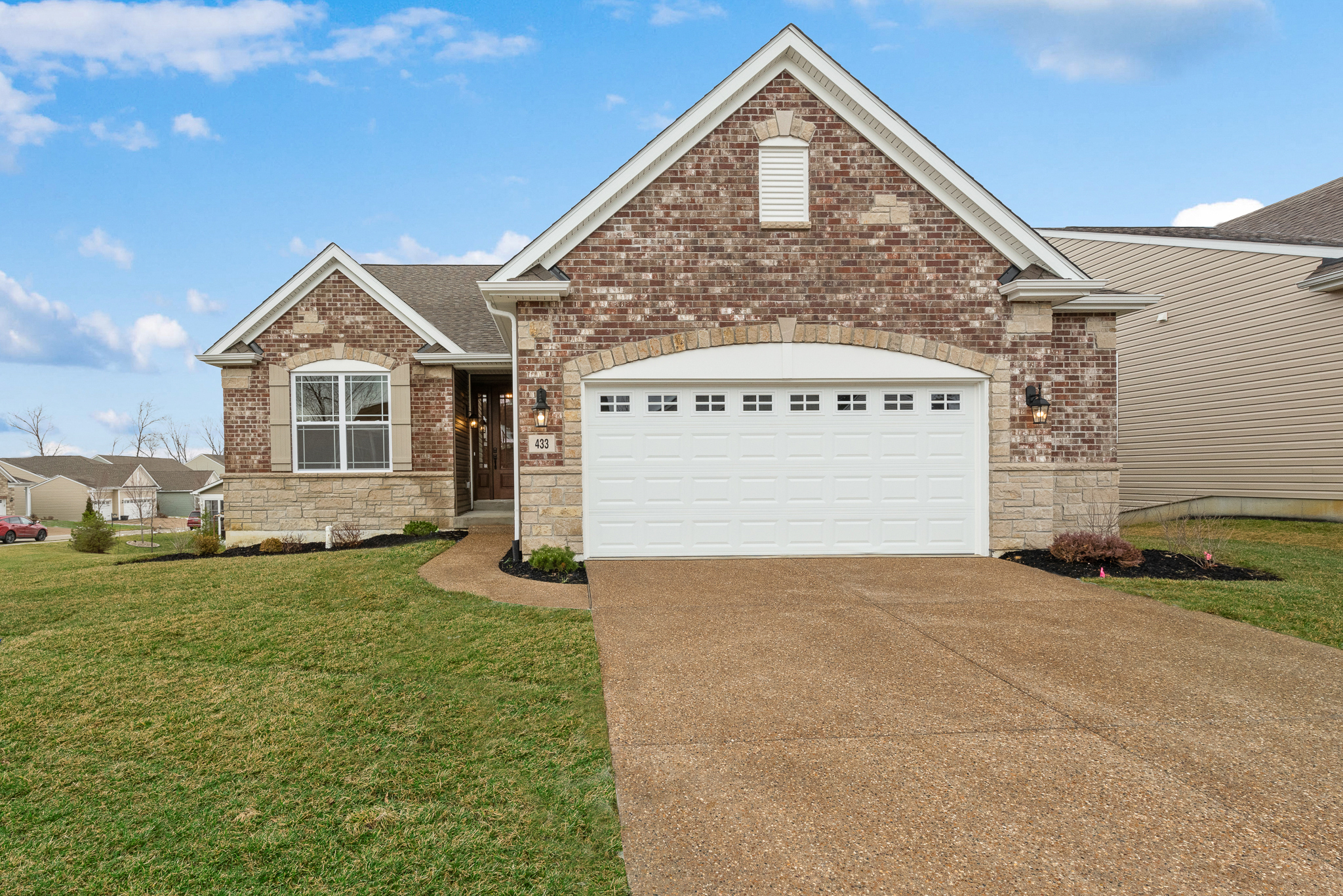 Lombardo Home for Sale Inverness - Dardenne Prairie, MO
Three of the region's top builders, Lombardo Homes, Payne Family Homes and McKelvey Homes, have teamed up to develop a new community in Dardenne Prairie of 266 homes near Feise and Bryan roads. This 106-acre planned community will include a trail system, lakes, and pocket parks for its residents. While Payne and McKelvey have plans for larger homes, Lombardo is building carefree, ranch-style homes ranging from 1,700 to 2,500+ square feet with some plans offering a guest suite on the 2nd floor. Prices range from $330,000 and up. Builders just started selling home sites in late 2019, so this new community will be springing up in the coming months and years.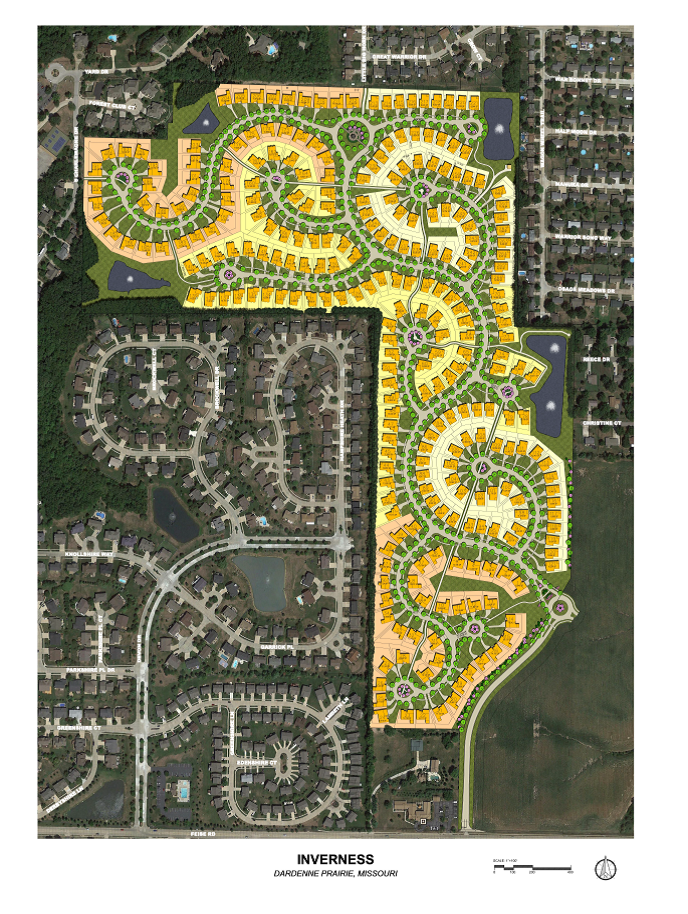 Site Map of the Inverness Community Dardenne Prairie, MO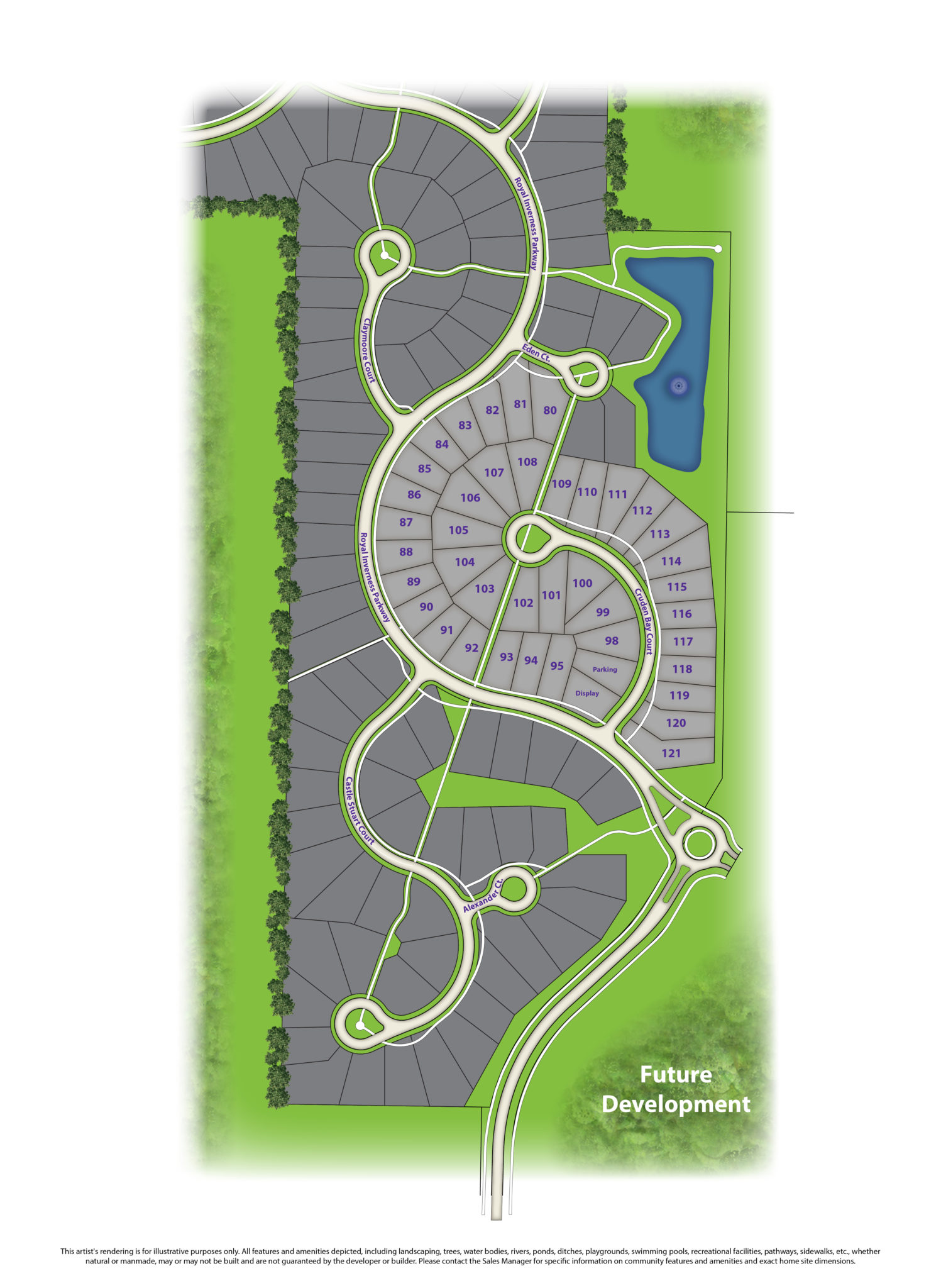 Lombardo Carefree Homes Section of Inverness in Dardenne Prairie, MO
It has become a nationwide trend to experience intergenerational living, where people of mixed ages from every stage of life live together. Inverness offers this option, as empty nesters may be living next door to a newly married couple or a single working professional, and down the street from a young family with children. The 2-story plans allow for adult children to continue living with their parents, while still having their own private living space. The HOA will cover the yard and snow removal, just as it does in the other two communities.
Downsizing has a whole different meaning when you consider communities like the 3 mentioned here. For many who make the move to a smaller home with less maintenance, their only regret is not having done it sooner. If you or someone you know is considering downsizing and would like to tour the three communities listed in this article, or others, give our team a call. Our knowledgeable agents would love to show you options that could make your life more fun today. We can't wait to talk with you!