Forever Fans and Friends Newsletter July 2023
Posted by Bailey Hager on Friday, July 14, 2023 at 1:43 PM
By Bailey Hager / July 14, 2023
2 Comments

---
Summer Splash Bash
Thank you to all of you who attended our Summer Splash Bash appreciation event in June at O'Fallon's Alligator Creek. This year's Splash Bash was a resounding success, with a record-breaking turnout of over 224 enthusiastic attendees! We had so much fun seeing all of you and seeing the joy and excitement on your faces. Thank you for making this event an unforgettable experience!
Mark Your Calendar for Our Next Appreciation Event!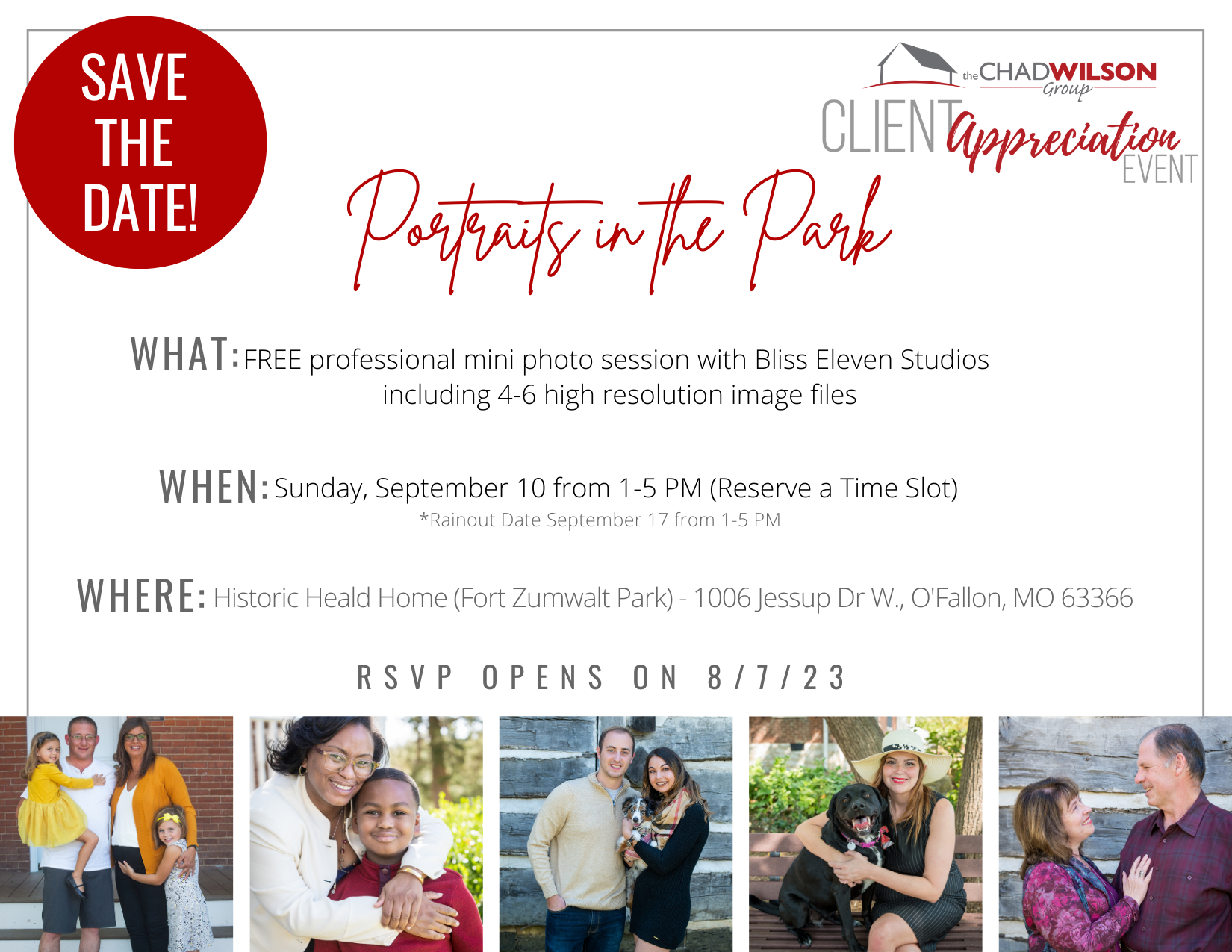 Get ready for the most in-demand and anticipated appreciation event of the year! Portraits in the Park, with Bliss Eleven Studio is back! At this event, you will be treated with a mini-photo session with professional photographers. Within a week after the event, you will be emailed 4-5 high-resolution images for you to use as you would like. Grab your calendars and circle the date in bold, as RSVPs open on August 7, 2023. Stay on the lookout for an email from our team with the EventBrite registration link, followed up with a phone call from our team. We hope to see you there!
St. Louis Metro Area Residential Market Trends
Here is a quick look at the local St. Louis metro area housing market, residential resale only for St. Charles County. All data was gathered from the local St. Louis MLS for the month of June 2023.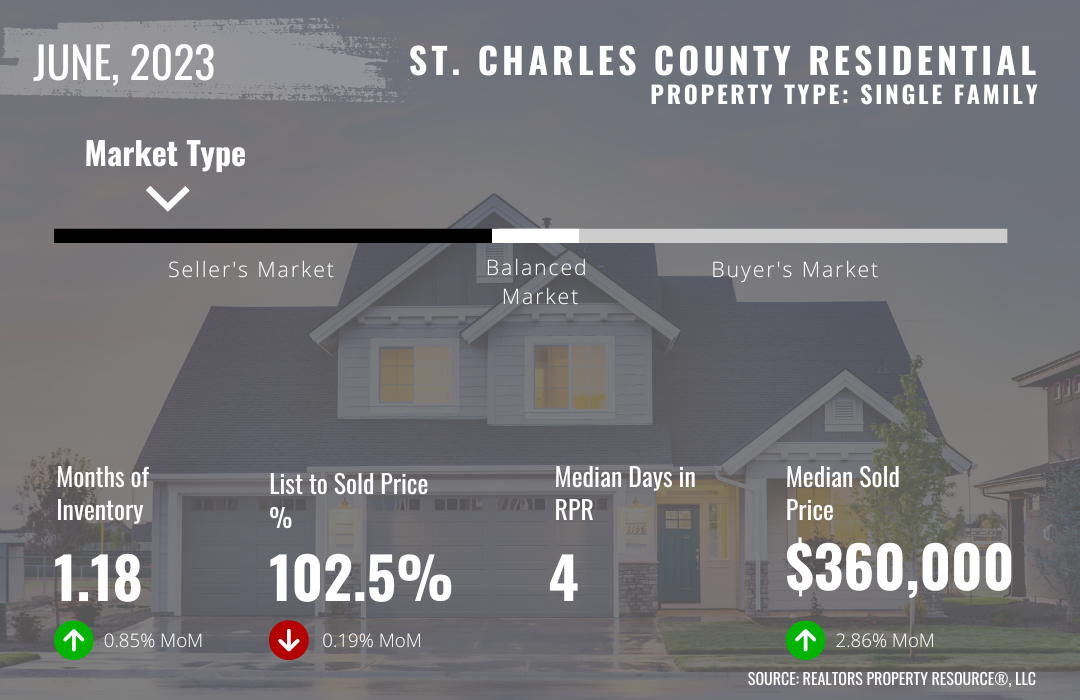 ==> For details of St. Louis, Warren and Lincoln Counties, check out our Market Conditions blog here!
People always ask us: When is the best time to buy or sell a home? The answer is: Whenever the time is right for you, your family, and your unique situation. The market is always changing, and it can be nearly impossible to time it right. Right now, we are sitting in a strong seller market. So this may be the perfect time to cash in on your equity. We recommend evaluating your own situation and understand your options in order to decide when buying or selling a home makes the most sense for your unique situation.
Home values continue their upward trend. Check out this 15-year graph illustrating the medium estimated value in St. Charles County.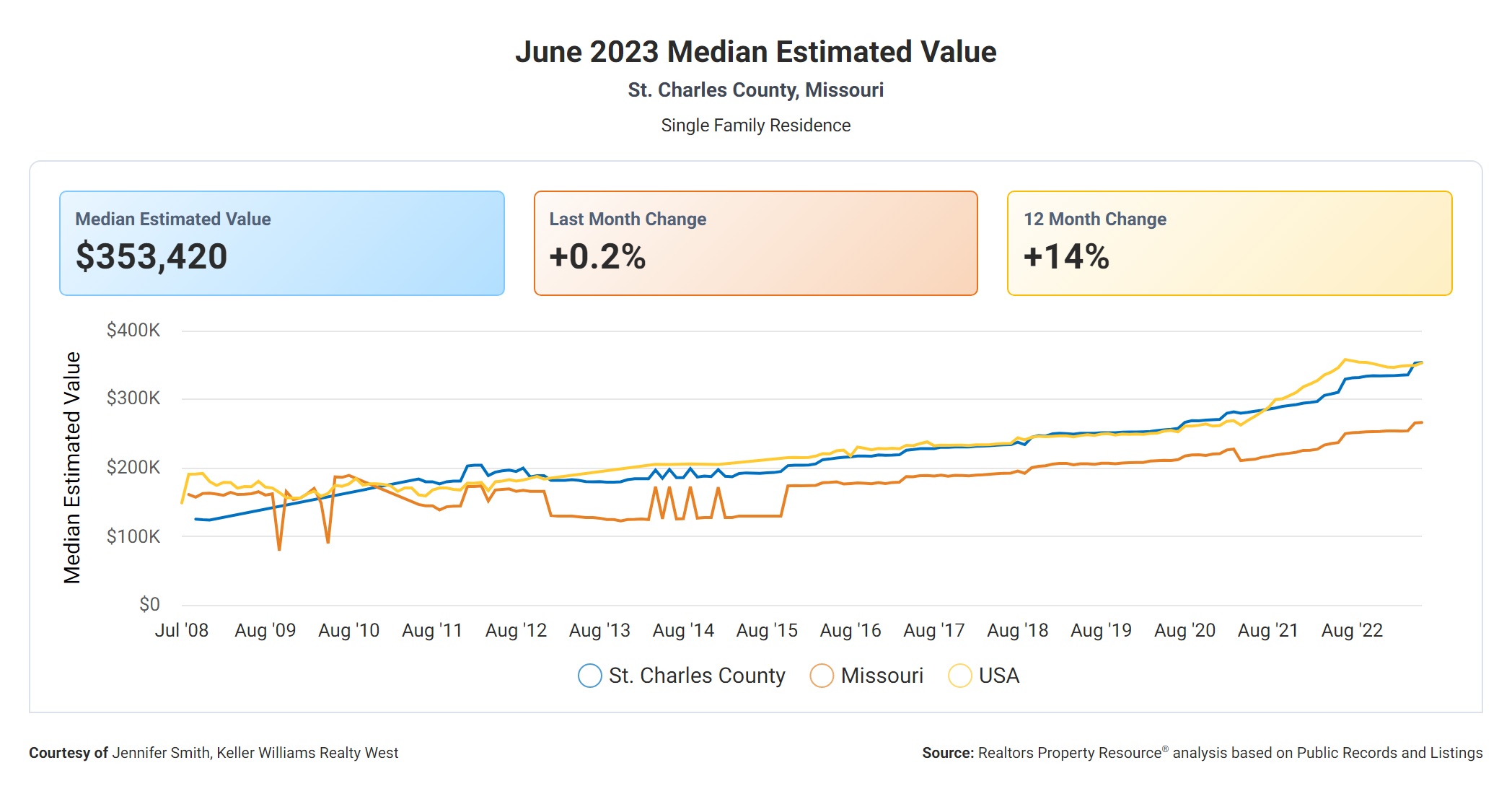 Are you interested in seeing what time has done to the value of your home? If so, give us a call at 636-229-SOLD, or click here and register on the contact form, and one of our Listing Specialists will provide a Market Analysis for you.
---
Raving Fan Referral Boxes
There was so much excitement about this quarter's Raving Fan Referral Box! Fans that referred clients to our team, to help with buying or selling properties, were treated with a box of locally-sourced goodies. We love to support our community! Our fans enjoyed BBQ sauce, salsa, pepper jelly and BBQ rub!
How do you get a box next quarter? Simply keep your ears open when you hear someone talking about real estate! Pass our name along to your friends, or simply click here to provide us their contact information, and we'll reach out to them!
Culture of Caring: Our Next Charitable Endeavour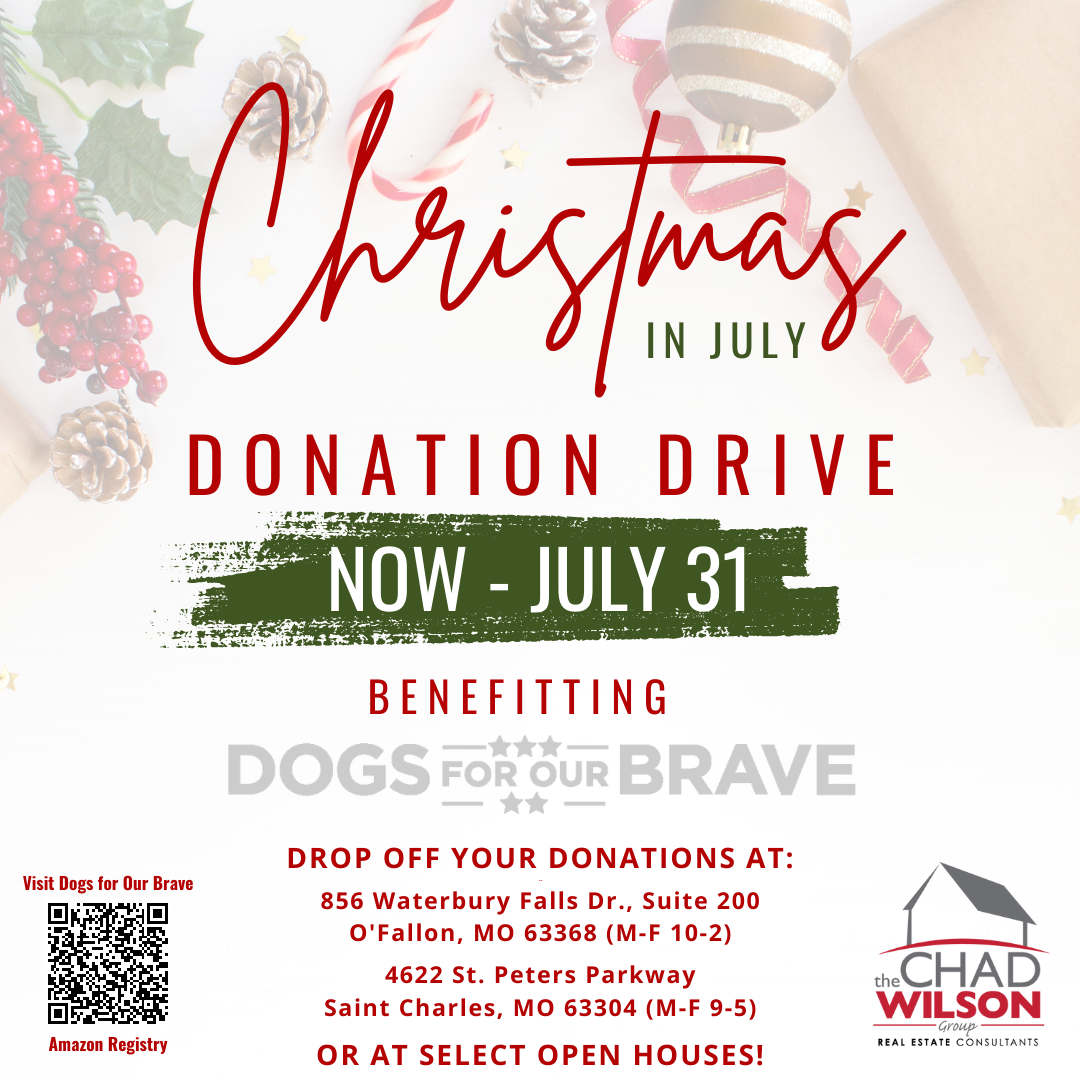 It's that time again! We are so excited to once again host our
Christmas in July Donation Drive benefiting
Dogs For Our Brave, Inc.
Throughout the month of July, we will be collecting items items needed by Dogs for Our Brave to help them carry out their mission of providing professionally trained service dogs at no cost to veterans who have suffered debilitating injury or illness while in service to our country.
We have collection boxes at many of our Open Houses and also at our office throughout the month of July.
Below are the most needed/most requested items:
Powder-Free Nitrile Gloves

Large-Sized Gentle Leaders

Milk Bone Dog Biscuits

Service Dog Patches

Kong Dog Toys

Safety Glasses

Soap (Dish & Hand Soap)

Chalk

Dry Erase Markers

Cleaning Supplies

Copy Paper

Stamps
Or visit their Amazon Registry for specific needs.
If you are interested in supporting Dogs For Our Brave, you may drop off your donations at our O'Fallon office (856 Waterbury Falls Dr, Suite 200, O'Fallon, MO 63368) Monday - Friday between 10 a.m. and 2 p.m. or our select open houses. Just watch our facebook page for Open Houses that have the Christmas Tree lights to know which Open Houses are drop-off locations!
---
Who Do You Know that We Can Help?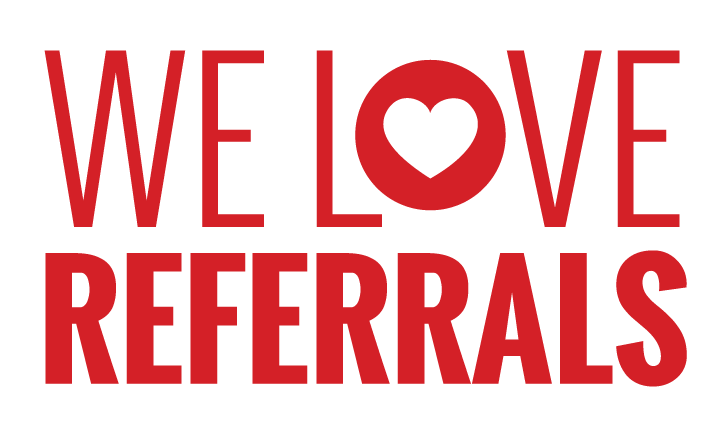 Perhaps you know a first-time buyer, a family who has outgrowing their current home, or someone looking to downsize who could benefit from real estate expertise. Referrals to your family and friends are always appreciated. Simply click here to provide us their contact information, and we'll take it from there. Of course, if your own housing needs change, please reach out to your agent or Client Care Coordinator!
Buyer Spotlight
Is moving on your mind? Check out our Buyer Spotlight! These are pre-qualified buyers that we represent that have been unsuccessful in finding a home in this tight inventory market. Is your home a good fit? If so, call us at 636-299-SOLD, or fill out the contact form here!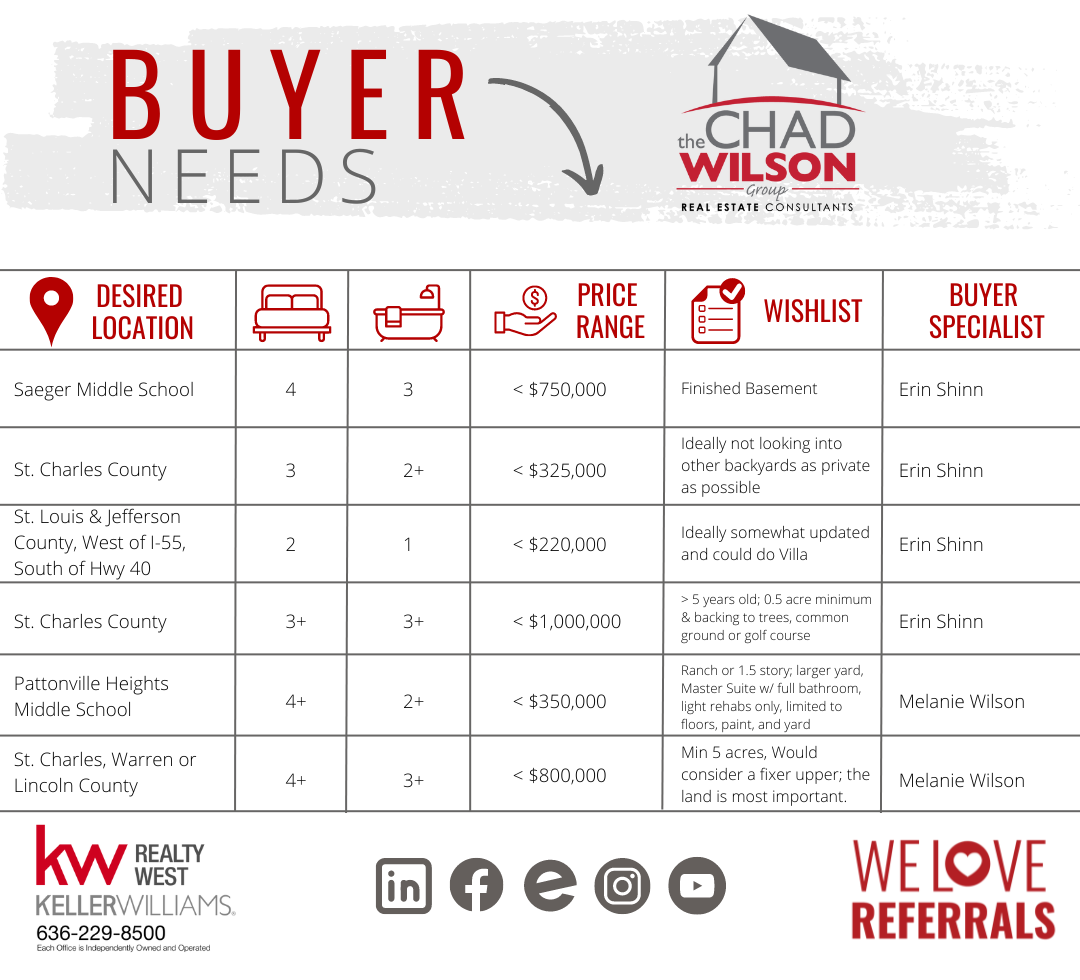 ---
Commercial Real Estate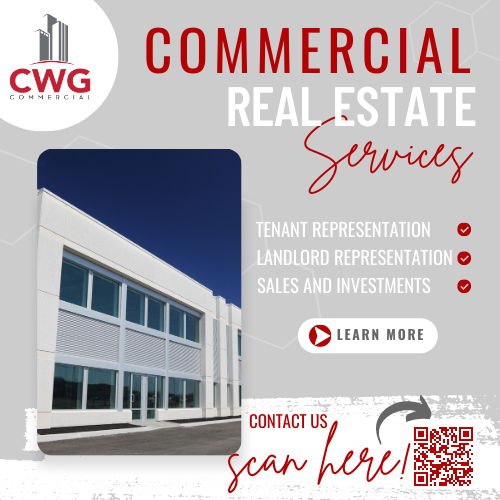 Did you know that we do Commercial Real Estate too?
CWG Commercial provides commercial real estate sales, leasing, investment, land and development services throughout St. Charles, St Louis, Lincoln and Warren Counties MO. Our team of commercial real estate agents specialize in land, industrial, office, investment, multi-family, retail and commercial properties. The team represents buyers, sellers, landlords and tenants. If you're in the market to buy, sell or lease commercial real estate, contact CWG Commercial to discuss your commercial real estate needs. Or reach out to Denise O'Mara, CWG Commercial Real Estate Specialist. To easily connect with Denise, here is her digital business card. Simply click "Save Contact", and then click "Add to Contacts" to save her contact information! http://blinq.me/f91XgihaEHn4
---
Your Real Estate Resource
It is our goal to be your real estate resource for life. See below for just some of the many ways that we can be of service, in addition to traditional, residential real estate buying and selling.
If you have any suggestions for content in upcoming newsletters, please reach out to us at [email protected], and we'll do our best to provide you the best information to continue to be your real estate resource. We look forward to hearing your thoughts!
---
Watch Us Grow!
During June we were honored to add Bailey Hager to the full-time position of Marketing Coordinator, and Jackie Pundmann to the position of Commercial Real Estate Specialist. They both look forward to meeting you!
---
Are You Interested in a Career In Real Estate?
Your unlimited CAREER GROWTH can start here and now with The Chad Wilson Group.
Are YOU a newly licensed agent?
Are YOU an existing agent looking for coaching, leads, and technology/admin support to allow you to focus on what you do best?
Are YOU looking for a career change?
If you answered YES to any of the questions above, reach out to us on our
careers page
, and let's start a conversation! We are hiring, both new agents to the business and experienced agents looking to level up their career. Full-time agents only.
---
Featured Residential Listings