Forever Fans and Friends Newsletter September 2023
Posted by Bailey Hager on Friday, September 15, 2023 at 3:26 PM
By Bailey Hager / September 15, 2023
Comment

---
Portraits in the Park
Thank you to all who attended our 'Portraits in the Park' appreciation event Sept 10 at Fort Zumwalt Park. This year's event was a resounding success, with a record-breaking turnout of over 250 people and many furry friends too! We had so much fun seeing all of you and seeing the joy and excitement on your faces. Thank you for making this event an unforgettable experience! Special shoutout to the talented photographers at Bliss Eleven and our amazing team for their hard work. Your continued support means the world to us!
Mark Your Calendar for Our Next Appreciation Event!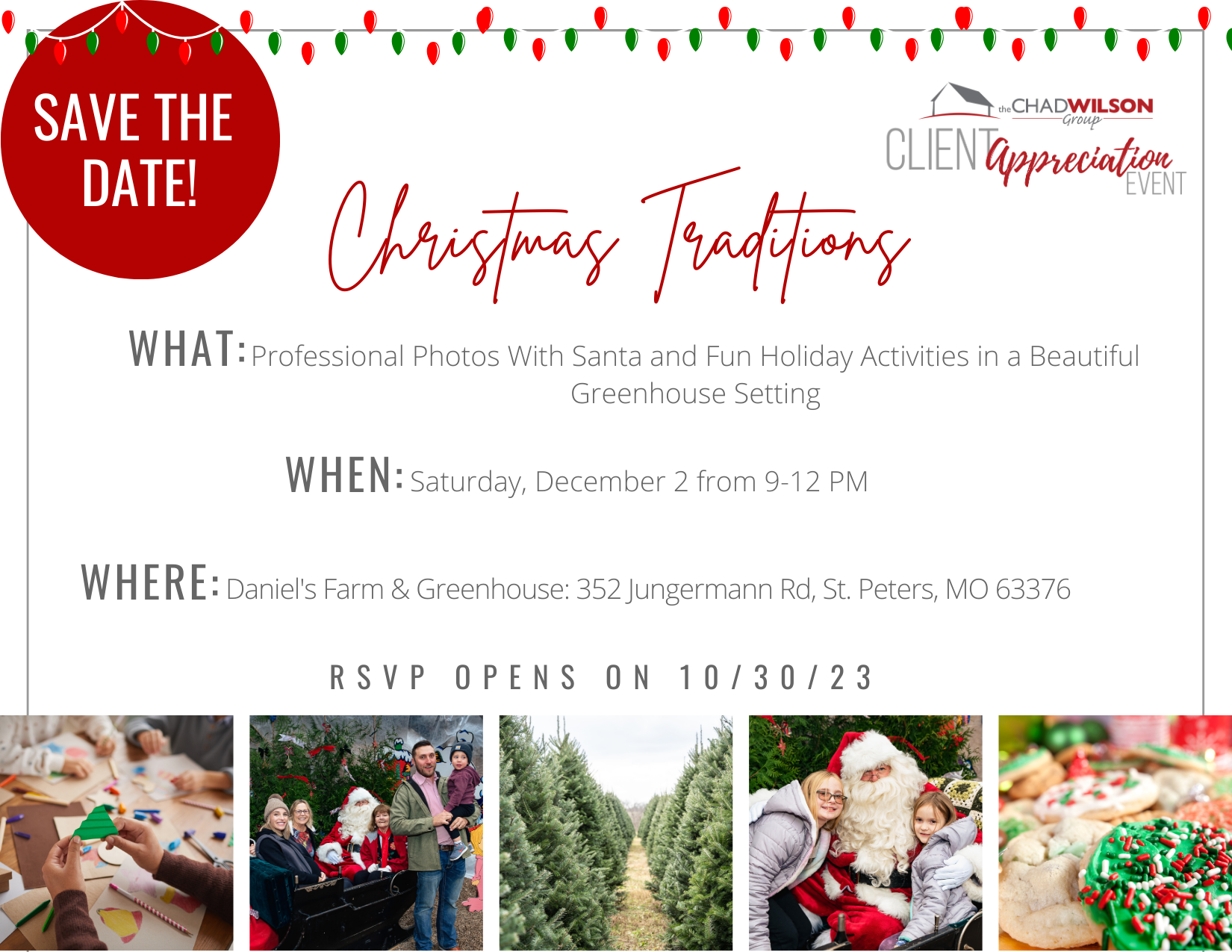 Get ready for our highly anticipated annual celebration, 'Christmas Traditions' on December 2 from 9 am to noon. This event is the highlight of our year, and it's filled with enchanting experiences that capture the true essence of the holiday season. Imagine capturing magical moments with Santa through professional photos, enjoying the delightful harmonies of our festive singing elves, savoring the warmth of our gourmet hot cocoa bar, and indulging in a variety of other exciting holiday activities. With all this holiday magic in one place, wouldn't you love to be a part of it? RSVPs open on October 30, 2023! Stay on the lookout for an email from our team with the EventBrite registration link, followed up with a phone call from our team. We hope to see you there!
St. Louis Metro Area Residential Market Trends
Here is a quick look at the local St. Louis metro area housing market, residential resale only for St. Charles County. All data was gathered from the local St. Louis MLS for the month of August 2023.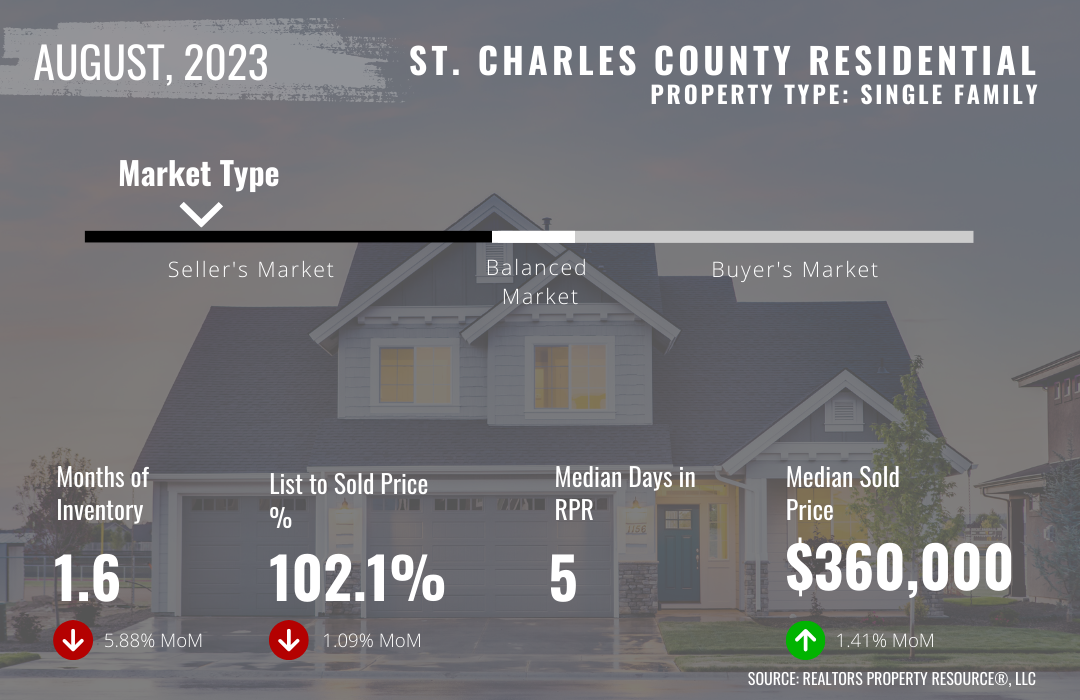 ==> For details of St. Louis, Warren and Lincoln Counties, check out our Market Conditions blog here!
People always ask us: When is the best time to buy or sell a home? The answer is: Whenever the time is right for you, your family, and your unique situation. The market is always changing, and it can be nearly impossible to time it perfectly. Right now, we are sitting in a strong seller market. So this may be a great time to cash in on your equity. We recommend evaluating your own situation and understand your options in order to decide when buying or selling a home makes the most sense for your unique situation.
Home values continue their upward trend. Check out this 15-year graph illustrating the medium estimated value in St. Charles County.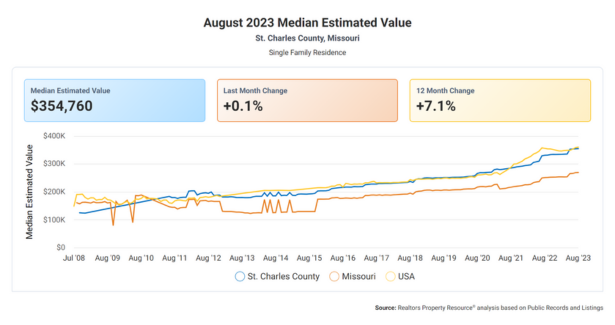 Are you interested in seeing what time has done to the value of your home? If so, give us a call at 636-229-SOLD, or click here and register on the contact form, and one of our Listing Specialists will provide a Market Analysis for you.
---
Dogs for Our Brave
Our team's day of service at Dogs for Our Brave, was nothing short of extraordinary. Spending the day with these adorable pups and the wonderful people at DFOB who work tirelessly to support the dogs and veterans left an indelible mark on us.
Dogs for Our Brave has a truly noble mission: to provide professionally trained service dogs at no cost to veterans who have suffered debilitating injury or illness while in service to our country. Their goal is to use rescue dogs whenever possible, thus saving two lives at once. What's more, in their pursuit of this mission, they go above and beyond, covering all food, veterinary care, and pharmaceuticals for the life of the dog, ensuring that veterans and their loyal canine companions receive ongoing support without any financial burden.
As part of our team's culture of service, we have proudly supported Dogs for Our Brave for the past three years through donations and service efforts. It's been an unforgettable experience, reminding us of the incredible impact we can make when we come together. Let's unite in support of their noble mission – whether by following their cause, volunteering our time, making donations, or simply spreading the love.
Who Do You Know that We Can Help?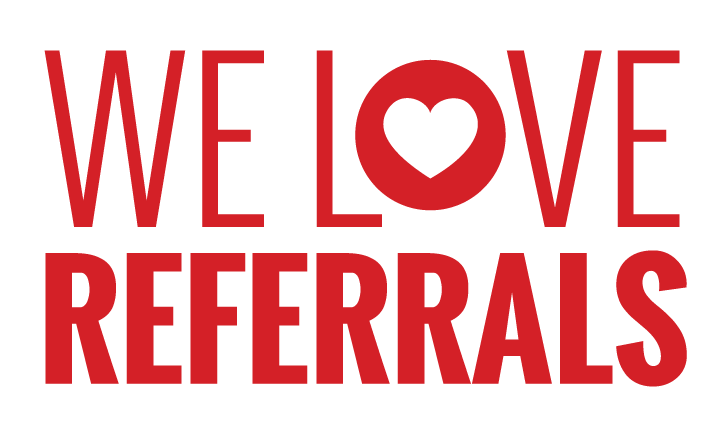 Perhaps you know a first-time buyer, a family who has outgrown their current home, or someone looking to downsize who could benefit from real estate expertise. Referrals to your family and friends are always appreciated. Simply click here to provide us their contact information, and we'll take it from there. Of course, if your own housing needs change, please reach out to your agent or Client Care Coordinator!
Buyer Spotlight
Is moving on your mind? Check out our Buyer Spotlight! These are pre-qualified buyers that we represent that have been unsuccessful in finding a home in this tight inventory market. Is your home a good fit? If so, call us at 636-299-SOLD, or fill out the contact form here!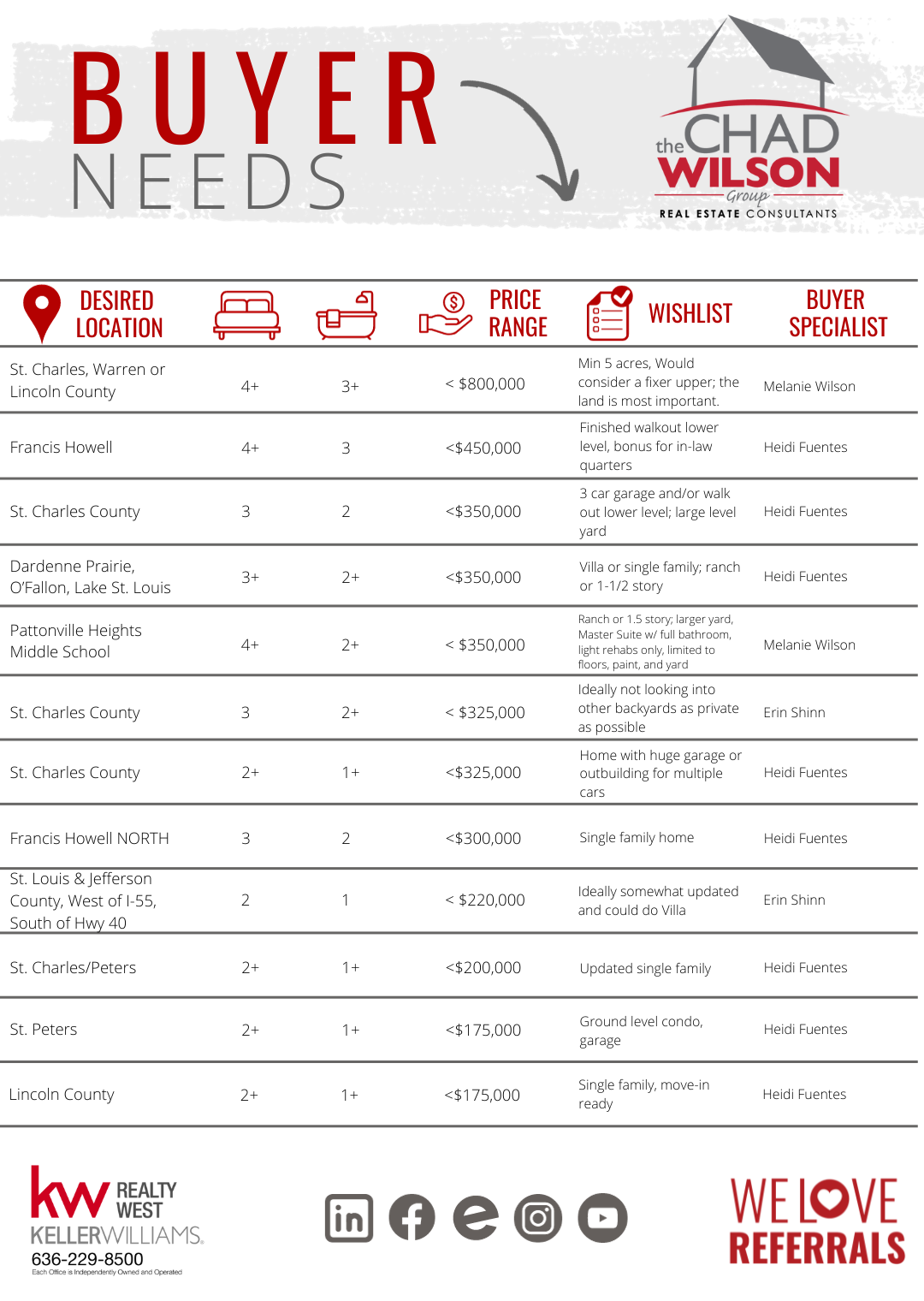 ---
Your Real Estate Resource
It is our goal to be your real estate resource for life. See below for just some of the many ways that we can be of service, in addition to traditional, residential real estate buying and selling.
If you have any suggestions for content in upcoming newsletters, please reach out to us at [email protected], and we'll do our best to provide you the best information to continue to be your real estate resource. We look forward to hearing your thoughts!
---
Are You Interested in a Career In Real Estate?
Your unlimited CAREER GROWTH can start here and now with The Chad Wilson Group.
Are YOU a newly licensed agent?
Are YOU an existing agent looking for coaching, leads, and technology/admin support to allow you to focus on what you do best?
Are YOU looking for a career change?
If you answered YES to any of the questions above, reach out to us on our
careers page
, and let's start a conversation! We are hiring, both new agents to the business and experienced agents looking to level up their career. Full-time agents only.
---
Featured Residential Listings