How Much Has My Home Appreciated and How Much is it Worth?
Posted by Heather Weber on Wednesday, December 23, 2020 at 10:08 AM
By Heather Weber / December 23, 2020
Comment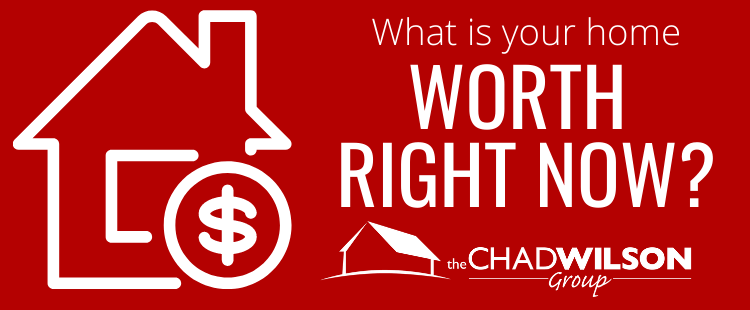 Our local real estate market has undergone some incredible growth in sales prices this past year, as well as consistent home value appreciation for the last several years, leaving many area homeowners to wonder how much their home has appreciated and what is their home worth now. In the St Louis market, the median sales price of a home was up 20.6% in November 2020 over November 2019. That's a figure that's worth pause and reflection. That means the average St Louis area home's value grew over 20% this year. If your home would have sold for $200,000 in 2019, it would sell for $241,200 in 2020, putting $41,200 more money in your pocket. That's amazing…but can it last?
While no one has a crystal ball, some experts are predicting that 2021 will continue to see home values rising, but at a slower pace. Since mortgage rates are expected to remain at historically low levels in 2021, meaning buyers will continue to be able to borrow money very inexpensively, the pool of interested buyers should remain deep, but there is a limit to how high home prices can climb before buyers either can't afford to purchase or are not enticed to buy because the expense outweighs the benefits. That's why experts predict a more modest growth in sales price in 2021, somewhere around 4%, which is still above the typical national average.
St. Charles County Median Sales Price Since 2015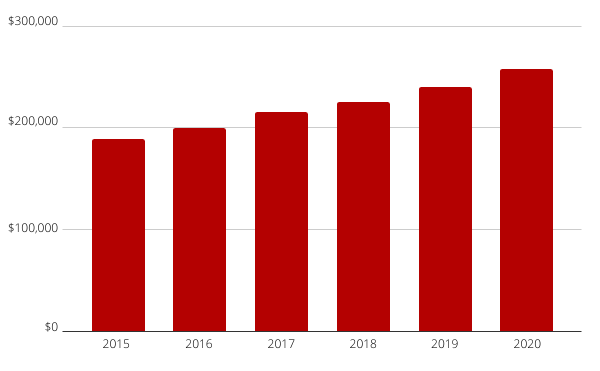 What is Home Equity?
It is common for renters to hear that they should buy a home rather than rent because they will be building equity in their own home rather than paying someone else's mortgage. What does it mean to build equity in a home and is it a sure thing?
Equity is what your home is worth minus whatever you owe on it. That is an asset and homeowners hope that amount grows every year as they work to pay down the mortgage and their home appreciates in value.
Despite the difficulties of 2020, home equity continues to climb, and many homeowners are finding themselves "equity rich", which means the amount they owe on their home is less than 50% of its current market value. What is causing such impressive numbers?
It isn't so much that homeowners are paying their mortgages at a faster rate, but rather that we are seeing record-setting appreciation in most areas of the US. Experts predict that 2020 will end up with the national average sales price for a home to be 7.4% higher than in 2019. That's much greater than the typical 3.8% average annual increase.

How Can I Find Out What My Home is Worth?
Can you use an online tool like Zillow's Zestimate for an accurate valuation of your home's worth? Zillow uses public and user-submitted data to estimate your home's value. Zillow has never been in any of the homes that it evaluates. For those that are for sale, they are trusting the data that the REALTOR® inputs and the photos of the home to decipher their value. For homes not on the market for sale, they aren't relying on anything specific about your home, just tax records and public information.
Nationwide, if your home is not currently on the market, Zillow says their median error rate for their Zestimate is 7.5%. Zillow's website tells you the percentage of transactions for which their Zestimate was within 5%, 10%, and 20% of the transaction price. In the St Louis market, those percentages are blank, meaning they don't feel confident enough with the valuations in this region to predict their accuracy. It is the same for Kansas City. So if you live anywhere in Missouri, Zillow would tell you it is not trust-worthy to use their Zestimate when calculating your home's value.
Rather than rely on Zillow, an experienced REALTOR® can create a Comparative Market Analysis (CMA) for your home. Click here to request a free CMA from our team. This CMA looks at three areas of the real estate market, specifically the 3 C's of real estate: Competition, Consumption, and Condition.
Competition
If the number of homes on the market that compare to yours in terms of price, size, location, etc is low, you can expect your home to be more valuable in the eyes of a buyer, since they have fewer options. That has probably been the number one reason homes have appreciated so significantly in 2020; inventory is incredibly low. In the St Louis market, the number of homes for sale in November 2020 was 37.3% lower than in November 2019. Sellers are often receiving multiple offers on their home in today's market, which drives up the sales price.
A REALTOR® will analyze all of the homes on the market that would be competing for the same buyers as yours and consider that when creating your CMA.
Consumption
This has to do with the rate of home sales over a given period of time. How many days on average is a home like yours on the market before it sells? The lower the number, the higher home prices will rise. In the St Louis market, the number of months supply of inventory was down 40.7% in November 2020 compared to the same time in 2019. That means if no new homes for sale enter the market, we would run out of homes to sell in roughly 1.6 months in the St Louis area. A balanced market, meaning the supply of homes for sale equals the demand of buyers looking for them, generally shows as a 6-month supply of inventory. The St Louis market has not seen a 6-month supply of inventory since Spring 2015, which has resulted in the much higher than normal home value appreciation. A REALTOR® will consider the average Days on Market (DOM) for a home like yours when creating your CMA.
We go into much more detail on the strategy for pricing your home in a sellers' or buyers' market in a separate blog. A REALTOR® will consider the average Days on Market (DOM) for a home like yours when creating your CMA.
Condition
A REALTOR® will look at the details of the listings for comparative homes that have sold in your area as they create your CMA. They will compare the types of finishes on the floors, counters, cabinets, and fixtures, the age and condition of appliances and systems, and other updates to see how your home stacks up against others. If one home has a finished walk-out lower level and the other has unfinished lower level storage space, that makes a difference in value. If one home backs to woods, water, or open fields and the other backs to someone else's yard, that makes a difference in value.
For those who own a home, the temptation to use that increased equity to move up to a home that better meets their wants and needs is very attractive. Today's sellers are finding they can afford to move up to a home with more interior space, better amenities, newer finishes, more land, better schools, and so many other attributes that are exciting to them, because they have more money available, thanks to their current home's higher value, and because they can borrow money at such a low rate.
But like all good things, they only last for so long. When will interest rates start to rise? When will a home's appreciation hit its peak and start to decline? No one knows for sure. If you have an interest in moving, 2021 may be the very best time to do it! Do you want to know what your home is really worth in the current market? Click on the image below to get started and we will create a free, no obligation CMA for you.