How to Buy a Home Virtually
Posted by Jennifer Smith on Friday, April 24, 2020 at 1:56 PM
By Jennifer Smith / April 24, 2020
Comment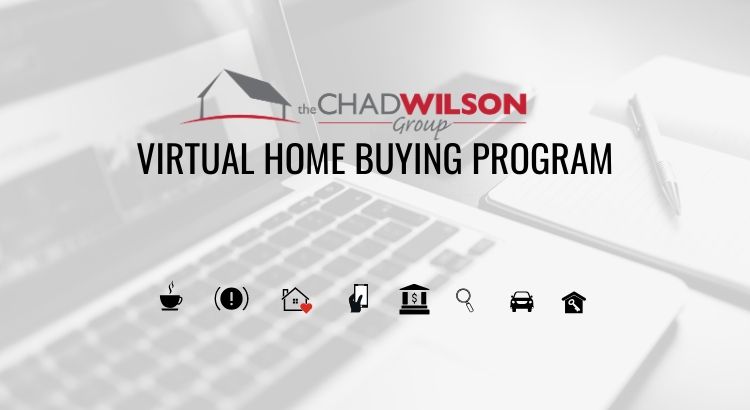 What is "buying a home virtually", and why does it matter?
Buying a home virtually means minimizing the face-to-face communications or interactions with your real estate buying team, lenders, sellers, sellers' agents, and contract-to-closing vendors, ideally allowing you to buy your home without physically encountering a person.
You don't need to put off your home-buying plans to be safe during the COVID-19 crisis. Our Virtual Home-Buying Program lays out a plan to limit face-to-face interactions to just essential business, and in some cases, you may be able to experience the entire transaction virtually. We embrace tech tools to make the home-buying process easy and digital.
And here is the thing...virtual home buying is NOT new to our team. For years we have helped relocation buyers and military buyers purchase homes virtually. After purchasing a home recently, one of our past clients said this about their transaction:
"Erin was amazing. We were out of town buyers, and honestly there is no way we could have done it without her help. From crazy marathon showings and video chat house tours to problem solving in crunch time when we hit a major snag! She was a joy to work with, and we are in an amazing house as a result."
Another recent transaction, using many of the features of our virtual home buying program, was an Oklahoma military couple considering relocation back to the St. Louis area. The husband was to be deployed to Korea, and they decided that it would be easiest on the family if they could be near extended family in the St. Louis area during his absence. Our Buyer Specialist Heidi conducted several FaceTime tours of homes to help them in their remote home search.
These are just two of many examples where our tech-enabled team was able to secure the trust of clients to help them purchase their home virtually or almost virtually.
How to buy your home virtually:
1. Virtual Consultation
When our team is interviewing for the job of helping you to buy your next home, we start with a buyer consultation that we call our "Discovery Appointment". The objective of this appointment is to learn more about you, what you are looking for in your next home, and why certain features are important to you, so that we can then make a game plan to get you what you want. Our experienced agents will walk you through the home-buying process, discussing lending options, explain the residential sale contract, explore possible contingencies to consider adding to a contract, and much more.
While typically these appointments have been done in person at our office, our Buyer Agents are now conducting these consultations virtually through video conferencing like Google Hangouts or Zoom.
2. Digital Alerts
Our new website is an amazing tool to help St. Louis Metro area buyers learn about communities in St. Louis, St. Charles, Warren and Lincoln Counties. Even better, it directly syndicates with our local MLS (the same resource that real estate agents use) to bring you a searchable, current database of homes for sale in our area. It updates every 20 minutes with the MLS to make sure that you don't miss out on a home in this competitive buying market. You can access saved searches and favorite listings, receive email updates when new listings are added or when there are pricing changes, and request more information on all your favorite listings. You can even request either virtual tours or in-person tours.
You can either set up a search on your own and save it to your account, or you can fill out a quick form to have one of our agents create a search for you.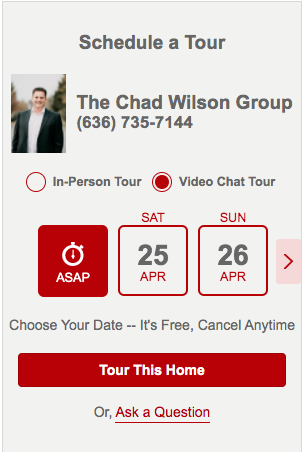 3. Virtual Tours
While unconventional, it isn't unheard of for buyers to purchase a home without even stepping in the door. Easily request video chat tours on any property search page on our website. Our Buyer Specialists will video chat with you while they tour the home, investigating every nook and cranny. Alternatively, our team is producing Virtual Open House Tours to help you determine if one of our listings is the right home for you.
If you choose to visit a home in person, we have implemented the following showing standards since the health and safety of our clients is of the utmost importance.
Buyers are to be pre-approved for the list price of the home and have a signed buyer-agency agreement.
Agents are to drive in separate vehicles from buyers.
Walk around the exterior of the home first to make sure it meets your needs before entering.
Social distancing of at least 6 feet will be practiced during the entire showing.
Hand sanitizer and/or sanitizing hand wipes that contain at least 60% alcohol are to be used by agents and their buyers prior to entering the home.
Minimize contact of items within the home by only touching the doorknobs to open and close exterior doors to enter and exit the home. The homeowner will have all lights turned on for the showing and will turn them off after showing.
Please do not sit on any furniture in the home and wear booties if provided.
If the buyer agent and/or buyer is feeling ill or thinks they may have been in contact with someone who is ill, or if the buyer agent and/or buyer has been near someone who has a laboratory-confirmed COVID-19 diagnosis or has a suspected COVID-19 diagnosis and is under quarantine by the County Health Department, we respectfully ask that you do not schedule an in-person showing. We will coordinate a virtual tour.
4. Electronic Signature
When you are ready to make an offer on a home, you can do it from the comfort of your home. If you haven't bought or sold a home in a while, you may be surprised to hear that as a tech-enabled team, we have been using electronic signatures since 2012. Electronic signature allows you to sign most documents to buy and sell a home electronically from the comfort of your home using a platform called Docusign. The online requirements are internet connectivity and an unique email address for each buyer of the home.
5. Earnest Money Delivery
Once you are under contract on a home, there are still several milestones to get to the closing table. One of these is depositing the Earnest Money that was agreed upon in the residential sale contract. The Earnest Money Deposit is your "good faith" commitment and earnest intent to perform. If the sale is closed, the earnest money will be applied to the purchase price of the home. Conveniently, for the last couple of years, most local title companies have been offering online earnest money service.
6. Inspection
Most contracts to purchase a home involve an inspection contingency. In the past, we have often encouraged buyers to go to the home inspection to learn more about the home. And yet, the home inspector is incredibly busy conducting their very detailed home inspection; an inspector's actual face-to-face time with the buyer is minimal. Most home buyers use this time to measure rooms and plan their future decorating and furniture placement. Home inspectors typically meet with the buyer at the end of the inspection to lay out major findings and their recommendations and then provide a detailed report via email with detailed photos and descriptions. If you wished to not attend the home inspection, let us help direct you to ASHI-certified home inspectors that we know and trust who will provide you a detailed inspection report and conference with you after the home inspection.
7. Closing Day
Closing day is the day you sign the papers to transfer the title of the home to your name. In Missouri, you typically go to your Title Company to sign documents that are also notarized. During the current COVID-19 crisis, most local Title Companies are providing curbside signing. Although it is typically one of the most fulfilling days in the buying/selling cycle and our Buyer Agents LOVE attending the closings, we are instructing our agents to not attend closing for everyone's protection.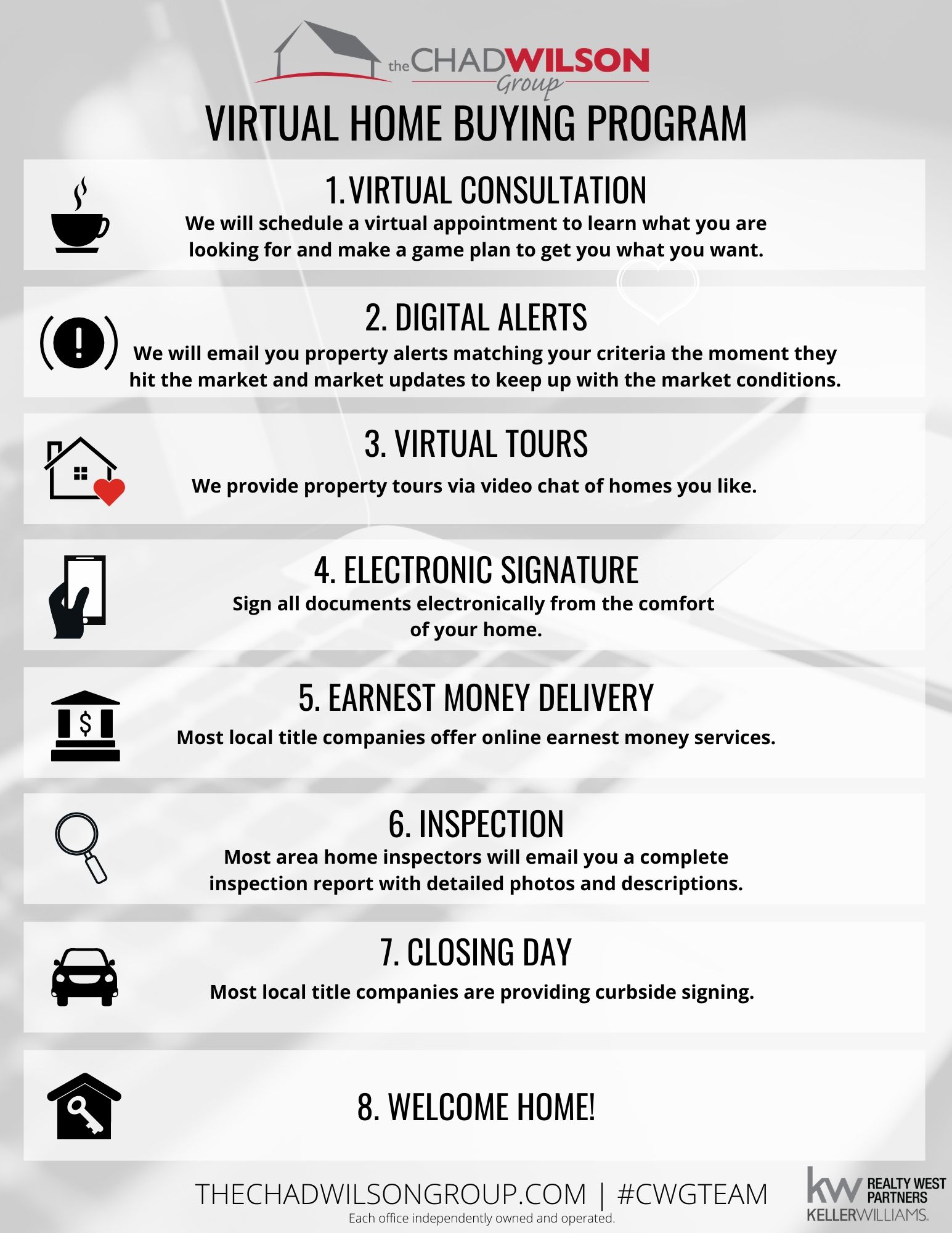 Conclusion
While these times are challenging, our team has a proven strategy of helping our clients buy homes using current technology and safety precautions. Most of our home buyers are also local home sellers. Learn more about our Virtual Home Selling Program!
Our team is here for you providing Simply Exceptional Service. Let's stay positive and flatten the curve as we work together as a community!
Ready to talk about buying your home virtually? Register here to schedule a time to meet with one of our Buyer Specialists. Jason & Crystal - Relocating to St. Louis Area
Jason and Crystal moved from southern Missouri to the St Louis area to find a great school for their son to attend. They didn't know much about the region, so they relied on Deneke Bakalar, Realtor with The Chad Wilson Group, to take video tours of many homes to help narrow down their options and find their perfect home. On Valentine's Day, they closed on their new home and started writing their next life chapter!