Ten Tips for Living in Your Home While Selling it
Posted by Beth Carr on Tuesday, February 2, 2021 at 11:24 AM
By Beth Carr / February 2, 2021
Comment

One of the most common conversations we have with our clients who are listing their home for sale is how to continue living in their home while it is on the market. They have already dedicated much time, energy, and money to preparing their home for sale, and when showings are scheduled, it is time to showcase this hard work. Yet, it can feel overwhelming to think about keeping your home "show-ready" 24/7, especially if you have children and pets. As unimaginable as it may seem to be able to navigate daily life and keep a pristine home, the fact is that once you put your home on the market, you are no longer living in your home, you are now selling your home, and that is really two different situations.
Here's one of the funniest stories one of our home sellers shared about their time on the market. This home seller owned a professional home cleaning company, so she was in control when it came to keeping a squeaky clean abode. With just a few minutes notice, she could be out the door to allow a showing, and her home was always in excellent condition. She had mastered every trick and tip our team suggested.
As she did a quick sweep around the house, making sure all of the lights were turned on and window blinds were open, she picked up the items she needed to take with her and called the dogs to jump into the van so they could leave before the buyers arrived. After about an hour, she returned home to find that one of the dogs had removed underwear from the clothes hamper she had tucked into the walk-in closet, and had left it lying right in the middle of the owner's bedroom floor. So the agent and buyers had to step around her underwear for their showing! She was mortified and asked us to apologize to the buyer. The good news...that buyer made a great offer on the home that was accepted, so all's well that ends well!
We had a home seller who actually moved their entire family...husband, wife, multiple children and multiple pets, to an apartment BEFORE listing their home. They were going to be apartment-dwellers for months anyway while their new home was being built, and the idea of adding a month or two to that timeframe was more appealing to them than trying to maintain a clean home amidst life's chaos.
For those who can't vacate their for-sale home and stage it like a builder's display, we have some great suggestions to make the process a little easier. First, we've compiled a quick checklist to remind you of key tasks to complete before each showing to provide the best possible first impression to the buyers.

Next, we've organized the following 10 tips to help you balance living in the home while being ready for showing your home. Some of this advice came from our own clients who have recently been down this road themselves.
1. Less is More
Sorting through all of your possessions and donating, pitching, or storing as much as possible is extremely helpful. The less you have in your home, the easier it is to keep it tidy. Try to keep only the items you will need to live for the two or three months until you move and pack the rest.
If you are listing in May, pack up the fall and winter clothes, shoes, coats, sleds, holiday decorations etc. You won't need them, so put them in storage. Help your kids pack up most of their toys and books and keep only a few things to tide them over until after the move. When they unpack in their new home, the toys and books will feel brand new and exciting again!
The same goes for your kitchen. Downsize your pantry and kitchen cabinet items to just the essentials. You probably won't cook as much while your home is on the market so that it is easier to keep it clean, and you will wash your dishes more often to keep the kitchen tidy, so packing up non-essential glasses, dishes, utensils, pots, and pans will leave buyers with the impression that storage is plentiful in your home. It also makes moving much easier on you, since you will have so much of the packing already done. Stay away from bulk shopping at Sam's Club or Costco for now.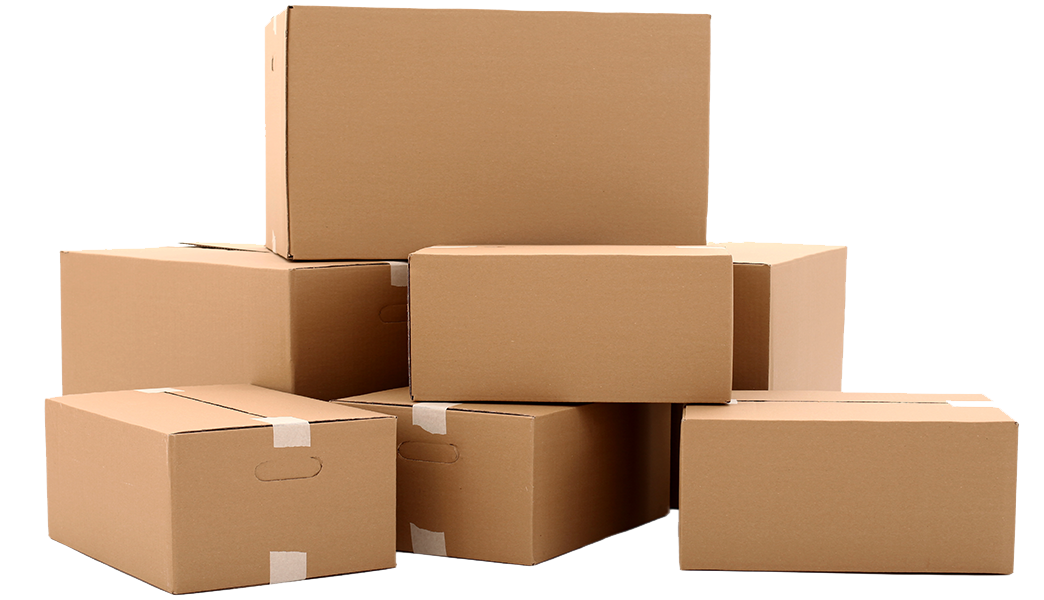 Dawna Currigan, one of our former home sellers, admitted, "Prior to listing, I packed up and cleared out as much stuff as I could. We stored the stuff in a barn on our new property, and I haven't touched it again in 4 years!" Dawna said when she does start going through those boxes, she plans to sell or donate most of what she stored, as she realized if she hasn't needed it in 4 years, it probably wasn't very important in the first place. Good for you, Dawna!
2. Deep Clean
While it might not be the most enjoyable part of selling your home, deep cleaning can be the most cost effective way to increase your profit. After you have decluttered and minimized your home, you can more easily access all of the nooks and crannies so that your house sparkles! If cleaning isn't your strength, hire a professional cleaning company to do a thorough job, including windows, baseboards, light switches, and air vents. Our team can recommend house cleaners to help.
If you have carpet and it isn't new, have it professionally cleaned to remove dirt and odors. Consider having someone professionally clean your grout on tile floors.
After everything is fresh and clean and clutter is minimized, maintaining it on a daily basis is so much easier! For the days and weeks it is on the market, you can just spot clean where needed.
A tip from Lisa Suemnicht, one of our recent Wentzville home sellers, "Have a delegated schedule for cleaning tasks every morning and each person has designated tasks they are responsible for."
3. Managing Pets
Whenever possible, taking pets with you during showings is the best plan. That includes their beds, food, water bowls, toys, litter boxes, and anything else they might use. While the majority of buyers are animal lovers, especially today's millennial and Gen X buyers, some buyers are turned off by the idea of pets living in the home.
Consider keeping a big laundry basket or plastic box in the garage to store all of the pet supplies. When you are ready to leave for a showing, add whatever is loose in the house and put it all in the trunk of your car until you return.
Jen Smith, our team's Director of Operations, who also sold a home with The Chad Wilson Group a few years ago, recommended finding a good friend or relative to love on your pets while your home is in this showing period. "It will keep the house cleaner, create less stress for the pet, and minimize the struggle of taking them with you for every showing, which could be for a whole day, if you have one showing after another on a busy weekend."
Don't forget to keep the yard clean as well. Buyers and agents will be walking all over your property for a showing, and it makes a bad impression when they step on landmines left by your dog.

4. Don't Keep All the Fun to Yourself
Everyone in the household should participate in the home sale process. It gives everyone a sense of ownership and responsibility for the outcome. When you are writing up the morning task list, assign each person their own tasks to complete before heading out for the day.
Children can learn to make their own beds each morning and pick up toys or personal items each night before going to sleep. Make it a game. Maybe print off the photo of their room that the professional photographer took and challenge them to make their room exactly match that photo every day.
One of our past home sellers had her children "camp out" in their rooms during the showing period of their sale. They were allowed to sleep in sleeping bags on the floor for a few days so they wouldn't have to make their beds in the morning. They just rolled up the sleeping bags and stuck them under the beds each morning for a super quick clean.
Children can also help put away breakfast items and wipe down kitchen and bathroom counters.
Give everyone a tote bag or box to keep their "to go" items in and keep it by the garage door. When you are preparing to leave for a showing, they can make sure they have everything they need to keep themselves busy, hydrated and fed while away from home.
5. Cut Yourself Some Slack in the Kitchen
If you have ever wanted an excuse not to cook, having your home on the market is the perfect one! It's ok to treat yourself to eating out more often at this time to keep messes to a minimum.
Buyers are not only attracted or detracted to your home by what they see, but also what they smell. After all of the decluttering and cleaning you have done, your home should have a very neutral, clean smell. Maintain that by avoiding cooking anything with a lingering smell, like fish, spicy foods, onions, broccoli, etc.
When you do eat at home, consider using paper plates and disposable utensils to ease the dishwashing burden. And remember to take out all the trash in the house before every showing.
6. Sanitized for your Protection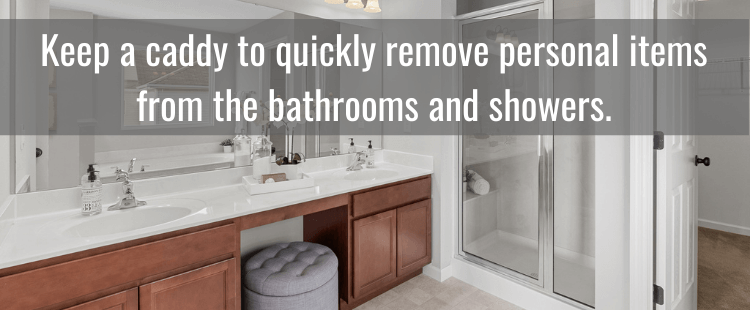 The ideal bathroom looks like it has never been used. To show off the freshly cleaned grout, tile, and fixtures, all personal items should be removed from the bathroom for showings. The easiest way to manage that is to buy everyone a shower caddy or small plastic box to keep their personal items in. That caddy can be brought in before showering and then get tucked away in a closet or cabinet right after, keeping the bathroom clutter free.
Purchase "staging towels", preferably fluffy, white ones. Since these towels are just for show, everyone else should use their own towel for bathing and then put it in the washing machine.
Heather Weber, Listing Manager for The Chad Wilson Group, offered advice she picked up from one of her clients. "Put a roll of paper towels in each bathroom to be used, not only for wiping down the vanity and mirror, but also for drying hands after washing them. Then you don't need to worry about keeping usable towels in the bathroom."
7. Protect your Privacy
It is a smart idea to pack up all prescription medications and take them with you when you leave. Think about any other small valuables you have in your home that could be easily stolen. Do you own any gold or other valuable jewelry? How about any credit cards that you leave in a drawer? Do you or your kids have money in a piggy bank or drawer? Blank check books? Guns? Pack those up as well and either put them in safe keeping until after you move or take them with you when you are away from home.
8. Just in Case
No matter how well you plan and prepare, unwelcome surprises are going to pop up while your home is on the market. Keep some spare emergency supplies, just in case.
For every showing, you will want to turn on all of the lights in the house...every lamp, appliance light, exterior light...all of them. Bulbs will burn out, so keep some extras on hand for easy replacement.
The same goes for batteries. More times than you would imagine, smoke detectors start chirping from low batteries while a home is on the market. That noise is really annoying and leads the buyer to wonder what other maintenance tasks have been ignored in the home. If you haven't replaced all of those batteries in the last year, keep extra batteries on hand, just in case.
A common hiccup sellers encounter is an unexpected locked door at the garage entry to the house. Out of habit, an agent or buyer will lock that door after a showing. The seller returns home to find they are locked out.
Keep a key to that door, and also the front door, with you or hidden in the garage at all times to prevent issues.
9. Keeping Everyone Healthy
Leave a bottle of hand sanitizer at your front door for buyers and agents to use upon entering. The Chad Wilson Group provides shoe covers for all of our listings to minimize dirt coming into your home. Use disinfecting wipes after showings to wipe down high touch areas, like door knobs and cabinet pulls.
10. Find a Place to Hang Out
For some showings, you will only need to be away from home for an hour or two. Find a great place for everyone to enjoy, whether that's relaxing at a coffee shop, the nearest public library, or in the parking lot with free wifi while reading or working, or playing at the park so restless legs can run off some steam.
Take the kids and pets for a nature walk. Our region is fortunate to have excellent parks with natural and paved trails to enjoy. If you are close to St. Charles County, you can find some of our favorite parks in the area here.
The first weekend on the market is typically the busiest, and some of our happiest sellers take a trip that weekend to get away from the busyness. Let our team handle things while your family takes a much needed break with out-of-town family or at a hotel. While you are away, the house stays show-ready at all times!
As Chad Wilson has said, "Our job is to sell your home before you begin to hate us". Living in your home while it is on the market isn't easy, so our team will use all our skills and strategies to sell it quickly and minimize the discomfort.
What's the craziest thing you did when you were selling your home while it was on the market? What tips might you have for overcoming the challenges of living in the home, keeping it clean, and navigating showings? We would love to hear from you all. Comment below with the tips and tricks that worked for you!