How to Price A Home for Sale: Strategies in a Sellers' and Buyers' Market
Posted by Jennifer Smith on Wednesday, December 16, 2020 at 12:00 PM
By Jennifer Smith / December 16, 2020
Comment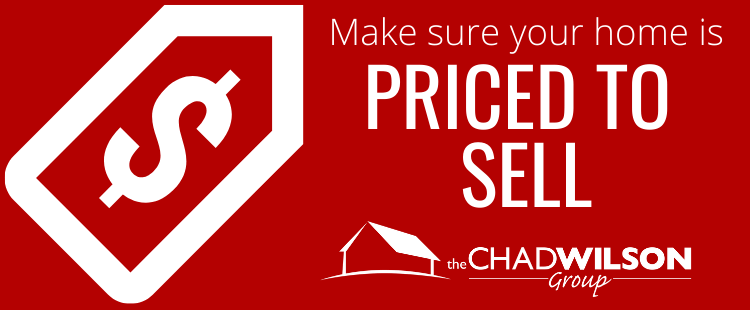 Pricing a home incorrectly is one of the top mistakes that home sellers make when listing their home for sale. It is natural to want to reap the highest return when selling your home and not risk leaving any money on the table. No one wants to feel like they could have sold for more than they did, but pricing too high can be a huge stumbling block right out of the gate.
The right price, a competitive price, generates the most activity from buyers. Pricing a home too high can negatively impact the final sales price and increase the amount of time that the home sits on the market. The longer a home is on the market, frustrations build, and prices usually have to be reduced, sometimes multiple times, in order to find the right buyer pool and to compete with newer listings. Entire books have been written on how to price a home for sale, determining value based on comparative market data, the dangers of overpricing, or overcoming pricing objections. In this post, we'll specifically focus on how to price your home depending on what type of real estate market we are in, a buyers' market or a sellers' market, to get the most amount of money in the least amount of time.
Why is Pricing So Important?
Pricing is a delicate balancing act that, when done properly, positions your home perfectly in the marketplace with maximum exposure to the right buyer pool for the highest possible price. Hope is not a pricing strategy. What you "need to sell for" is not a pricing strategy for your home.
Chad Wilson, Team Leader of The Chad Wilson Group, explains, "You can sell a home in any condition. You can sell a home in any location. What you can't do is sell at any price. So you have to make sure that the home is priced right for the condition and the location that it is in, as well as the local market that the area is in, taking into account where the local market is going."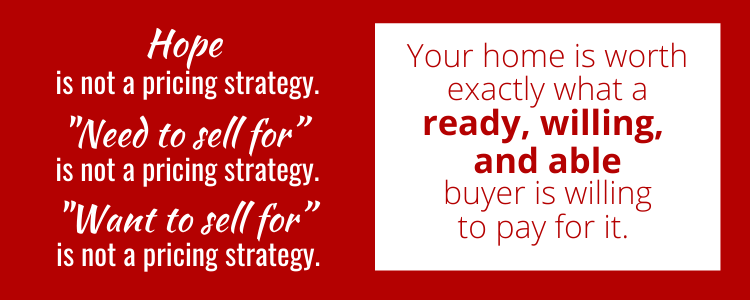 The "window of opportunity", when a buyer first sees a home, is the best chance to capture a buyer or agent's interest and turn that interest into buyer intent. If that buyer sees the home and determines it is overpriced, most likely that window of opportunity closes, as the buyer moves along to other homes that are priced right for the market and condition.
What are Sellers' Markets and Buyers' Markets?
Like most of the business world, real estate prices are fueled by supply and demand. When seller supply (the number of homes for sale) exceeds buyer demand (the number of buyers looking for a home), then the real estate market is a buyers' market. Conversely, when buyer demand exceeds seller supply, we are in a sellers' market. All real estate markets are local; the real estate market in St. Louis is typically unique to what is happening on the coasts or other areas of the country. Since at least 2015, the St. Louis metro area has experienced a sellers' market. Historically low interest rates and changing needs/wants because of the COVID-19 crisis have driven our current sellers' market in 2020, allowing recent sellers to take advantage of rising home prices.
In a sellers' market, you will see more buyers, less inventory, and therefore, an increase in prices. In 2020, the buyers were so abundant and the sellers were so few that we saw fierce competition for homes, with a record number of multiple offers on our listings. On one of our homes for sale in St. Peters with an inground swimming pool, we had 17 offers in one weekend, allowing the home to sell for tens of thousands of dollars above asking price. That's great for our seller clients! On the other hand, our buyer agents have had to become creative to make their buyers' offers stand out in the crowded pool of buyers to help secure accepted contracts for their buyers.
Inevitably, we will see a buyers' market again, and when we do, we will see fewer buyers, more seller inventory, and therefore, a decrease in prices. Sellers will have to make sure their homes are priced perfectly for their condition and that their marketing is flawless to get their home seen by the smaller number of buyers. And buyers will be expecting to find a "good deal".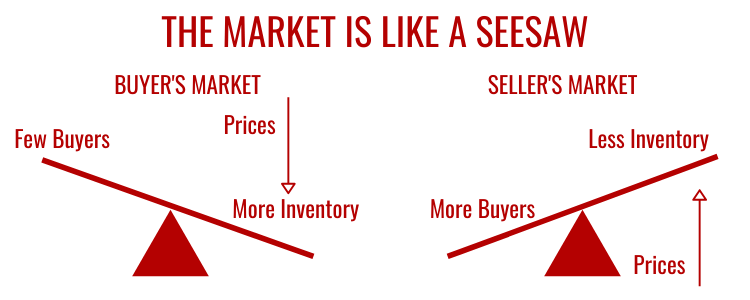 Real estate experts determine that we are in a buyers' market when there is more than 7 months of inventory (homes for sale), a balanced market when there is 5 - 7 months of inventory, and a sellers' market when there is less than 5 months of inventory. In St. Charles County and St. Louis County, we have experienced 5 months of inventory or less since January 2015. And during 7 months of 2020, we experienced less than 2 months of inventory, indicating a very strong sellers' market.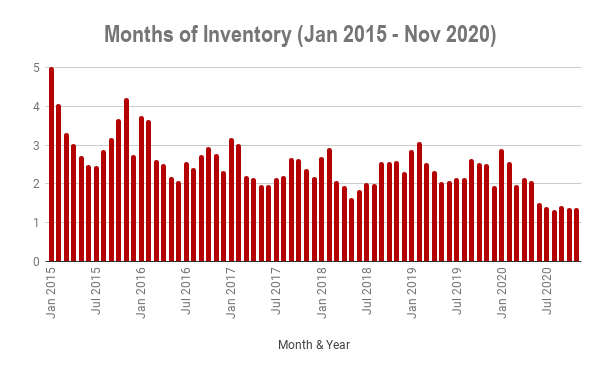 Why Do Sellers' and Buyers' Markets Matter When Pricing a Home?
Regardless of what type of real estate market we are in, there will always be people who need and want to buy and sell. And yet, to attract the most potential buyers and get the maximum price for the home, the pricing strategy will be different depending on if you are in a buyers' or sellers' market and what direction the market is moving.
How to Price "In the Market" in a Sellers' Market
Put yourself in the shoes of a buyer. You and your agent are viewing house after house within your budget, both online and in person, so you are comparing each home to all of the others. You want to buy the one that gives you as close to everything you want and need without overspending. As you tour homes, you are eliminating the ones that don't stack up as well against the competition.
In either a buyers' or sellers' market, sellers can price themselves out of the market by pricing higher than comparable homes and by pricing without taking into consideration the condition of the home. Sellers want their home to be the best home at their price in the eyes of the buyer, whether that's in terms of location, size, finishes, condition, or some other factor. The best homes in a certain price range will sell the fastest.
In a sellers' market, pricing is less sensitive to the condition and price as compared to comparable homes than what is seen in a buyers' market. Price and condition continue to be important, and yet with inventory being lower, sellers are able to stay "in the market" more even if their price pushes the envelope just a little. It is wise to anticipate where the market is going. If all market indicators continue to indicate a strong sellers' market ahead, pushing the price point to the top of comparable data is a fair pricing strategy to get you the most on the sale of the home without risking increasing your time on the market.
How to Price "In the Market" in a Buyers' Market
In a buyers' market, extra care needs to be taken to anticipate and predict where the market is going and the rate in which it is declining or improving, which means pricing "ahead of the market". In a period where homes are declining in value rapidly, it is important to use anticipatory pricing to ensure that you aren't chasing the market down.
Home sellers have to be keenly aware of how their home compares to others on the market in terms of condition and price, since there are so many more homes available for buyers to consider in a buyers' market. With fewer buyers looking to purchase, sellers want to take advantage of every opportunity given to impress a potential buyer.

Should You Time the Market?
Ah, yes, the million dollar question! In 2020 especially, we have heard buyers indicate that they want to put off buying until there is less competition with fewer multiple offer situations bidding up the prices of homes. And we understand that. We all want to feel like we are getting a good deal. Buy low and sell high is the strategy of every shrewd investor.
But the price of waiting is uncertainty. How long will the current market continue? Will interest rates remain at their historic lows? Are you willing to miss out on your ideal home in the hope of getting a better deal down the road? Those are questions that only you can answer; but in our experience, not even the experts can predict a market shift with the accuracy it takes to time the market perfectly.
One interesting point of consideration is, if you also have a home to sell, you may receive less for your current home if you wait for a changing market. The only way to truly time the market would be to sell high in a sellers' market and rent until prices fall in a buyers' market; and yet to time a move like this could cost you months or even years of inconvenience, along with the expense of moving multiple times.
Why is Pricing So Important?
Knowing whether we are in a buyers' market or a sellers' market directs our strategic pricing plan to best price a home for sale. The first days of a new listing are the property's best shot at attracting the highest offer. Don't waste this opportunity. Price it properly to tap into the correct buyer pool. Pushing the asking price beyond what the market can bear statistically results in disappointing price reductions later, while the days on the market accumulate.
How Can Our Listing Specialists Help You?
The Chad Wilson Group team of Listing Specialists excel at pricing homes properly from the start to maximize the seller proceeds and minimize the days on market. Contact us today to set up a time for one of our Listing Specialists to conduct a pricing and marketing analysis of your home.