How to Sell a Home Virtually
Posted by Jennifer Smith on Thursday, April 16, 2020 at 3:34 PM
By Jennifer Smith / April 16, 2020
Comment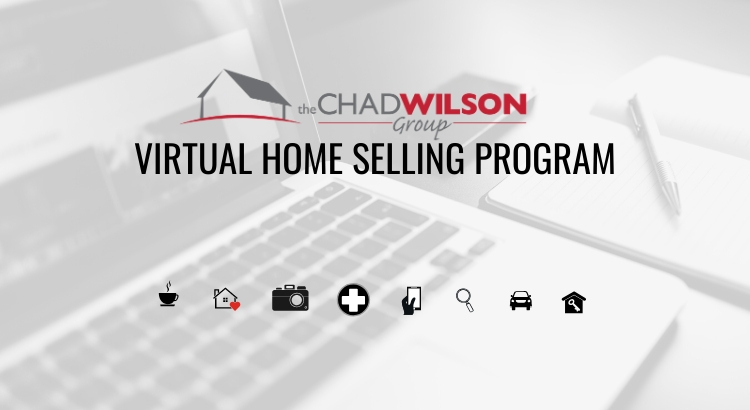 We are living in unprecedented times in a season of uncertainty. We won't try to pretend that it is "business as usual", as few things are "usual" right now. Recently, our entire world seemed to change almost overnight. With the St. Louis Metro area operating under a shelter-in-place order, phrases like "social distancing," "exponential graphs" and "flattening the curve" are now terms we know all too well.
As we all move through our daily lives, health and safety is our number one priority. In our business, we've made some adjustments in accordance with the state and local guidelines during the COVID-19 crisis. Real estate is considered to be an essential business within the state of Missouri, and we take that responsibility seriously, always practicing social distancing and using CDC-recommended precautions. Interestingly enough, we've only had to tweak our business to be compliant, rather than making a complete overhaul. If you haven't bought or sold a home for many years, you may be surprised to learn that with current technology, the whole process can be completed virtually.
What is "selling a home virtually", and why does it matter?
Selling a home virtually is minimizing the face-to-face communication or interactions with your real estate selling team, vendors, buyers, and buyers' agents, and ideally, allowing you to sell your home without physically encountering a person.
In today's COVID-19 crisis, being a responsible citizen and also protecting your own health means minimizing face-to-face interactions with others. A virtual home-selling experience will help you do just that.
How to sell your home virtually:
1. Virtual Consultation
When our team is interviewing for the job of selling a potential client's home, we use a two-step listing appointment process, which allows us time to do careful evaluation and research of the current real estate market, of comparable properties, and of your home's condition to arrive at the optimal price.
The first step is a tour of the home where our Listing Specialists make notes of all the features of your home, including recent updates, and hear what it is that you love about the home. At this time, the agent is also getting to know you, your reason for moving, and what is important to you during the sale of your home.
The second step is an appointment that we call our Pricing and Marketing Presentation. At this appointment, our Listing Specialist presents their opinion of the value of the property and a recommended sale price to perfectly position the home within the marketplace to attract buyers to the home.
While typically these appointments have been done in person, our team is now conducting these visits virtually through video conferencing like Google Hangouts or Zoom.
2. Virtual Home Staging Design Consultation
Our team of professional home stagers is now conducting virtual home staging consultations. They will work with you using still photos, Facetime, or Zoom, to view your home from the front curb, through each room, to the back yard, to help you create a prioritized to-do list of things to do to make your home unforgettable to buyers.
3. Top-Tier Home Marketing
Our team has built an incredible reputation for the marketing we have done for our sellers over the years. We have springboarded our tried-and-true marketing plan to launch an even more robust marketing campaign in this new virtual era. Our objective is in fact to LIMIT the showings of our listings, which may seem a little counter-intuitive, but again the objective is the health and safety of our sellers.
We have ramped up our home marketing to provide a video virtual tour for every occupied home that we list, which we call a "virtual open house". In providing the very best marketing of your home, we are equipping buyers to perhaps make an offer sight unseen, or help them to determine if the home is the right one for them BEFORE they schedule a showing. Buyers can do the first "showing" of your home virtually, so your family is only disrupted for showings to those who are seriously interested.
The typical Sunday afternoon Open House is just not feasible in today's environment. So our team brainstormed around the best way to present an Open House experience while protecting the health and safety of our community. We landed on the idea of a "Virtual Open House" for our occupied listings. In lieu of a traditional 2 minute video of a home set to music, we have chosen to narrate a tour of the home, similar to how a Buyer Agent would point out features on a live tour. Some of these videos for our biggest homes have run over 19 minutes long! These Virtual Open Houses have been very successful and a wonderful alternative to "see" the home without ever stepping foot inside and has allowed us to continue to sell homes during these unprecedented times. We place a "Virtual Open House" sign in the yard to help drive-by buyers find the tour, as well as extensively marketing this webpage on our social media accounts.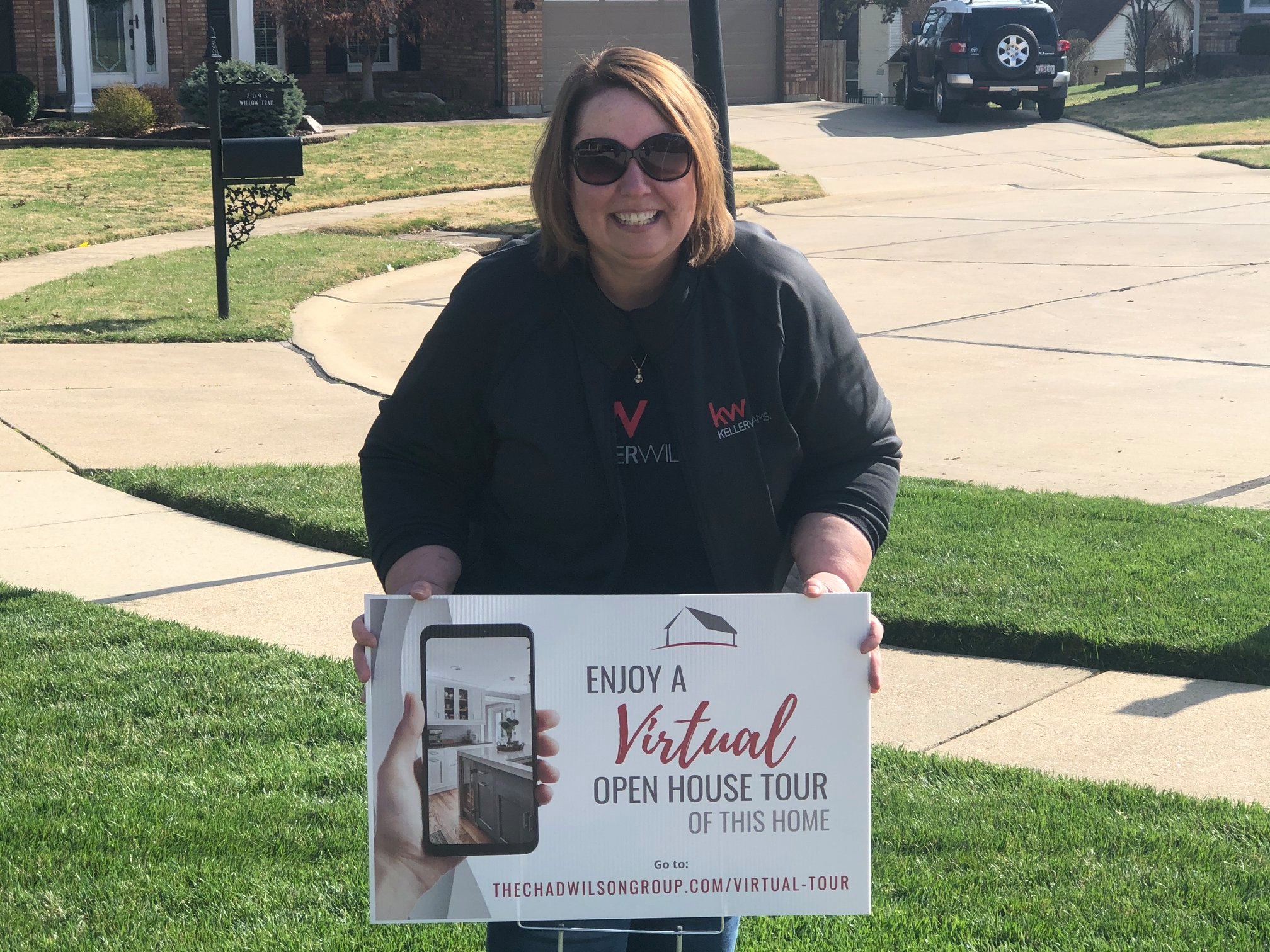 Home Walk-through 3D Tours - We record a 3D tour of our listings so that a buyer can click to "walk-through" a room from the comfort of their couch. With a swivel of the mouse, you can rotate the camera 360 degrees around a room to check out all the angles, corners, and alcoves. A 3D walk-through provides a more immersive experience for potential buyers than photography alone.
Of note, our team's professional photographer will enter the home to take the videos and photos of the home and he requests that the sellers leave the home during that time. He also asks that the home be in photograph-ready state, lights turned on, fans off, blinds open, etc, so that he does not touch items within your home. To help with that, our Listing Coordinators are available the morning of your photography appointment to walk through the home virtually with you to make sure that everything is in its proper place to best show off your home.
4. In-Person Showing Precautions
After vetting the potential buyers for your home with our robust marketing, we are left with a smaller buyer pool, but a more serious buyer pool. Since the health and safety of our sellers is of the utmost importance, we REQUIRE the following for all showings:
Seller must leave the home.
The buyer must have watched the virtual tour of this home to ensure they have interest and must walk around the exterior of the home first to make sure it meets their needs before entering.
If another agent is already inside showing the home, we ask for the other agent to delay showing until the first showing is finished, and they have exited the home.
We instruct the Buyer Agent showing the home to limit those who enter the home to the people who are instrumental in the purchase (buyer agent and buyers who will be signing the contract).
We request that the Buyer Agent and buyers use hand sanitizer and/or sanitizing hand wipes that contain at least 60% alcohol prior to entering the home.
We ask that the Buyer Agent and buyers minimize contact of items within the home by only touching the doorknobs to open and close exterior doors to enter and exit the home.
We provide booties at the front door for the visitors to wear over their shoes and we ask that they do not sit on any furniture.
Buyers are to be pre-approved for the list price of this home and have a signed buyer-agency agreement before entering the home.
All inspectors, appraisers, and other vendors will follow the same protocol when visiting the home.
If the Buyer Agent and/or client is feeling ill or thinks they may have been in contact with someone who is ill, or if the Buyer Agent and/or buyer has been near someone who has a laboratory-confirmed COVID-19 diagnosis or has a suspected COVID-19 diagnosis and is under quarantine by the County Health Department, we respectfully ask that they do not schedule an in-person showing of the home. We will coordinate a virtual tour.
5. Electronic Signature
If you haven't bought or sold a home in a while, you may be happy to learn that we are a tech-enabled team, and we have been using electronic signatures since 2012. What does that mean? You can sign most documents to buy and sell your home electronically from the comfort of your home. All you need is internet connectivity and an unique email address for each owner of the home.
6. Contract-to-Closing
Once your home is under contract, the buyer has a long list of things that they need to accomplish under the terms of the contract. The seller's "To Do" list is to continue to maintain the home to ensure that it's in the condition that the buyer would expect, and also in the event that the contract were to fall through over loan commitment, inspection items, or other issues. Our team's Transaction Coordinator guides our sellers through the process and advises them of when the buyer would like to schedule inspections, if applicable, coordinate the appraisal appointment, and other agreed-upon inspections per the contract. All appropriate CDC-recommended and local restrictions are taken into account.
7. Closing Day
Closing day is the day you sign the papers to transfer the title of the home to the new buyers. In Missouri, you typically go to your Title Company to sign documents that are also notarized. During the current COVID-19 crisis, most local Title Companies are providing curbside signing. Although it is typically one of the most fulfilling days in the buying/selling cycle and our agents LOVE attending the closings, we are instructing our agents to not attend closing for everyone's protection.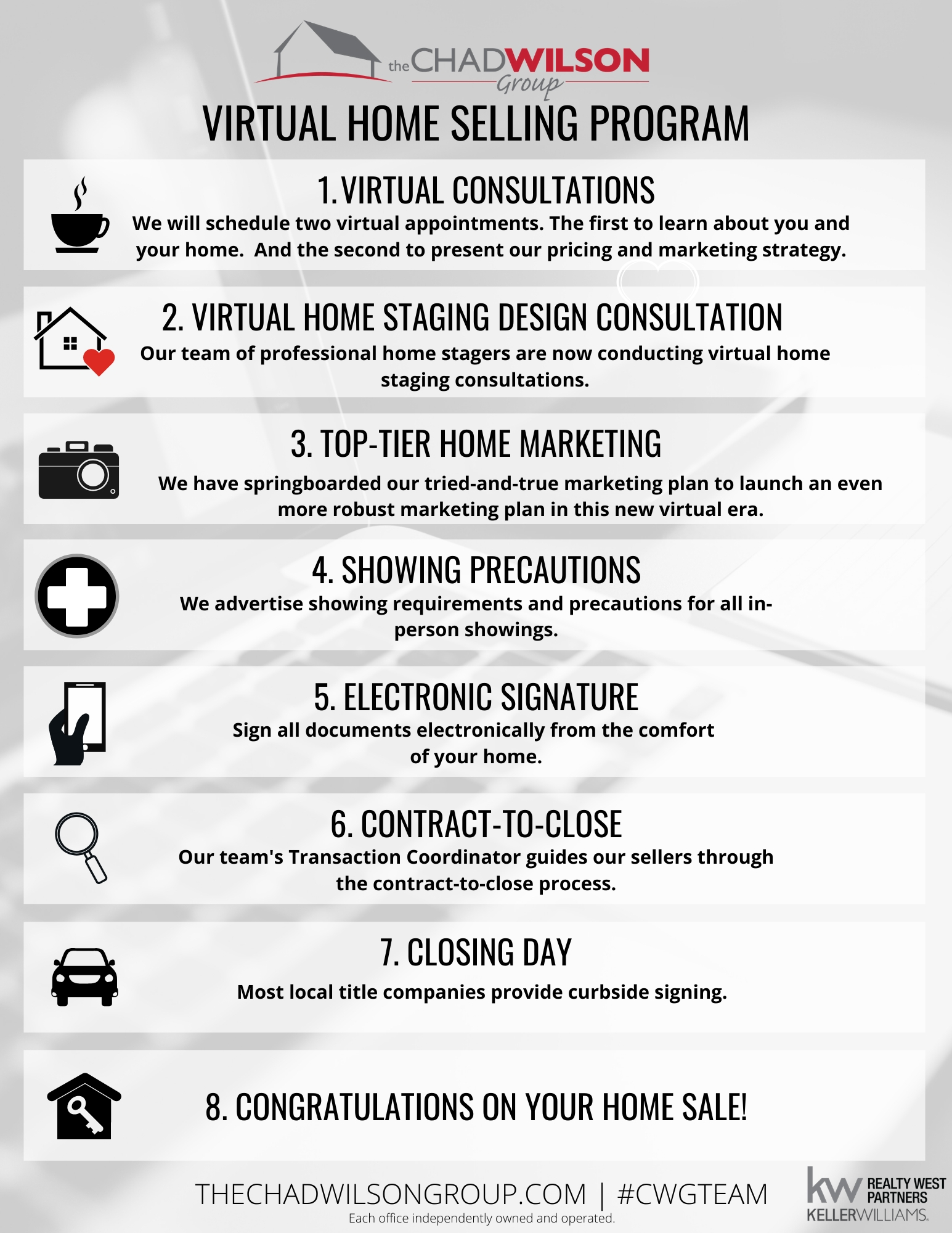 Other Home-Selling Options
While we feel our Virtual Home Selling Program is a wonderful option for most of our sellers, there are other non-traditional ways to sell homes.
Recently, companies have rolled out "iBuyer programs", although in today's COVID-19 market, the business model hasn't been successful and many of the companies offering iBuyer programs are pulling out of local markets. Find out more about iBuyers in an upcoming blog post--coming soon!.
Alternatively, we work with many investors who often purchase homes without inspectors and appraisals. This may be a great option for sellers who would like a fast cash offer without the disruptions of having to ready their property for marketing and showings. Whether you decide that listing your home on the market or accepting a quick cash offer is the better option for you and your circumstances, we will represent your interests until closing.
Conclusion
While these times are challenging, our team has a proven strategy of selling homes using current technology and superior marketing to help ease the minds of our sellers. Most of our home sellers are also local home buyers. Learn more about our Virtual Home Buying Program! New blog coming soon!
Our team is here for you providing Simply Exceptional Service. Let's stay positive and flatten the curve as we work together as a community!
Ready to talk about selling your home virtually? Register here to schedule a time to meet with one of our Listing Specialists.