Myth vs Fact: The Relationship Between Mortgage Rates and Home Prices
Posted by Heather Weber on Monday, November 4, 2019 at 10:06 AM
By Heather Weber / November 4, 2019
Comment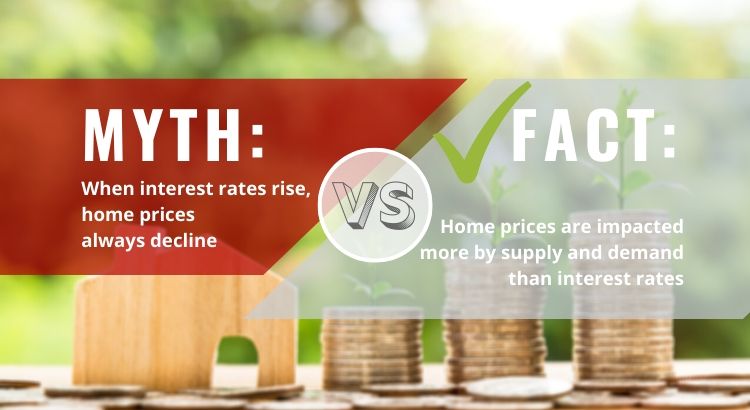 Borrowers have been enjoying historically low interest rates for quite some time. Everyone is in agreement that at some point, those rates will rise once again. There is no consensus on when that time will be and how high they may go.
It makes logical sense that if interest rates rise, home prices could decline. The thinking is that if it costs more to borrow money, buyers will not be able to afford to pay as much for a home, so home prices should decline in proportion. That is not always the case.
Rising interest rates generally indicate the economy is strong. Typically, employment is high and salaries are steady and increasing, gving consumers more options with their income. A strong economy usually also indicates a robust housing market. With plentiful qualified buyers looking for homes, home prices will not experience a decline.
When interest rates see an increase, it can actually heat up the housing market, as buyers who are interested in purchasing a home may feel more urgency to buy now rather than experience additional increases in the interest rate.
Home prices are actually impacted more by supply and demand rather than interest rates. If the local market is experiencing low unemployment and steady wages, and if inventory of available homes is low, home prices will not decline, even if interest rates climb.
However, as with all things related to the economy, there is a balance. If there is a significant spike in interest rates, buyers will begin to realize a decrease in their purchasing power, causing them to tighten their budget for their home purchase. When that happens, and the buyer pool begins to shrink, home prices will begin to decline as a result.
An important note, interest rates don't skyrocket all at once. The Fed generally increases them in small increments to test the economy's response, usually less than one percentage point. Since buying a home is one of the most expensive purchases a consumer will ever make, it is not a time to panic or rush. Consult with an experienced real estate agent to guide you to make a wise decision. Then your future will be filled with more satisfaction than regret.
In summary, if you are a home seller, it is a good idea to list and sell your home before interest rates make a significant increase, as your buyer pool may be bigger. Those looking to buy a home should begin consulting with a lender to prepare to qualify for a mortgage that fits your budget, as that lender will keep you apprised of the interest rate future trends. Then when the time is right, you will be fully prepared to make a move.
The Chad Wilson Group has trusted lender partners to refer to our buyers. The reason we trust these lenders is that they have proven themselves over time and through multiple transactions to be knowledgeable, responsive and thorough, and our buyers give them high praise for helping them navigate a successful purchase. We will be glad to share their contact information so you can feel assured that you are starting your home purchase journey with the right first step.