How to Overcome Obstacles of Selling a Home in a Seller's Market
Posted by Heather Weber on Tuesday, November 17, 2020 at 5:02 PM
By Heather Weber / November 17, 2020
Comment

It is a great time to sell a home, yet potential sellers have some reservations. Understandable. Here's why those shouldn't hold you back.
You've all heard it…
"It's a seller's market, with home sellers receiving multiple offers for over list price."
"It's a record-breaking year for home prices…in some areas, the highest level ever recorded."
So why aren't more home owners taking advantage and selling now? Why is the inventory of active homes so low?
What does low inventory mean?
The number of homes for sale on the market typically follows a seasonal pattern. Listings start slowly in January, growing through the spring to hit a high in May and June, and finally leveling off until the end of the year. As with just about everything else, 2020 has written its own playbook.
The inventory of homes in St. Charles County started off strong, with higher numbers in January and February than the same month the previous year, but then in March, the number of listings fell far behind the previous year's pace, and that trend continued. In September and October, there were roughly 1/3 fewer homes for sale in St Charles County than there were the same months of 2019.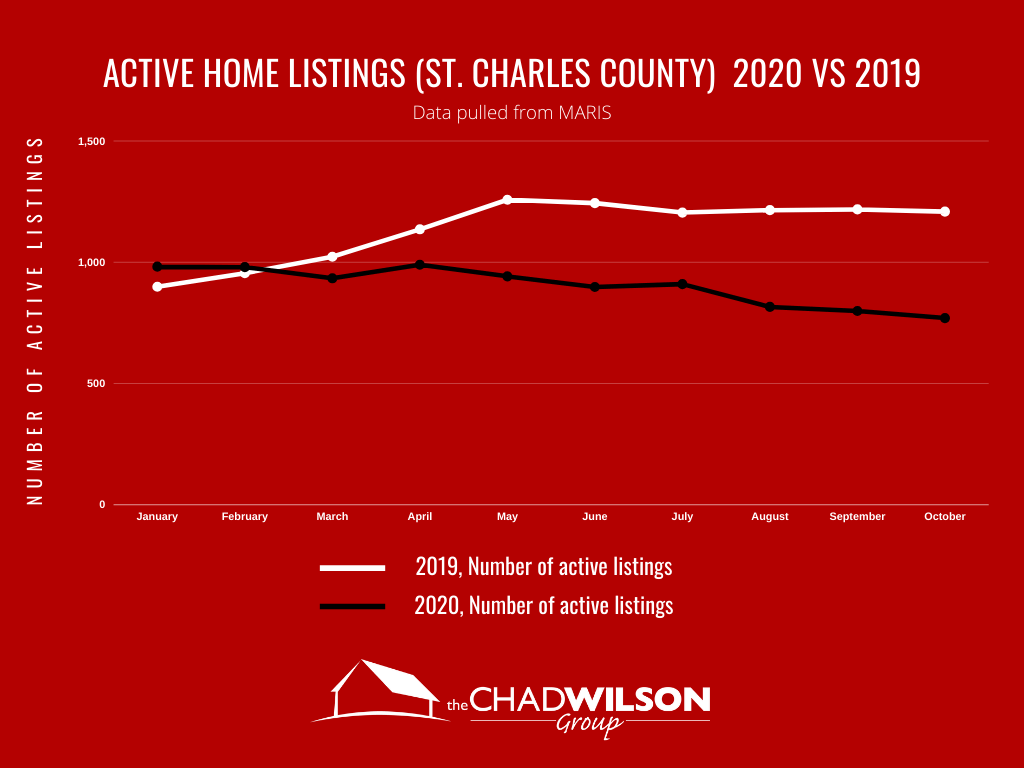 This lack of inventory caused buyer frenzy, especially at more popular price points, particularly those at $450,000 and below, and led to the multiple-offer-over-list-price craze.
"Our listing agents have been creating spreadsheets to help sellers navigate all of the offers they received to better compare all of the details, as it can become overwhelming," said Chad Wilson, Team Leader of The Chad Wilson Group. "I think our peak this year was one home that received 18 offers the first weekend on the market, and another that accepted an offer for $41,000 over list price."
So why aren't more homeowners jumping into the market?
These jaw-dropping results have certainly tempted homeowners to consider listing and selling, and thousands in St Charles County have…well over 5,000 so far in 2020. But far more could have done the same given the huge buyer pool eagerly ready with mortgage pre-approvals in hand.
Our team is hearing a variety of reasons for home seller reluctance, and here are a few:
1."I am interested in selling, but I don't want to be homeless."
Homeowners are fearful that their home will sell too quickly and they won't have time to find a new home that fits their needs in time. They are excited about the opportunity to move up for more space, newer finishes, or more desirable amenities, but they are worried about the competition.
Chad Wilson said his team has never made a family homeless yet, and they have strategies to make sure you aren't the first.
As the homeowner, you can control the pace of the sale more than you realize. Especially in a seller's market where there could be more buyers than ever interested in buying your home, you can give yourself the cushion you need to find your next home and move at a comfortable pace. The typical transaction takes 30-45 days from contract to closing, but if you want 60 days or more, many buyers will agree.
"We have found excellent buyers for our seller's homes when the seller needed 3 months or more to move," said Chad. "In fact, we helped one O'Fallon family who was building a home sell in the spring and delay closing and moving until nearly the end of the year. The buyer was renting and had no huge rush to move, and they really wanted the home, so they were willing to be patient. We have many stories of home sellers who had extended closing dates to make the process better for their families."
The Chad Wilson Group uses unconventional ways to help their clients find their perfect home. If the right home isn't currently listed for sale on the MLS, our agents will reach out to home owners in their client's preferred neighborhood to find sellers who have not yet listed their homes, or they will call sellers who had their homes on the market at one time, but the listing either expired or was withdrawn to see if that homeowner is still interested in selling. We work hard to stay well connected with other agents in the St Charles County market so we can find out ASAP when new homes are coming on the market. All of these strategies help our buyers get a leg up on the competition.
2. "I am not sure my family can afford a bigger home."
Interest rates are at an all-time low, and many experts in the mortgage industry are predicting that will change in 2021. Currently, qualified borrowers are finding home loans with less than 3% interest rates, which was unthinkable just a few years ago. This translates to buying power that can mean you could buy that home of your dreams for a very similar monthly mortgage payment than you are paying for your current home.
For example, if you own a home that you paid $300,000 for 10 years ago at a mortgage rate of 5%, your monthly payment (not including taxes and insurance) is probably around $1,610. If you moved up today to a home costing $425,000 at an interest rate of 2.75%, your monthly payment would be $1,735, just about $100 more a month.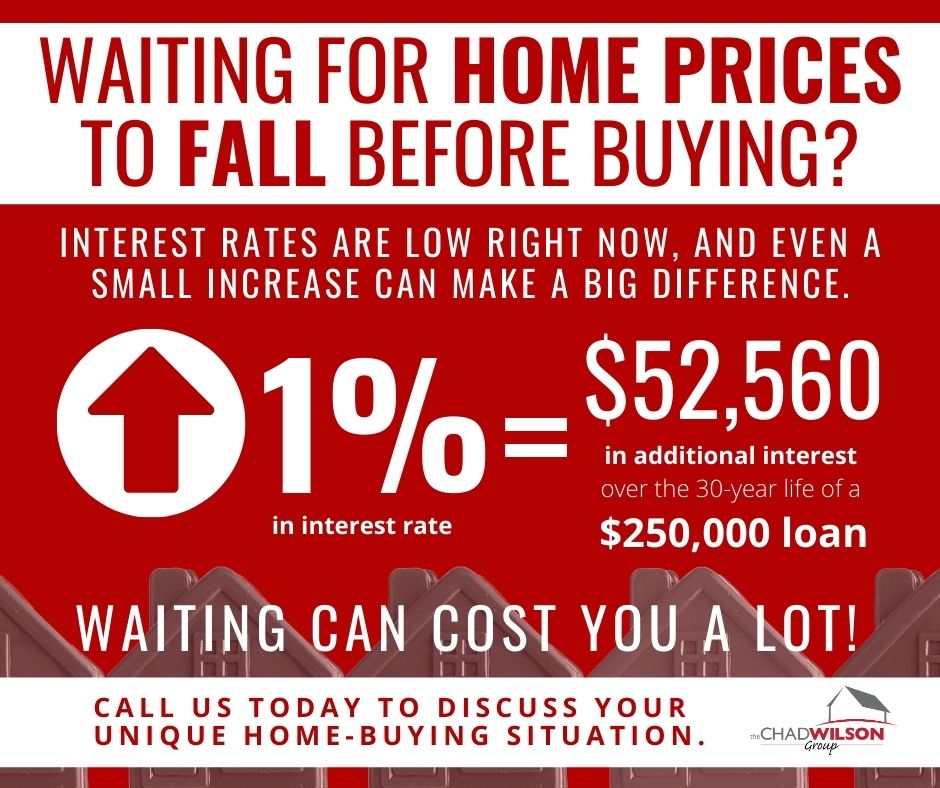 One of the best moves you can make right now is meeting with a trusted mortgage professional who can show you the options available so you know what you can afford before you list your home for sale. Mortgage providers will let you know if you must sell your home in order to purchase a new home, because you need those funds in order to finalize the purchase of your new home, or if you can qualify for a mortgage that is not dependent on the sale of your current home. Some lenders offer bridge loans, which give you the money to purchase your new home without selling your current home first. Then you can move to your new home and list the old one for sale after you have moved out. When that sale closes, you can refinance the bridge loan into a more conventional one with the proceeds.
3. "I would rather wait until we see what the economy does in 2021 before selling my home."
Uncertainty in what the future may bring makes a big decision, like selling your home, even scarier. None of us knows what 2021 will look like, including economists and forecasters, and their predictions for the housing market and the economy vary widely. Finding an effective COVID vaccine could make a very big difference in the strength and pace of economic recovery.
The only thing we know for sure is where things stand right now. St Charles County homes are selling for an average of 8% more now that at the same time last year, based on data in the MLS over the past 6 months. That means a home that would have sold for $300,000 in 2019 should sell for $324,000 today. That's an extra $24,000 in equity that homeowner can use to pay off existing debt or to put down on their next home.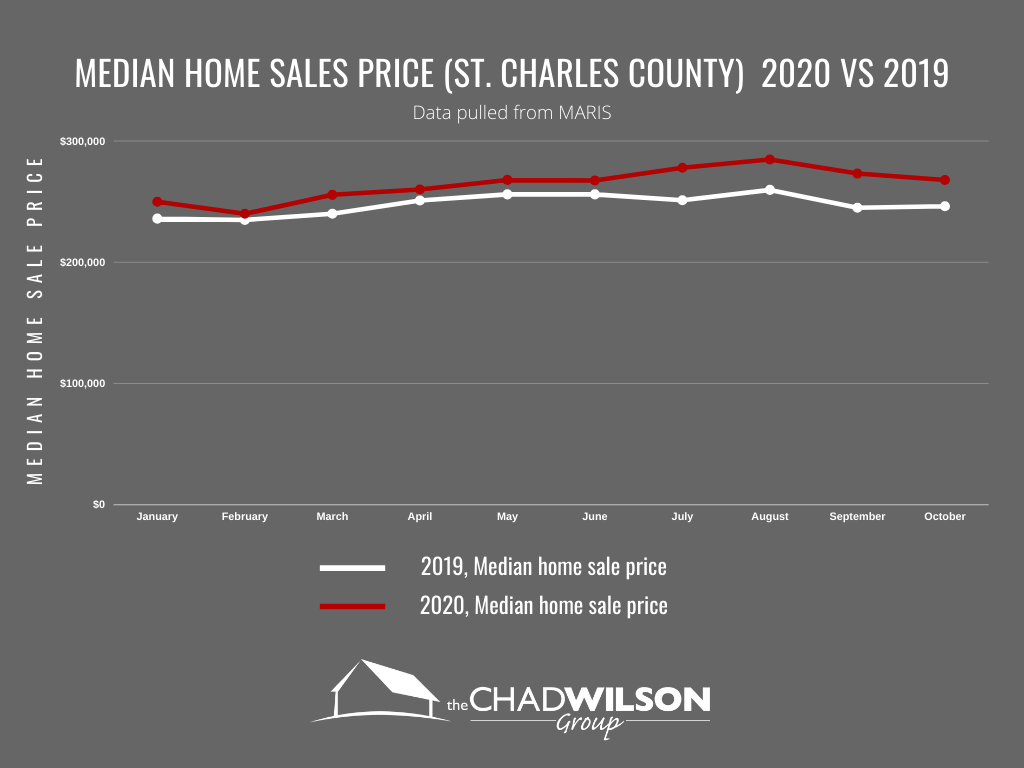 "If home sellers are thinking about moving in the next couple of years, now may be the best time to do it," advised Chad Wilson. "According to some predictions, your home may be worth more right now than it will for the foreseeable future, and it is every seller's goal to sell for the highest price possible. If we see a decline in property values in 2021, sellers may look back and wish they had listed while the market was at its peak."
Find out what your home is worth right now, so you can evaluate what makes sense for you. A new home may be within your reach. Our team of professionals is here to help you find the best solution for you and your family, to help you make the move of your dreams...today!