Selling Your Home: Full Service Team vs Discount Agents
Posted by Heather Weber on Wednesday, December 9, 2020 at 10:00 AM
By Heather Weber / December 9, 2020
Comment

Homeowners looking to sell their home have options when it comes to hiring a listing agent. Just in St Charles County, there are thousands of REALTORS® from which to choose. Those agents vary from part-time to full-time, some maybe only handling a couple of transactions a year and others closing hundreds of sales annually. Some agents have real estate licenses where the ink is barely dry, and others have been around since before computers were invented, when new listings were printed on paper books and distributed to the masses weekly. Yep…that really happened.
But there is also another major distinction among agents, some offer a full-service model while others offer limited-services at a discount. This blog will work to explain the difference between these two models to help home sellers understand their options.
First, what is the typical commission for selling a home?
In the St Louis real estate market, the most common full-service commission for selling a home is 6%. Only a fraction of that goes to the listing agent. Out of that 6%, a portion goes to the brokerage that holds the license of the listing agent to help them cover the cost of insurance for and oversight of the agent's work, among other things.
A significant amount of the commission goes to the broker and agent who bring the buyer for the home. That amount can vary, but the most common commission paid to the buyer side is 2.7%. This fee is important for sellers to consider as providing fair compensation to the buyer's agent is part of attracting the best buyers.
What is a limited-service discount agent?
Discount agents agree to sell a home for a lower commission than some other agents. That fee can vary depending on the level of service they offer and how much help the home sellers desire. The most basic of agents will charge a flat fee and only put the listing in the MLS and maybe add a lockbox to the front door and a sign in the yard.
A step up from this would be a discount agent that will work for a higher flat fee or a reduced commission per listing. Some of these offer a package of services for that amount, and others will allow the seller to pick and choose the services they desire with a fee for each service, kind of an a la carte menu of service.
Some discount agents will pay a portion of that commission to the buyer's agent, but it may not always be 2.7%. There are some who do not include the buyer's agency commission in their services, which means home sellers would have to negotiate that cost with the buyers as part of the contract. This is a really important point that sellers need to understand up front to avoid unpleasant surprises later in the transaction.
How can these limited-service agents afford to work at a discount and still stay in business? It is all about volume and overhead. They have to handle a large volume of listings to make up for the smaller commissions they make on each listing, and they have to be able to do it very efficiently or they lose money.
Think about it in terms of fast food. A fast food chain cranks out a lot of burgers in a short period of time at a comparatively low price. They don't vary the way they make one burger from another too much, and it really slows them down when they have to do something out of the ordinary. Their profit margin relies on keeping production high with limited interruptions.
A discount agent works in a similar fashion. They have a process in place for listing a home, and they rely on repeating that process many times each month in basically the same way in order to keep their doors open. Individualized, customized service to fit the needs of a specific home seller is not something that fits into this model.
What services go into selling a home? And will a limited-service discount agent cover that service?
Most homeowners have a basic understanding of the work that is involved in selling a home, but they don't always know the many different facets and stages of the transaction. A full-service team will cover all of these processes, and they have different specialists on the team who focus on each segment of the process to make sure it is handled carefully and professionally.

1. Staging and Preparing
A home sale starts with preparing your home for the market, including staging and repairing. A full-service team will provide professional staging services, usually free of charge to the homeowner, to guide you and make sure the exterior of your home and each room in the interior is presented in the very best possible way.
The Chad Wilson Group partners with one of the best occupied home staging companies in the United States, DeZign to Sell, an award-winning member of the Home Staging and ReDesign Association (HSRA), Real Estate Staging Association (RESA), and the International Association of Home Staging Professionals (IAHSP). Because we feel staging and home preparation are so important to the home-selling process, our team pays for this service for each of our listings.
If your home needs some repairs or updates made before listing, we will provide you with referrals to trusted and qualified vendors and contractors to help you with this work. Between our team's long list of vendors and the list available through our stagers, we have a contractor we can recommend with confidence to complete the work.
Will a limited-service discount agent cover staging?
Probably not. The discount agent may give the home seller their opinion on projects they should do before selling, but they probably will not provide free, professional home staging.
2. Pricing
Once your home is photo-ready, the next step is pricing. Pricing your home properly from the start is the central component of a strategic marketing plan. A home's original price sets the course for how long it will take to sell and how much you will ultimately get for the home. Proper pricing positions your home perfectly in the marketplace with the maximum exposure to the right buyer pool for the highest possible price.
The listing agents at The Chad Wilson Group train constantly to be pricing experts. They attend courses on preparing a Comparative Market Analysis (CMA) and are always watching the market to stay on top of the latest news. The best listing agents have a clear understanding of the features of your home, your neighborhood, your community, and the regional market to make sure they are setting sellers up for ultimate success.
Will a limited-service discount agent provide a CMA?
Probably. Pricing your home is such a key to your home sale, every listing agent should be prepared with a well-designed CMA and the details to back it up for your consideration. To be honest, the most important factor in pricing is really the agent's experience more than whether they work at a discount. A discount agent who has a lot of experience in home sales could provide a very good CMA, just like a very inexperienced full-service agent could provide a poor one. In this case, experience matters more than the type of agent.
3. Photography and Videos
Today's buyers start their home search online before they ever call an agent or see a home in person. We shop online first for almost everything, especially those items that cost more and that we buy with less frequency. From the National Association of REALTORS® (NAR) 2020 Home Buyers and Sellers Generational Trends Report, 93% of all buyers went online to search for their home, and that number is even higher for those below the age of 65.
If you sell a home today, your online presence is crucial to a successful sale. You must make a great impression on buyers or they will move on to the next listing within seconds. That all starts with photography. Hiring a professional photographer to shoot photos of your home is a requirement.
A full-service team will use the best professional photographer in their area for every listing. At The Chad Wilson Group, we use Aaron Kranz Photography to shoot all of our homes. We do this because they use the latest technology and they have every possible marketing resource available in their portfolio to highlight the best features of a home, including drones, virtual staging for vacant homes, virtual and 3D tours, and videos. This is not an area where you want to sacrifice quality for saving money.
Will a limited-service discount agent pay for professional photography and video?
Maybe. While some discount agents will hire a professional photographer, and it is important to note that not every photographer that calls themself a professional is at the same level of quality. Far too many cut costs by taking photos with their iPhone, assuming the quality is good enough. It is rare to find a discount agent that will include any virtual tours, videos, or drone photos with their listing. This is such an important distinction between full-service teams and discount agents; it can't be emphasized enough.
4. Cultivating Buyer Interest into Buyer Intent
After your home sale has launched to the public, full-service teams will work to promote it to the widest possible audience with a comprehensive marketing plan. That not only includes the MLS and syndicated sites, like Zillow and Realtor.com, but also through social media outlets, to other REALTORS®, and through their current pool of buyers. Full-service teams host open houses at least the first weekend on the market, and perhaps more often. Full-service teams don't sit back and wait for buyers to come to them, they work hard to proactively put your home's listing in front of agents and buyers so they are aware the opportunity exists. You can have the prettiest listing in town, but if no one sees it, what's the point?
All of this work is done to generate buyer interest. A very important component to a home's sale is making sure you have a responsive agent representing you who will answer phone calls and text messages in a timely manner to get buyers and agents the information they need to keep moving forward. When a buyer is excited about a home, you want them to be able to see it as soon as possible and not be frustrated by delays or a lack of information. In a competitive market, that buyer might make an offer on the next home rather than wait on a slow listing agent.
Does a limited-service discount agent handle interested buyers the same way as a full-service team?
Not always. While some provide service while the home is on the market, for some discount brokerages, listing the home on the MLS and installing a lockbox is the end of their work at least until an offer comes in. Because of their low overhead and high volume, they can't afford to spend too much time on each listing or they start to lose money. They don't have the personnel in place to thoroughly work each listing…if they did, their overhead costs would grow. Some discount agents will send buyer lead calls to the seller to answer questions and arrange showings. And follow up with those buyers probably won't happen.
There is danger in handling things this way. First, it exposes the seller to possible litigation if protocols and information are not handled in a careful and systemized fashion. A buyer can come back and accuse the seller of providing false or incomplete information about their home later, and the seller has little recourse because their REALTOR® didn't manage this process for them.
Second, it exposes the seller to potential danger. REALTORS® offer a layer of protection between the buyer and the seller. Full-service teams handle showings in a way that makes it difficult for anyone but qualified buyers to enter their home. Because of their resources, like secured lockboxes and scheduling software, they know who entered your home and how long they were there. The seller doesn't have to be in the house while the buyer is there, which protects the seller from nefarious behavior.
Ask any REALTOR® who represents a buyer interested in a home that's listed by a discount agent about their experience and they will fill your time with stories of frustration due to lack of communication and cooperation. Receiving answers to questions and responses to phone calls, text messages and emails can be a nightmare. It's impossible to know how many missed opportunities arose for a home seller because of poor communication by their discount listing agent, but it can be a costly problem. Again, so much of it comes down to the amount of time an agent is willing to spend working to sell a home they have listed.
5. Managing Negotiations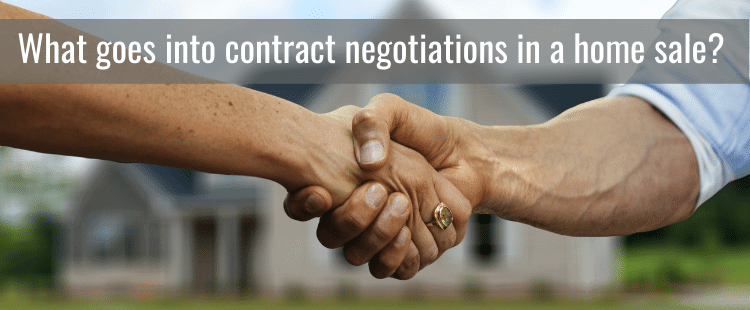 Once you receive a contract on your home, a whole new phase of the sale begins. Every step of the way, from receiving an offer for purchase to sitting at the closing table, involves negotiations. Most sellers know they can negotiate the sale price a buyer is willing to pay, but did you know there are a huge number of items just on a sales contract that are negotiable? This includes, but is not limited to…
Amount of earnest money the buyer puts down on the sale
The deadline date for the buyer to finalize their financing
Whether or not the seller will pay any of the buyer's closing costs
The closing date and time of possession
Who will pay for the title work
How long each party has for inspections
Whether or not a home warranty is included with the sale
What personal property the seller is willing to include in the sale
How long the seller has to finalize municipal inspections
How long the buyer has to secure their homeowner's insurance coverage
Every seller's situation is different, and carefully considering what is important to you in your home sale will help you feel more in control and satisfied with the outcome. A full-service team will have rich experience and skill in contract negotiations so that you never feel alone or uninformed about the process. A great agent will never leave anything to chance and will never surprise you with anything, but instead will guide you so you know what to expect next in the process.
After a contract is accepted, the next step is the inspections. Buyers may do a lot of different inspections, including structural, radon, termite, and sewer. After each of these, a report is created to let the seller know what items the buyer is asking the seller to address. Lots of negotiating is possible during this stage, with buyers and sellers going back and forth about what will be repaired, who will do it, when it will get done, and so on. This is the phase that can cost sellers major money and can even cause a deal to completely fall apart. A great negotiator can ensure contracts stay together and save their sellers' money. As you can imagine, emotions can run high during this phase as patience starts to thin, and having a full-service, experienced team representing you can make all the difference.
Like we mentioned earlier during the staging process, a full-service team will help a seller by recommending qualified contractors to complete inspection repairs in a timely and professional manner and submit all of the required paperwork to the title company so closing can stay on schedule. Using a bad contractor can cost sellers a lot of money and can delay closing.
Issues can often arise with a buyer's financing. If a buyer doesn't choose an experienced lender who is proactive in their work, understands the process, and cares about a timely transaction, it can derail a sale at the 11th hour. Continuous communication between a full-service listing team and the buyer's agent is important to make sure everyone meets their deadlines.
Many sellers who aren't initially convinced that working with a full-service team is important will be absolutely sold by the time they reach the closing table and have successfully traversed the many mines laid along the way that threatened to blow up the entire process.
How does a limited-service discount agent handle negotiations?
Remember the information shared earlier about discount agents relying on high volume to keep their business profitable? That impacts negotiations in a major way. Because a discount agent must manage many listings at the same time with a limited staff, you can imagine being highly engaged with the negotiation of contracts, inspections and appraisal on each property is not usually possible. The discount agent model is based on a transaction riding on autopilot. If the deal can stay together with minimal turbulence until it lands at the closing table, it will probably work out okay. But if there are too many bumps in the road, it can leave a seller feeling like they are piloting the airplane solo without a flight manual.
So back to the original question, should you choose to list your home with a discount agent? For most people, their home is their largest physical asset. Placing their trust in someone to sell it successfully is scary. They want an agent with great reviews from previously satisfied customers, a wealth of experience, cutting edge tools and skills, and the highest level of professionalism to take care of them. Cutting corners when hiring representation can be a costly mistake in the end. Sellers should carefully evaluate their options from the start to ensure a smooth process and satisfactory outcome.