St. Louis Area Real Estate Market - March 2022
Posted by Beth Carr on Friday, April 8, 2022 at 12:00 PM
By Beth Carr / April 8, 2022
Comment
Here is a quick look at the local St. Louis area housing market, residential resale only. All data was gathered from the local St. Louis MLS for the month of March 2022. Note that the St. Louis area real estate market statistics are analyzed in two different graphics: St. Louis County and St. Charles County.
Let's start first with the St. Charles County market.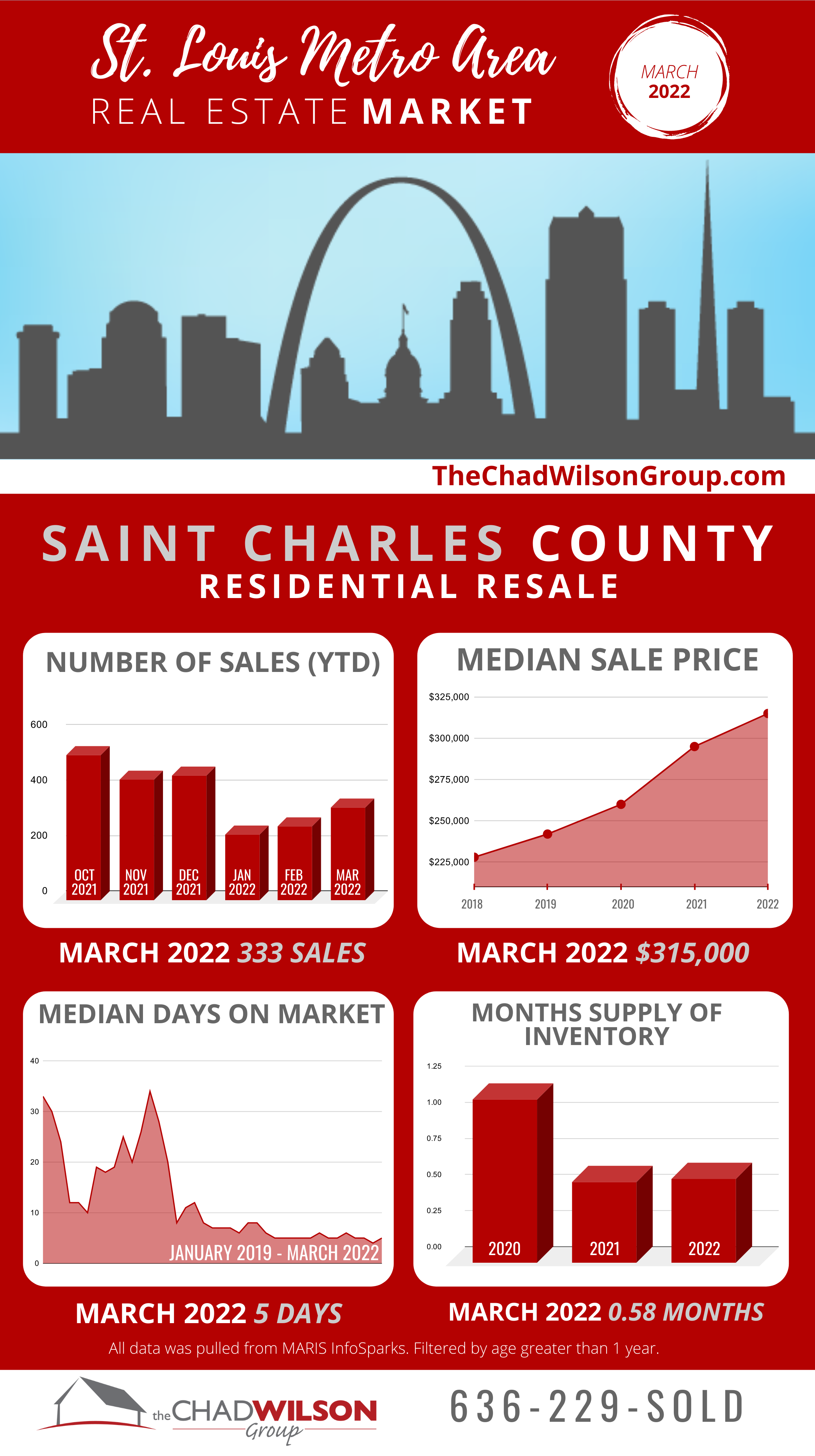 What does this mean for the St. Charles County Real Estate Market?
March 2022 brings little change to the St. Charles County Real Estate market, with the trends we have become so accustomed to continuing to happen. The median days on market, currently at just 5 days, remains very low. The months supply of inventory, currently 0.58 months for March 2022 has changed very little since last March when it was 0.56 months. St. Charles County did see an increase in closed sales this month (333 closed sales) which is pretty typical for this time of year as sales tend to pick up heading into spring/summer. The median sales price of $315,000 in St. Charles County, shows that home values are still going up, though maybe not as drastically as we saw in 2021. What this all comes down to is that it is still a great time to take advantage of the equity in your home! If you are considering selling a home in St. Charles County, you might be interested in finding out just how much your home is worth right now.
Now, let's take a look at the St. Louis County real estate market.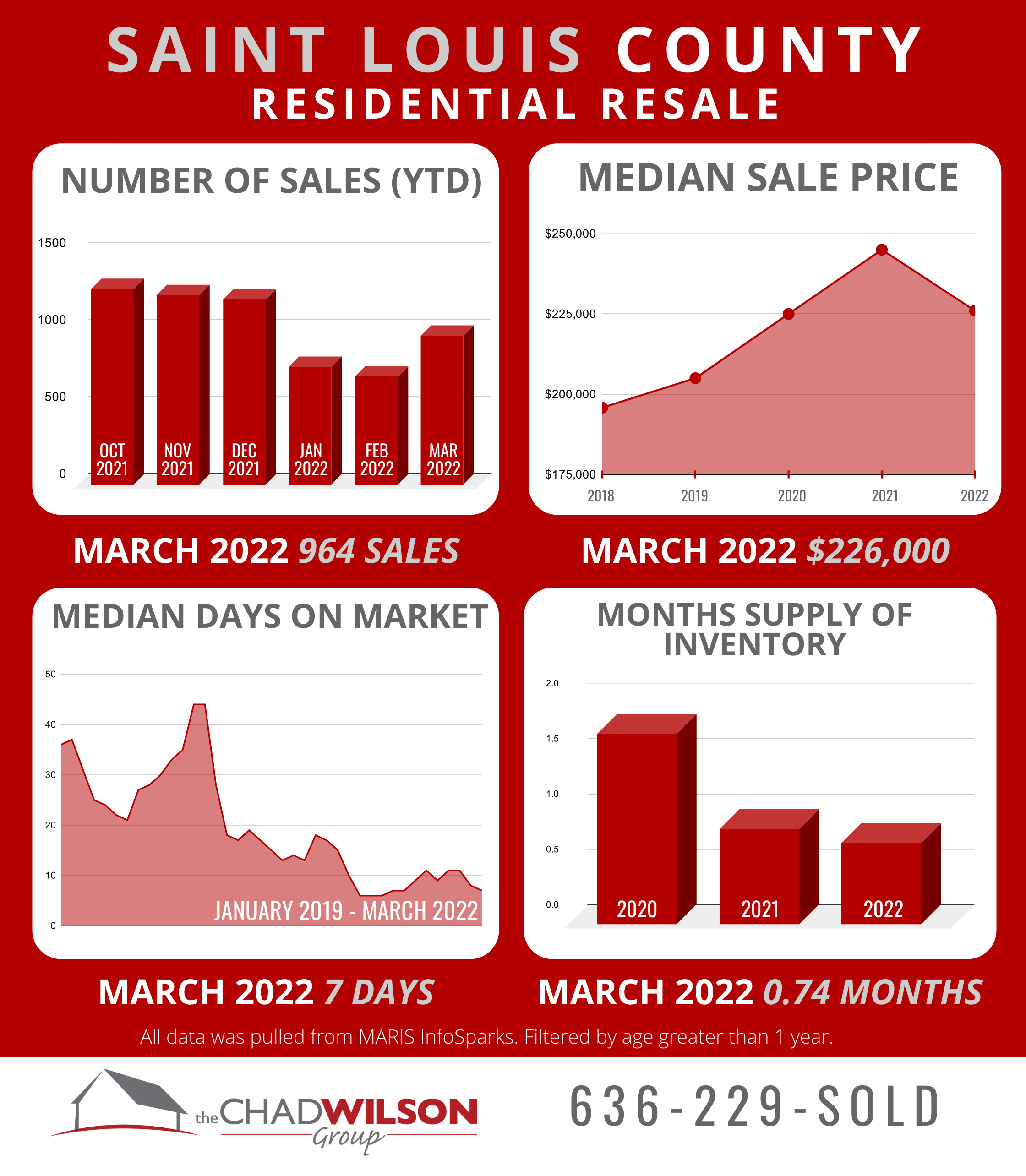 What does this mean for the St. Louis County Real Estate Market?
The St. Louis County real estate market is also showing very similar trends. The median days on market dropped again, down to 7 days, which is even lower than March 2021 when the median days on market was at 10 days. St. Louis County saw the number of closed sales increase by almost 300 over last month, again likely attributed to the typical seasonality of sales that comes with the start of spring. Months supply of inventory is currently 0.74 months, which is down slightly from March 2021 when it was 0.86 months. The median sales price is $226,000, which increased by $1,000 over last month. If you are considering selling a home in St. Louis County, evidence shows that it is still an opportune time to do so! A great first step would be to find out just how much your home is worth right now.
Data Explanations
Knowing how to read and interpret this data is important. Here are explanations of the charts above:
Number of Sales - This is the total number of home sales for the month.
Median Sale Price - This is the median, or middle, sale price of all homes that sold in a particular month.
Median Days on Market - Days on market is the amount of time it takes for a home to go under contract. The number reported is the median, or middle number, of all homes listed for the month.
Months Supply of Inventory - This is a calculation that helps to quantify supply and demand in the housing market. This number tells you how long it would take to burn through the current inventory of homes for sale, if new homes stopped hitting the market completely. This number helps us to understand if the current market is favoring buyers or sellers.
In Conclusion
Generally speaking, we are still seeing home values increasing, days on market remaining low, and the housing market favoring sellers as it has for much of 2020 and all of 2021. It does seem that the numbers are changing more slightly than we have seen before now. What we can be certain of is that this market is not sustainable, and at some point, it will correct itself to a more balanced market. While we keep a close eye on data that may help predict when a shift is coming, we still cannot confidently say when that change will happen.
Something that we have seen begin to happen, and expect to continue to happen, is a rise in mortgage interest rates. This affects both home buyers and sellers, as buyers will potentially lose some buying power and sellers may see their buyer pool become smaller as a result.
The data still tells us that now may be one of the best times to sell your home if you are considering doing so. You might be surprised to find out what your home is worth! We would be happy to provide you with a free market analysis, so you can decide if it might be the time to sell and make that move you have been dreaming of.
We know buying a home right now can seem tough and we speak with many potential buyers who wish to wait until the market balances out and home prices come down. However, this typically comes with higher interest rates. Hypothetically, if a buyer can secure a home for $50,000 less by waiting, even a 1% increase in interest means they are still going to have roughly the same monthly payment. It is a good idea to speak with an expert who can help you evaluate if waiting will be financially beneficial. You may find that now is actually an opportune time to buy a home as well!
Despite the obstacles, our team is hard at work continuing to secure contracts for our buyers. Even though home inventory is near record lows, our unique strategies can help you secure a contract on a home that is perfect for you!
Whether you are looking to sell, buy, build, or invest, our team of St. Louis area real estate experts have the knowledge and experience to handle all of your real estate needs with utmost care and attention. Reach out today for a free, no-obligation consultation with a member of our team to discuss how we can serve you in all things real estate!