9 St. Louis Area Pools and Waterparks Your Family Will Love
Posted by Beth Carr on Monday, May 24, 2021 at 7:06 PM
By Beth Carr / May 24, 2021
Comment
St. Louis summers can get hot. I mean, really hot. Nothing beats the heat more than a dip in one of the area's many pools and waterparks. Whether it is a large-scale waterpark or a local public pool, swimming spots in the St. Louis area are never in short supply.
Come Memorial Day weekend, when many St. Louis pools open for the season, you are sure to find my family poolside. As a mom of two young girls, and lifelong St. Louis native, I have visited my share of pools in the area, and also worked in municipal aquatics for many years. Here is a list of some of the most recommended pools in the Greater St. Louis area, including some of my personal favorites, in no particular order.
1. Alligator's Creek Aquatic Center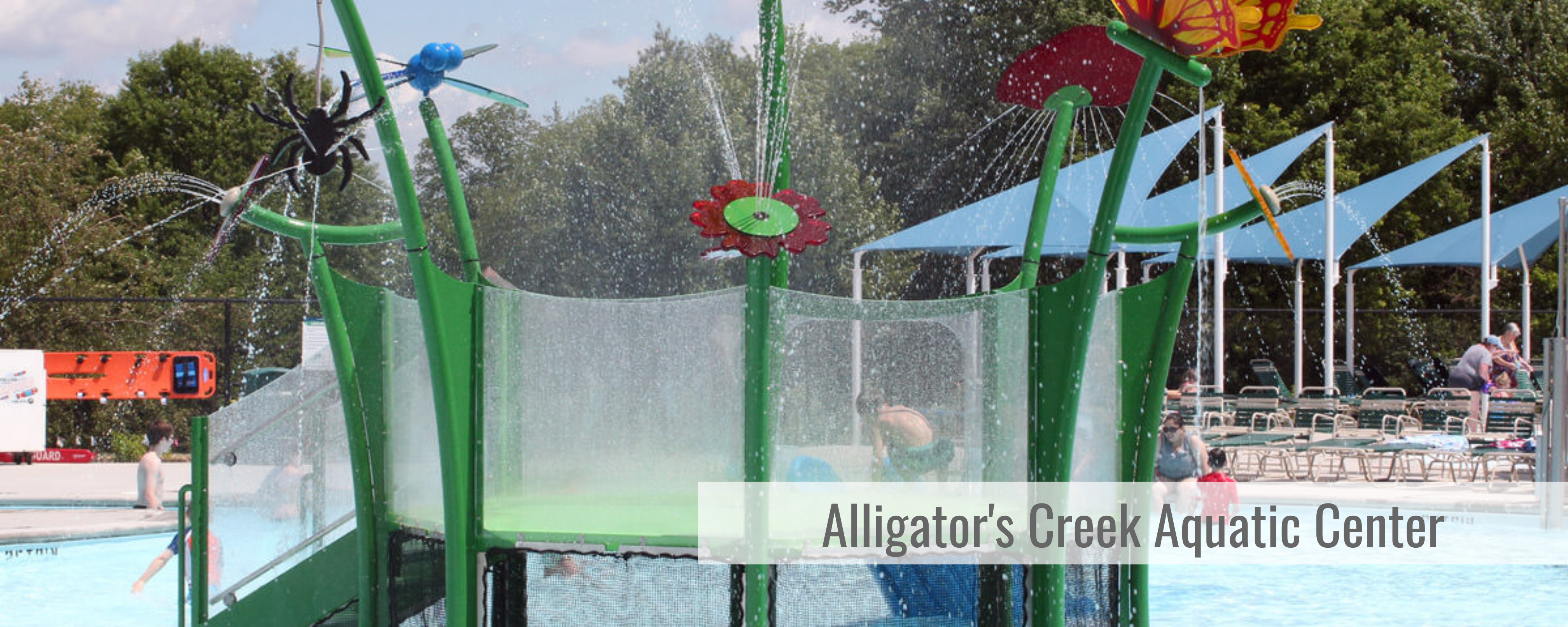 Photo Credit: Ofallon.mo.us
Located not far off Highway 70 in O'Fallon, MO, Alligator's Creek Aquatic Center quickly became our family favorite. Our first visit took place in 2020, when most city pools were shut down or limited due to COVID-19. We were hooked. My older daughter loves the small drop slide in the deep end, and my youngest spends hours on the water playground. This facility truly has something for everyone in the family. It is big enough to move around, but also compact enough that I felt like I could see the whole facility from anywhere I stood, which was helpful when my kids didn't want to do the same thing at the same time. We have visited here many times, and my kids never get bored!
WHERE: 403 Civic Park Drive, O'Fallon, MO 63366
PHONE: 636-272-1626
WEBSITE: Alligator's Creek Aquatic Center
AMENITIES: ✪ Three Water Slides ✪ One-meter spring diving board ✪ Long lazy river with a zero-depth beach entrance ✪ Splash pad for kids of all abilities ✪ Floating bridge ✪ Interactive water playground ✪ Family-friendly whirlpool or vortex ✪ Swimming pool with multiple lap lanes ✪ Concessions
2. Wapelhorst Aquatic Facility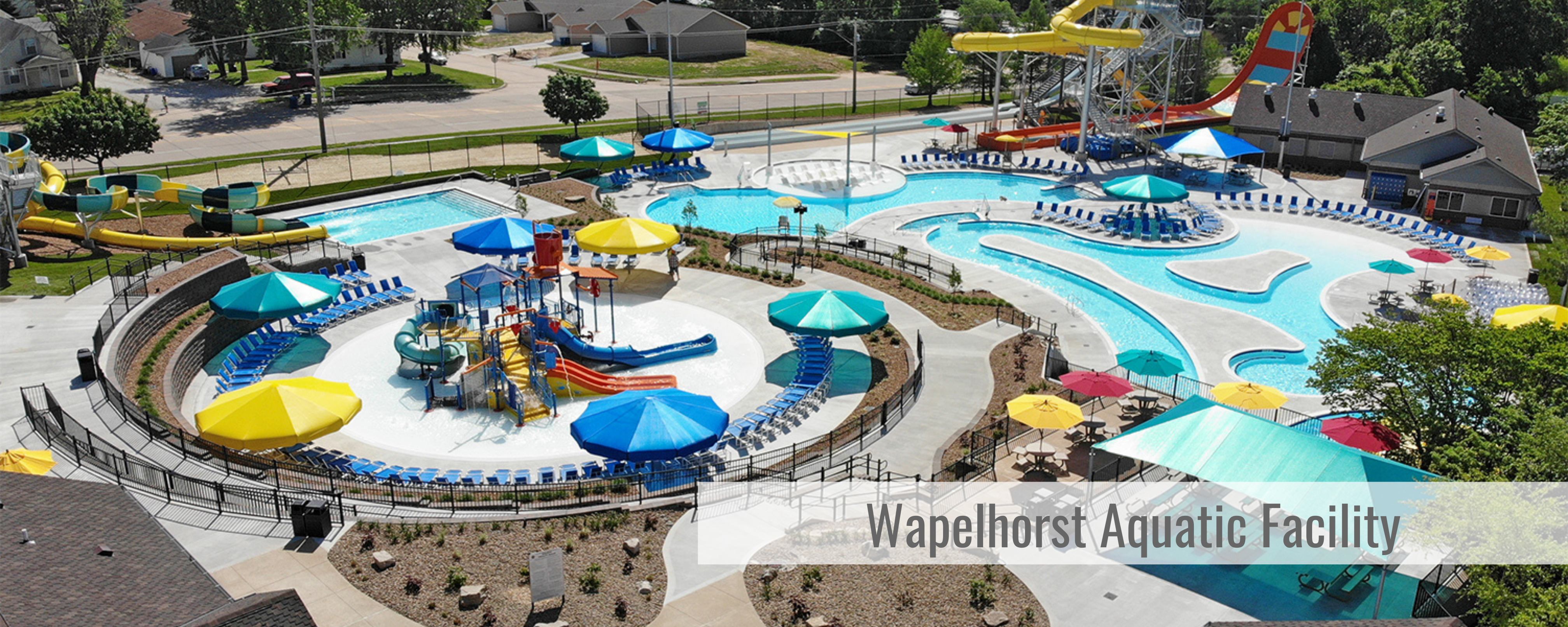 Photo Credit: Stcharlesparks.com
Wapelhorst Aquatic Facility, located close to Highway 94 in St. Charles City, was completely renovated in 2018, along with other St. Charles City Aquatic Facilities. I took my kids there when it first opened after renovations, and they were begging me to go back as soon as we left! Our favorite: The Boomerango slide! This huge slide moves you back and forth in a raft along the large ramp, and is like none I've ever seen. Even my fearful daughter loved it! In addition to that, the facility has tons of other slides for various ages and thrill levels, an area to swim, a lazy river, and a large water playground in shallow water for the younger kids. This is a wonderful destination for St. Louis area families and is easily accessible, not far off the highway.
WHERE: 1875 Muegge Road, St Charles, MO 63303
PHONE: 636-949-3372
WEBSITE: Wapelhorst Aquatic Facility
AMENITIES: ✪ Large water play structure with slides and dumping bucket ✪ Open and enclosed flume slides ✪ Speed slide ✪ Boomerango slide ✪ Lazy river ✪ Zero-depth entry pool ✪ In-water lounge chairs ✪ Concessions
3. Splash Station Aquatic Center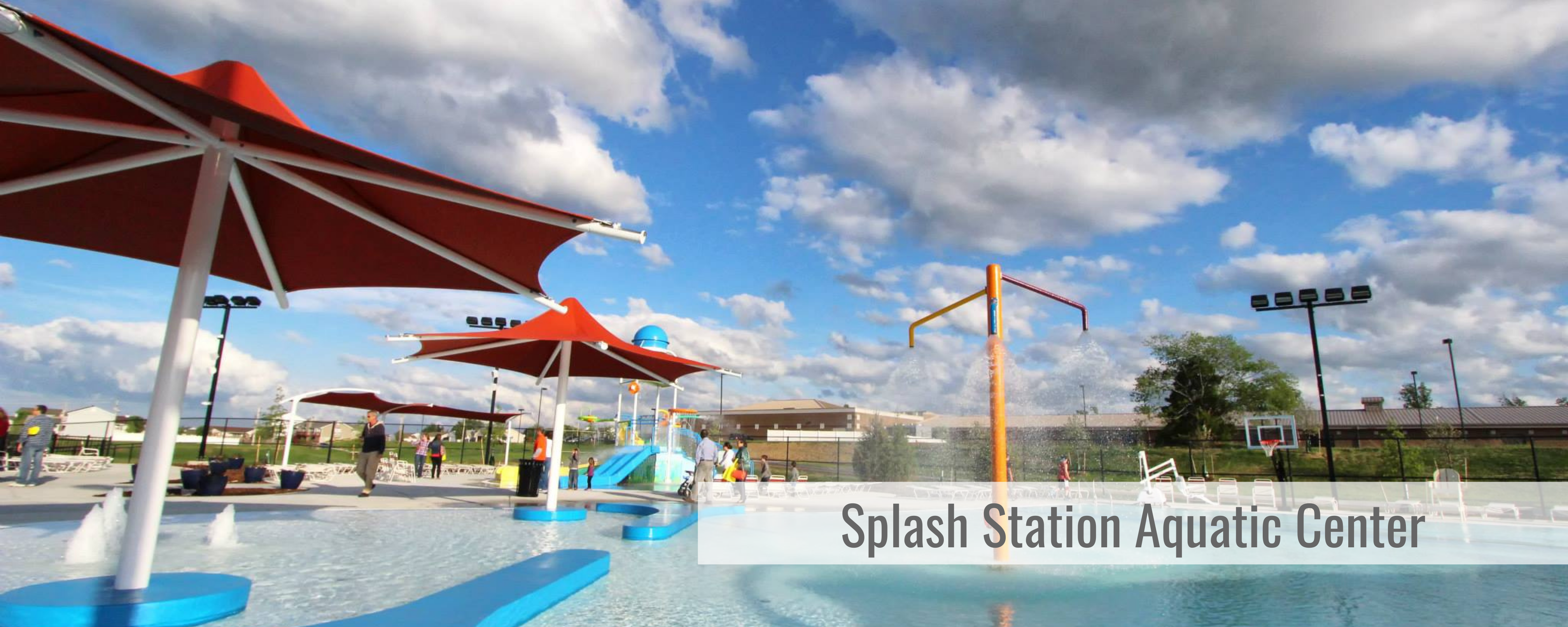 Photo Credit: Wentzville Parks and Recreation Facebook
Tucked away in Wentzville, MO , Splash Station Aquatic Center sits on Peine Road, not far off Wentzville Parkway and Highway 64/40. This newer facility has some fun and unique features, like a large three-meter platform diving board, water basketball hoops, and water playground for the little ones. This is another favorite of ours, especially since we live close. The variety of attractions mean there is something for everyone to enjoy! Make sure to come hungry, because their concession stand has more to offer than any public pool I have ever seen! Splash Station also hosts several fun special events throughout the season like their Back-to-School Splash and end of the season Pooch Plunge and classes like River Walking and Diving Lessons.
WHERE: 1141 Peine Road, Wentzville, MO 63385
PHONE: 636-327-5104 (Seasonal Only)
WEBSITE: Splash Station Aquatic Center
AMENITIES: ✪ Spiraling water slide ✪ Lazy river ✪ Kids water playground ✪ Water basketball hoops ✪ One-meter spring diving board ✪ Three-meter diving platform ✪ Concessions
4. North Pointe Aquatic Center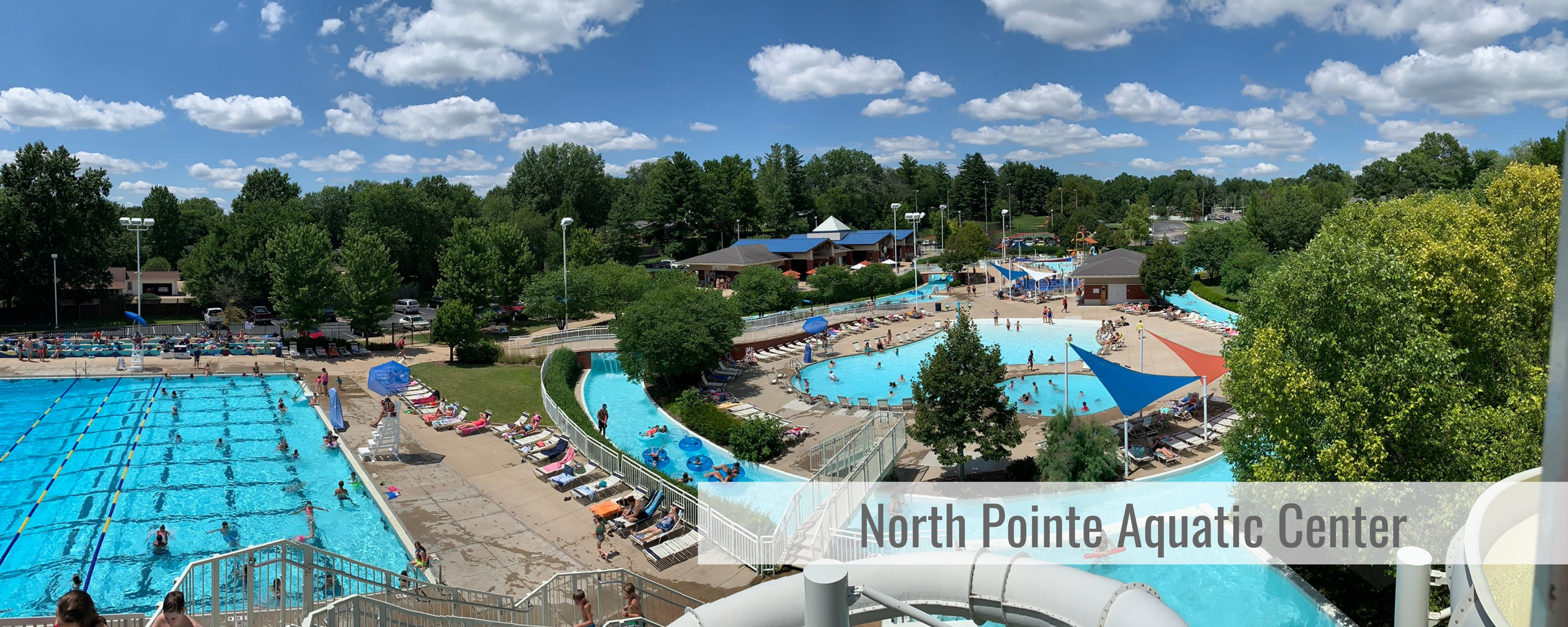 Photo Credit: Ballwin Parks and Recreation Facebook
This is another popular water park in St. Louis County located in Ballwin, MO between Manchester and Clayton Road. With plenty of room to swim, and fun attractions like their unique "Tree Swing", North Pointe Aquatic Center will keep your family smiling all day long. Parents can relax in the massive lazy river, which encompasses the leisure pool, and the little ones will love the kiddie pool area with a large water playground. North Pointe Aquatic Center hosts special events like Little Splashers (a special toddler swim time), Twilight Swims, and Nightwaves Pool Parties (middle school aged special event).
WHERE: 335 Holloway Road, Ballwin, MO 63011
PHONE: 636-227-2981(during off season call 636-227-8950)
WEBSITE: North Pointe Aquatic Center
AMENITIES: ✪ 10 lane competition pool ✪ Two one-meter spring diving boards ✪ Tree swing ✪ 1,000 foot lazy river with waterfall and sprayers ✪ Zero-depth entry leisure pool ✪ Vortex ✪ Kiddie pool with water playground ✪ Splash pad ✪ Open and closed flume two-story waterslides ✪ Concessions
5. White Birch Bay Aquatic Center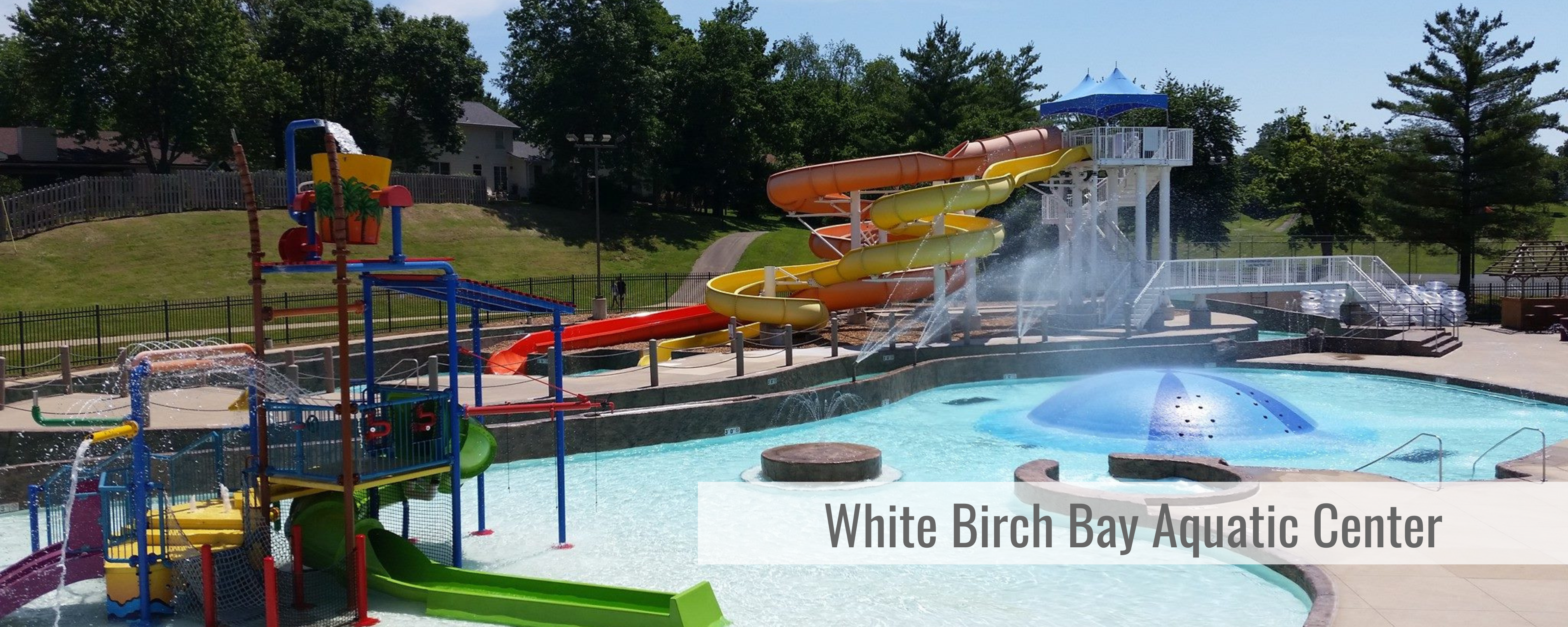 Photo Credit: White Birch Bay Aquatic Center Facebook
White Birch Bay Aquatic Center in Hazelwood, MO is one of the most unique aquatic centers in St. Louis County. It is a popular destination for visitors from all over the area. Not only does it have a large competition pool, with diving boards and plenty of area to swim, it is home to the area's only "bubble slide", and it is seriously cool! It comes out of the water like a giant bubble, and allows you to climb up on one side like a rock wall, then jump and bounce off of it into the water below. They also have a lazy river that generates waves, like a wave pool, and a tiny tot wave pool so the little ones can enjoy beach-like waves as well. No matter where in the Greater St. Louis area you live, this one is worth the drive!
WHERE: 1186 Teson Road, Hazelwood, MO 63042
PHONE: 314-731-0980
WEBSITE: White Birch Bay Aquatic Center
AMENITIES: ✪ Two large water slides ✪ 360 degree bubble slide ✪ 600-foot lazy river that generate waves (like a wave pool and lazy river combined!) ✪ Water playground with dumping bucket ✪ Tot wave pool with spray features and small slide ✪ 25-meter competition pool ✪ Two one-meter spring diving boards ✪ Whirlpool ✪ Concessions
6. AquaPort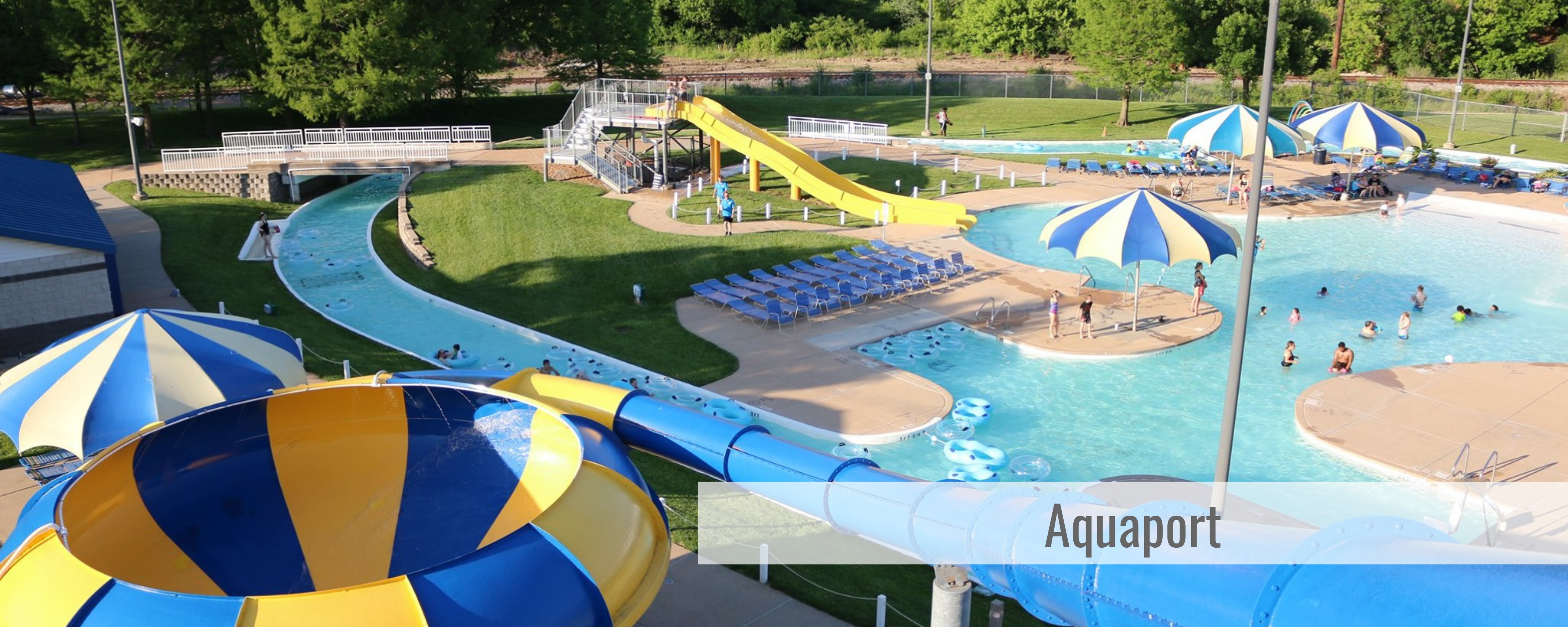 Photo Credit: AquaPort Facebook
AquaPort in Maryland Heights, MO can be seen from highway 270 near the Dorsett exit, and is a popular summer destination for area families. Major renovations in 2021 added a FlowRider, which incorporates elements of surfing, bodyboarding, and wakeboarding. Check them out on Facebook to see it in action! This huge facility boasts slides, a lazy river, and plenty of space to soak up the sun. My family can't wait to check out some of their newest updates!
WHERE: 2344 McKelvey Road, Maryland Heights, MO 63043
PHONE: 314-738-2599
WEBSITE: Aquaport
AMENITIES: ✪ FlowRider ✪ 8,000 square foot pool with bubblers, sprinklers, and fountains ✪ Extreme bowl slide ✪ 150-foot flume slide ✪ 150-foot tube slide ✪ 50-foot racer slides ✪ Wacky water slide for smaller riders, ✪ Concessions
7. Manchester Aquatic Center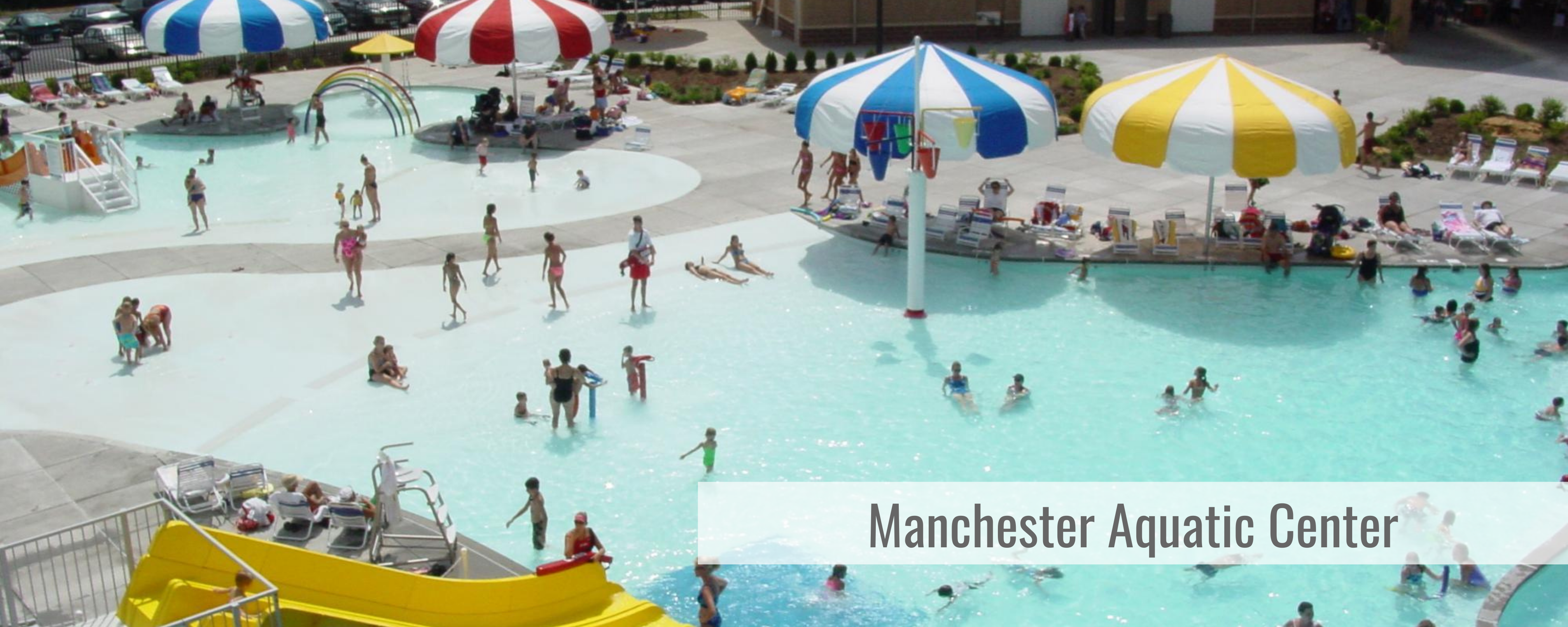 Photo Credit: Westportpools.com
Located in Manchester, MO near Manchester Road and Highway 141, the Manchester Aquatic Center has plenty for everyone to enjoy. With slides and features for both big and small kids (and kids at heart), your family will love splashing the day away here. They host many special events, like a Luau at the Pool, Night Waves middle school event, and outdoor movies at the pool. In addition, they offer several Appreciation Days, in which they give free admission to teachers, healthcare workers, first responders, veterans, and even restaurant workers and small business owners!
WHERE: 359 Old Meremac Station Road, Manchester, MO 63021
PHONE: 636-391-6326 ext 405
WEBSITE: Manchester Aquatic Center
AMENITIES: ✪ 10-lane competition pool ✪ Rock climbing wall (NEW IN 2021!), ✪ Enclosed drop slide ✪ One-meter spring diving board ✪ Current channel ✪ Triple lane open slide ✪ One open and one enclosed large water slide ✪ Two vortex areas ✪ Zero-depth beach entry ✪ Baby pool with double lane small slide, zero-depth beach entry, and interactive water features ✪ Concessions
8. Chesterfield Family Aquatic Center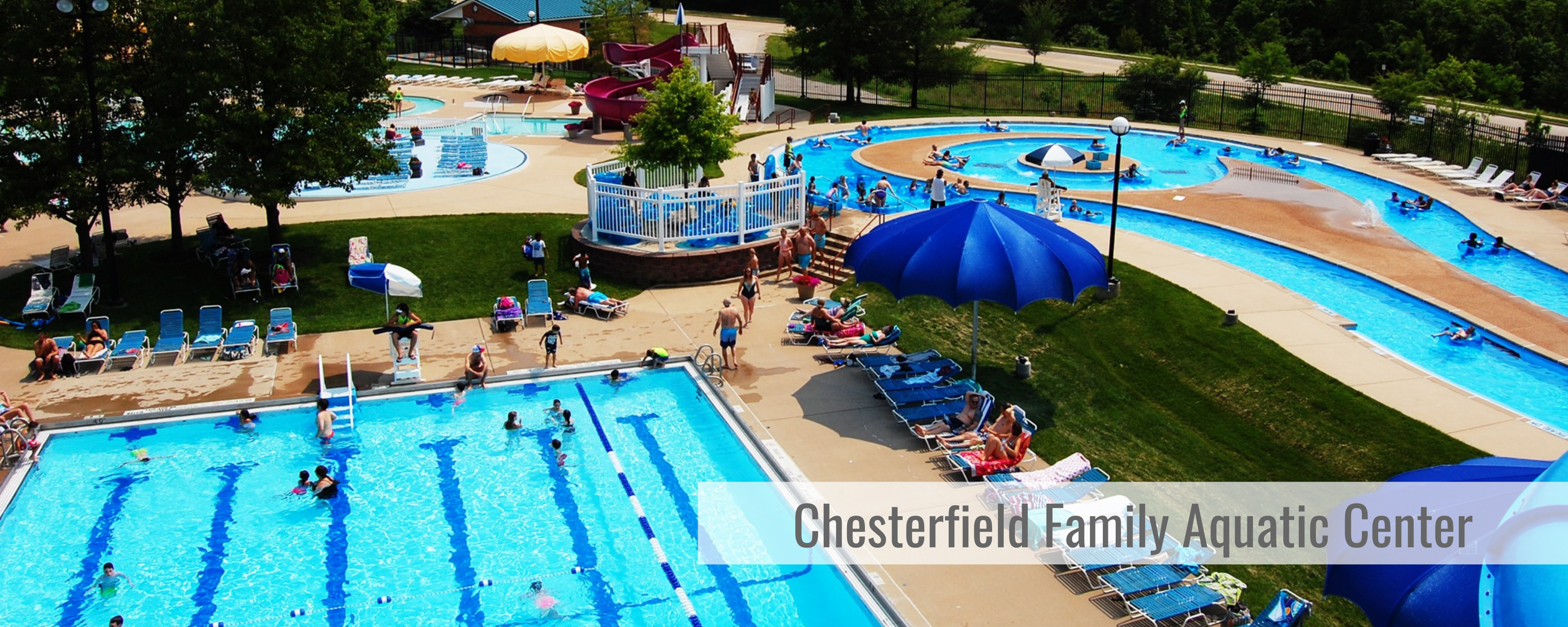 Photo Credit: Chesterfield Family Aquatic Center Facebook
The Chesterfield Family Aquatic Center is another fantastic summer family destination in St. Louis. Located on the west side of St. Louis County in Chesterfield, MO, this facility offers a wide variety of aquatic amenities, so you can be sure the whole family will have fun! The splash playground is perfect for toddlers and younger kids, while the older children will love the larger slides and diving boards. The lazy river is a great place to relax in the sun while still staying cool. They also offer a Tot Time, River Walk Club, and tons of special event days, like a Father's Day swim and First Responder Appreciation Days.
WHERE: 16365 Lydia Hill Drive, Chesterfield, MO 63017
PHONE: 636-812-9500
WEBSITE: Chesterfield Family Aquatic Center
AMENITIES: ✪ Splash Pad ✪ Leisure pool ✪ Competition pool ✪ Two one-meter spring diving boards ✪ Lazy river ✪ AquaPlay unit with sprayers and mini slide ✪ Concessions
9. Raging Rivers Waterpark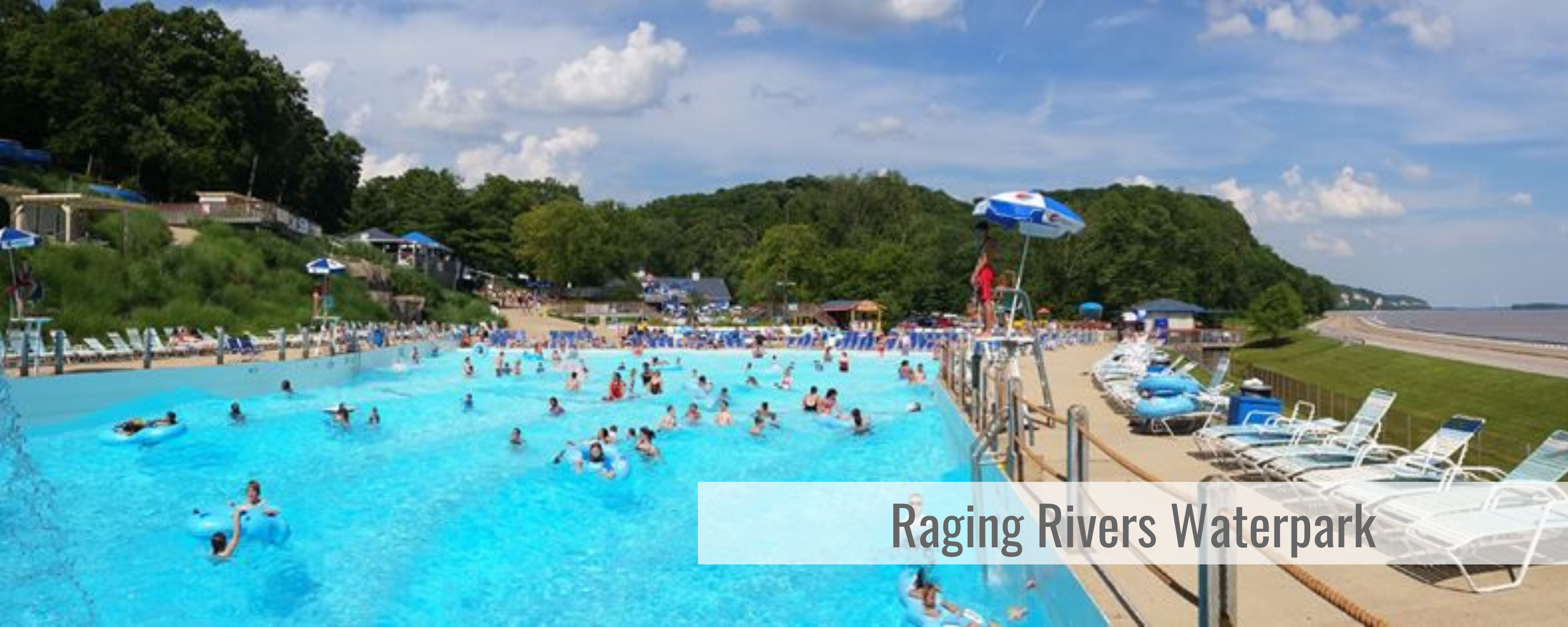 Photo Credit: Ragingrivers.com
I couldn't write this without mentioning Raging Rivers, one of my childhood favorites. This large-scale water park sits on the banks of the Mississippi River along the Great River Road in beautiful Grafton, IL. When I was a kid, my mom would take us all here at least once a summer. My siblings and I would choose one friend, pack our lunches, and pile in the car for the beautiful drive along the river to visit the waterpark for the day. We would literally spend all day here and still be upset when it was time to leave. They have tons of unique slides, a huge wave pool, and so many things for little ones to enjoy. Make sure you bring water shoes and be prepared for a lot of walking, because the facility is very large and many of the attractions require a trek up a steep concrete path. But, nothing beats standing at the top of the slides and looking out on the breathtaking views of the Mississippi River and hills surrounding the area.
WHERE: 100 Palisades Parkway, Grafton, IL 62037
PHONE: 618-786-2345
WEBSITE: Raging Rivers Waterpark
AMENITIES: Large zero-depth entry wave pool, Swirlpool slide, Shark slide, Runaway raft slide, Lazy river, Body flume slides, Large kids water playground, Itty Bitty Surf City (small kids water play area), Concessions
We'd love to hear from you!
Have you visited any of these facilities? What did you love about them? Is there a facility not on this list that your family enjoyed?
Please comment below and share your feedback about some of our amazing St. Louis area pools and water parks so anyone new to the area or thinking about relocating to St. Louis or St. Charles County can decide which one to visit first!