Things You Shouldn't Do After Applying for a Mortgage [Infographic]
Posted by Beth Carr on Thursday, January 13, 2022 at 2:57 PM
By Beth Carr / January 13, 2022
Comment
One of the first steps in the home buying process is to consult with a mortgage lender about your financing options. When you know what you can afford, you can focus your home search and make your move more quickly when you find the property you want. Getting pre-approved for a mortgage will tell you how much you will be able to finance and make your offer to purchase more attractive to sellers, who are assured you can qualify for the amount you are offering to purchase the property for.
A pre-approval, however, is not a guarantee that you will get the loan you are asking for. Final official mortgage approval comes later and must happen in order to close on a home. That means, there will likely be some time that passes between your pre-approval letter and your final mortgage approval. To avoid derailing your financing, there are some important things you need to avoid so that your financial situation does not change too drastically and affect your final approval. Here are some things you shouldn't do after applying for a mortgage.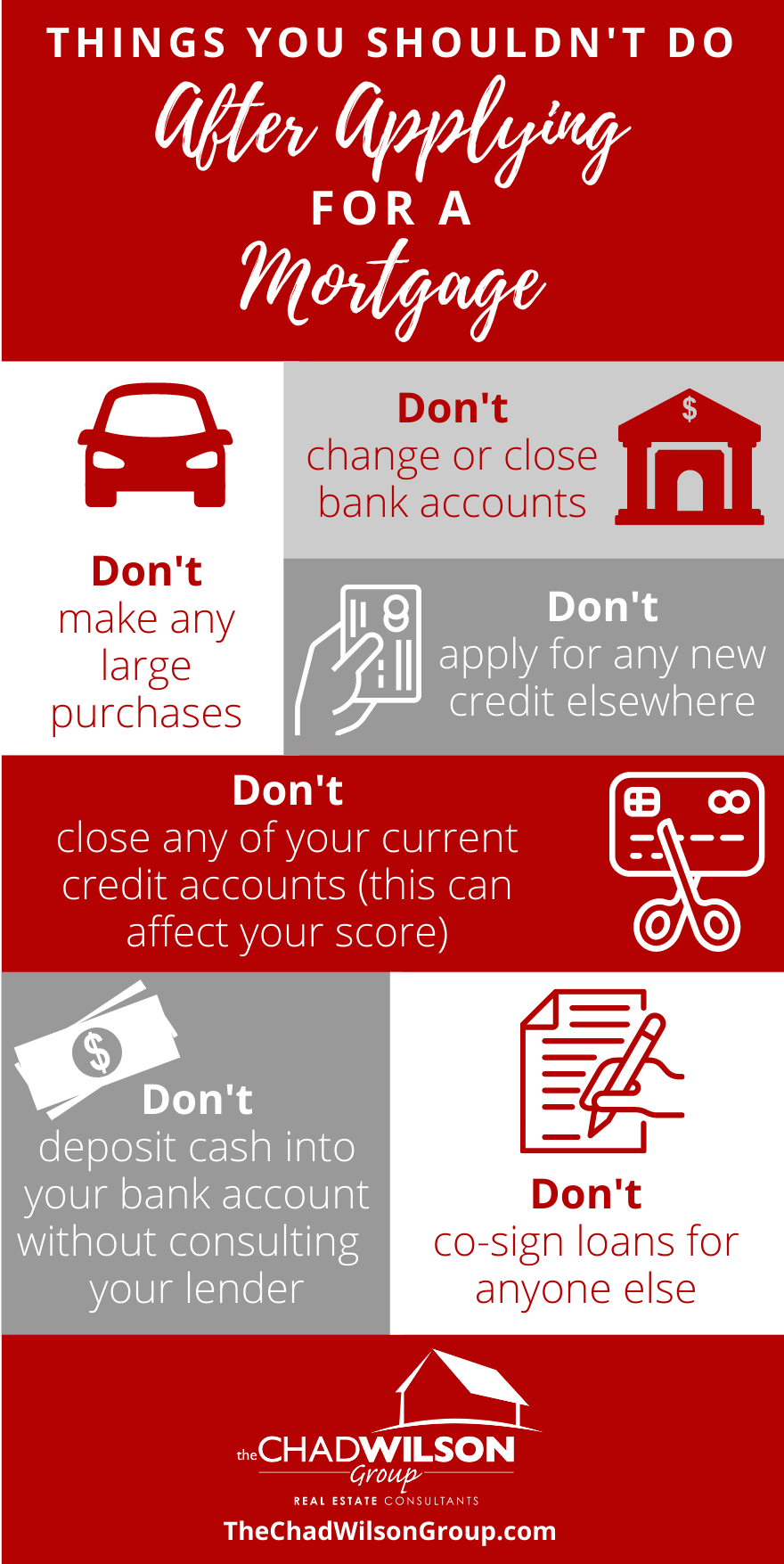 When it comes to buying a home, it is best not to make any major financial changes before you close on the property. If you are ever in doubt, consult your lender before taking any action. This will ensure that you can close on your new home smoothly and without added stress.
We recommend that you work with a local lender that has a proven track record, great communication, and consistently closes on time. Also, a good lender will offer a variety of loan packages, competitive interest rates/closing costs, in-house underwriting, and will assist you in finding the mortgage payment plan that fits your budget.
If you have questions about obtaining a mortgage loan, or any real estate needs, our team is ready and eager to help! Fill out the form below and a team member will be in touch to discuss how we can meet your unique needs.