Understanding the Different Types of Mortgage Loans [INFOGRAPHIC]
Posted by Beth Carr on Thursday, May 19, 2022 at 1:43 PM
By Beth Carr / May 19, 2022
1 Comment
Every home buyer is unique. Luckily, there are many mortgage loan options out there to help meet the varying needs of each home buyer in the Greater St. Louis area.
Many people shy away from homeownership because they are under the misconception that they must have perfect credit or be able to bring a 20% downpayment. This simply isn't true. Whether you have amazing credit with a large down payment or your credit is less than perfect and you are looking to get into a home with as little cash as possible, you would be surprised at the multitude of ways that mortgage lenders can make homeownership happen.
Knowing and understanding the nuances of the different home loan options, especially as a first-time homebuyer, can be confusing to navigate on your own. So first, let's take a look at some of the key features of the main types of mortgage loans in the infographic below.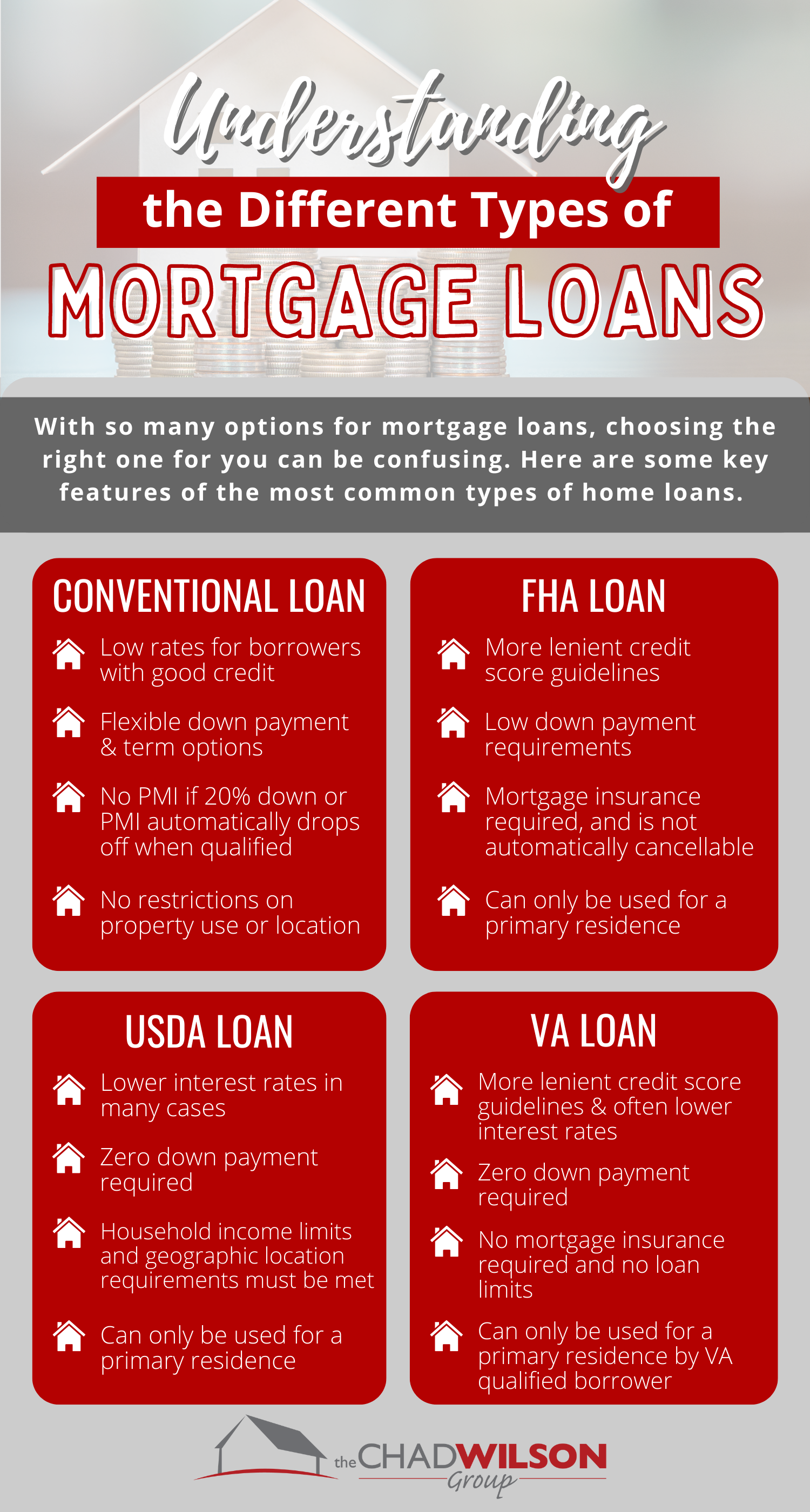 What is a Conventional Loan?
A conventional loan or standard loan is one that is not backed by a government agency (such as FHA, USDA, and VA loans). They are originated, backed, and serviced by private lenders, such as banks and credit unions. This type of loan will typically require the highest credit score but lower interest rates for borrowers with excellent credit. While 20% down is not required on conventional loans, borrowers who do not put down 20% will be required to pay private mortgage insurance each month. The good news is that the private mortgage insurance on a conventional loan will automatically terminate once your principal balance reaches 78% of the home's original value. There are many types of conventional loans, including fixed-rate, adjustable-rate, and jumbo loans. You can use a conventional loan to purchase pretty much any type of property, from primary residences to vacation homes and more.
What is an FHA Loan?
An FHA loan is insured by the Federal Housing Administration, an agency of the U.S. Government. They must be obtained through an FHA-approved mortgage lender. FHA loans offer borrowers the option of putting down as little as 3.5% and offer more lenient credit score requirements than conventional loans (potentially as low as 500 in some cases, but 580 is more typical). If you have less than excellent credit, an FHA loan will often offer a lower interest rate than a subprime conventional loan. An FHA loan also requires that you pay mortgage insurance for the life of the loan. However, this does not necessarily mean you are stuck paying mortgage insurance forever. Once they have the required 20% equity, many FHA borrowers choose to refinance to a conventional mortgage down the road in order to stop paying mortgage insurance premiums. An FHA loan can only be used to purchase primary residences and must meet certain government appraisal standards.
What is a USDA Loan?
A USDA loan is issued through the U.S. Department of Agriculture and is designed to assist buyers with lower-income and lower-credit purchase homes in particular geographic areas. In order to qualify for a USDA loan, you must be looking to purchase a home in an eligible rural or suburban area. The program requires that borrowers are using the loan to purchase a primary residence and their income must fall below certain income limits, determined by median income levels in their area. Most lenders will require a credit score of at least 640 to qualify for this type of loan.
What is a VA Loan?
A VA loan is backed by the U.S. Department of Veterans Affairs and is available to certain U.S. Service Members and spouses. Although there are many myths surrounding VA loans, they remain one of the most amazing benefits to U.S. Service Members who qualify. VA loans offer qualified borrowers lower interest rates, no or low down payment, and no private mortgage (PMI) requirements, making them very attractive to many borrowers. They can be used to purchase a home, finance the construction of a new home, or renovate or add on to an existing home. Although the minimum credit score to qualify is set by the lenders, the credit requirements are typically more lenient than that of conventional loans.
Which Type of Loan is Best for Me?
Determining what type of loan is most beneficial for you is best answered by a local, trusted mortgage lender who can examine your unique situation and compare the loan options available to you based on your credit, down payment, and other qualifying factors.
In Conclusion
With so many lending options out there, buying a home may not be as out of reach as you think. If you are even considering purchasing a home, it may be worth speaking with a lender to examine what options are available to you. Even if you do not qualify now, a lender can help you understand what actions you can take to improve your credit or situation to qualify for a mortgage.
We recommend that you work with a local lender that has a proven track record, great communication, and consistently closes on time. Also, a good lender will offer a variety of loan packages, competitive interest rates/closing costs, and in-house underwriting, and will assist you in finding the mortgage payment plan that fits your budget.
If you have questions about obtaining a mortgage loan, need help evaluating your loan options, or have any other real estate needs, our team is ready and eager to help! Fill out the form below and a team member will be in touch to discuss how we can meet your unique needs.