Why NOW may be the BEST time to sell your home
Posted by Jennifer Smith on Monday, February 15, 2021 at 2:41 PM
By Jennifer Smith / February 15, 2021
Comment

Are you thinking about selling your St. Louis area home? The Greater St Louis area real estate market is in one of the strongest sellers' markets that we have ever seen, reaping huge financial gains to sellers cashing in on the rising equities in their homes. You have heard us say for years "it is a great time to sell", so why is today any different?
Well, the speed of today's market is causing buyers to write offers sight unseen, to offer thousands of dollars above list price, to waive contract contingencies like appraisal riders and inspection riders, and to woo the seller in creative and unique ways. Simply put, if you are at all thinking about selling, the tremendously low inventory of homes for sale right now, coupled with the huge buyer demand, is pushing up home prices to offer opportunities for home sellers.
»»»» Ready to talk to us about selling your home? Register HERE for a no-obligation seller consultation.
Below we will explain what a sellers' market is and the forces that are driving the current sellers' market. We'll also unpack real-world examples of our recent sellers' wonderful outcomes and the lengths our team's agents are going to help their buyers secure a home and take advantage of the low interest rates.
What is a Sellers' Market?
Simply put, a sellers' market means that there are more buyers than there is inventory, thereby pushing up the price of real estate. We took a deep dive into Sellers' and Buyers' Markets in a recent blog post; check it out here.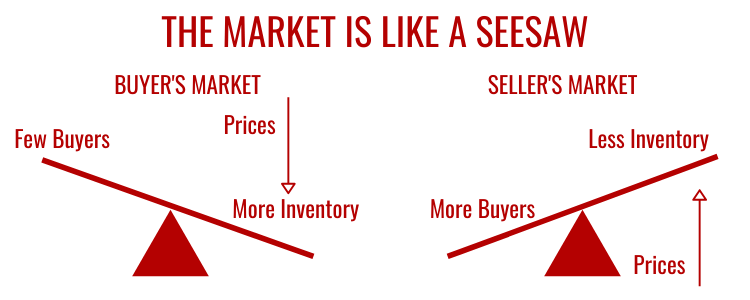 The real estate market measures "inventory" in terms of time on the market by comparing the ratio of active listings to pending sales as of the end of the month. This ratio gives us a turnover calculation, showing how long it will take for the current inventory of homes to sell. Below is the "Months of Inventory" calculation over the last 6 years comparing each January.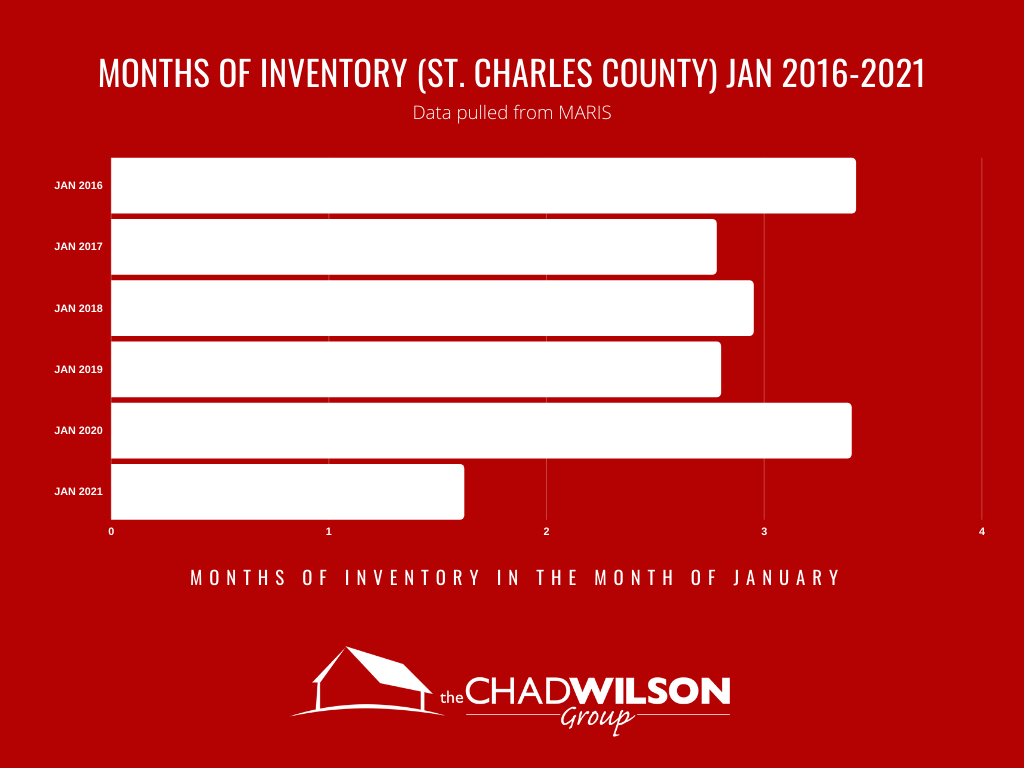 A real estate market is deemed to be a sellers' market when there is less than 5 months of inventory. At 1.62 months of inventory in January 2021, our area home prices are getting pushed up rapidly, as buyers are plenty, and they are bidding up the prices of homes.
Of note, the last 6 months of 2020, we were hovering on average around 1.2.
Honestly, we just can't predict how long this market will last, and if you are at all thinking about selling your home, we don't want you to miss out on this market opportunity.
What is Driving this Sellers' Market?
We explored the top reasons now is a great time to sell your home in our November 2020 blog post, which explained in depth the factors driving our current sellers' market. In summary, they are:
Increased home-buyer demand due to historically lower interest rates helping buyers obtain more home for their money
Increased home-buyer demand because of changing needs/wants in a home from the COVID-19 crisis
Low inventory of homes for sale are pushing the sales prices higher and higher
Why is the Sellers' Market Important?
A sellers' market is simply the BEST time for a seller to sell their home. Home sellers that list their home during a sellers' market will experience less competition against other home sellers, and fewer days on market, which means fewer days to be inconvenienced with showings. And these sellers will pocket more from their sale as they take advantage of the market driving the sales prices of homes higher.
4 Real Examples of Happy 2021 Home Sellers
O'Fallon, MO Two-Story Home Seller
Andrew and Sheila were eager to move closer to family in Minnesota. The many changes that 2020 brought our world gave them a new perspective on their priorities and a realization that they could choose to live anywhere and work remotely. They called Chad to talk about listing their home, and quickly realized this sellers' market provided them opportunities they may never see again.
After meeting with our stagers and doing some relatively easy and inexpensive cosmetic updates to their home, they listed their O'Fallon 2-story on a Thursday in January. By Sunday night, just 4 days later, they had over 60 scheduled showings, over 100 visitors at their open house, and received 9 offers to purchase. They accepted one for $30,000 over their list price, far beyond anything they expected to receive, which made affording their move to Minnesota much easier and more exciting. The buyers waived the inspections, meaning there would be no further money they would need to spend making repairs to their current home. They could instead use all of their sale proceeds, including the additional $30,000 they weren't expecting, on their new home.
Lake St. Louis Starter Home Seller
Stephen and Megan's Lake St Louis home was a perfect fit for them when they were newly married. Add in a baby and all of the toys and accessories that come along with her care, and suddenly your spacious home starts to feel a little cramped. Since this was their first time to sell a home, they called Joe Fruscella, a listing agent with The Chad Wilson Group, to help them navigate the process in the right way.
After meeting with our stagers and making their home show-ready, they listed their home at the end of January. The weekend brought over 40 scheduled showings and an incredibly busy open house, which led to 6 offers to purchase, all above their asking price. They accepted one for $25,000 over asking with no inspections and no appraisal, meaning they can rest easy as they plan for the move to their new, bigger home! That additional $25,000 will go a long way to paying off debt, investing in future education, or adding upgrades to their new home they might have had to put off for a while.
St. Peters Move-Up Home Sellers
Johnny and Lyndsey were not necessarily looking to buy or sell when they happened to find their perfect next home with a pool. Our buyer specialist successfully navigated a multiple-offer situation to help secure them their dream home. Knowing that we are in an incredible sellers' market, they were not worried about selling their St. Peters home. Their listing agent, Sharon Cooper, helped them carefully consider the specific details in the 20 offers they received on their home, which led them to accept an offer that was $19,000 over asking price. And they picked their closing date so that it perfectly aligned with the move on their new home, relieving the stress of moving.
Matchmaking Pre-Approved Buyers to St. Charles Villa Sellers
Our team's buyer agents are having to think outside the box and push their negotiation skills to the limit to secure contracts for their buyers. One of our Buyer Specialists recently hosted an open house where she met a couple that owned a St. Charles villa that was not yet on the market. In talking with them, she found that they would love to avoid the hassle of getting the home ready for marketing and entertaining showings. Our agent jumped into action matchmaking one of her villa buyers with this seller, resulting in a win-win situation for all parties.
Obstacles to the Opportunity of the Sellers' Market
So with inventory being so low and the rewards to the seller being so great, why aren't more people jumping in to sell their home? We took a deep dive into the reasons why potential home sellers had reluctance, and also how to prevail over those roadblocks in our recent blog, "How to Overcome Obstacles of Selling a Home in a Sellers' Market".
Conclusion
But like all good things, there will be an expiration date to this sellers' market. If you have any interest in moving, right now may be the very best time to do it!
To find out what your home is worth, register on our website here for a market evaluation: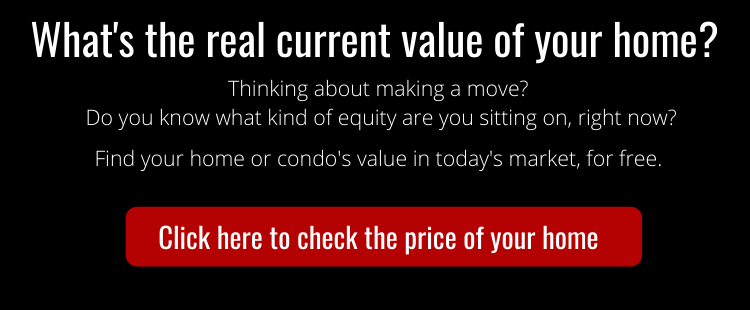 Contact us!
Or if you are ready to speak to one of our Listing Agents, register here for an appointment.