Why Staging and Photography Are So Important in Your Home Sale
Posted by Beth Carr on Friday, January 15, 2021 at 12:32 PM
By Beth Carr / January 15, 2021
Comment

When it comes to selling your home, making the best first impression is critical. The home's presentation both in person and in photographs, along with a strategically set price, will drive what happens after it goes live on the market. By combining professional staging and photography, you ensure that buyers will see your home in its very best light, and help illustrate some of its best features. That is why we believe that professional home staging and photography are the foundation for an effective marketing plan. So much so, that we pay to include both in every single listing we represent. Let's take a deeper look into why these things matter so much.
What is home staging?
First, we'd like you to have a true understanding of what professional home staging is. It is more than just cleaning up and decluttering a home, both of which are absolutely necessary when preparing to sell. Homeowners should always take time to thoroughly prepare every aspect of the home for the eyes of potential buyers (see our Home Seller To-Do Checklist). Professional staging takes this a step further. It is all about highlighting the home's best features and giving it a more universal appeal. Home staging is an important marketing tactic that can take even the smallest, dreariest home and make it feel bright, energetic, and open. It is a proven technique that uses the visual presentation of a space to draw a potential buyer's focus to the best features of a property.
How do professional stagers work?
Stagers will help you to decide what items you should keep out or put away to maximize the visual appeal of the spaces in your home. They will work with your furniture, paint, and decor to highlight the best features of your home. The best part is, small, affordable adjustments can often have a very big impact. Professional stagers have years of experience transforming spaces with some fairly simple and affordable steps.
Why is professional staging so important?
Staging and photography can make all the difference. Heather Weber, Listing Manager with The Chad Wilson Group, shared, "We listed a home without any staging, and after two months on the market with very little activity, the sellers agreed to our suggestion that they take it off the market for about three weeks and make some interior changes. They met with the stagers, painted one room, decluttered all over the home, and added some more neutral soft furnishings (shower curtain, bed linens, etc). The home went under contract the first weekend after we relaunched it for nearly the full asking price. Just those small changes allowed buyers to see how much they were getting for the price when they couldn't see it before."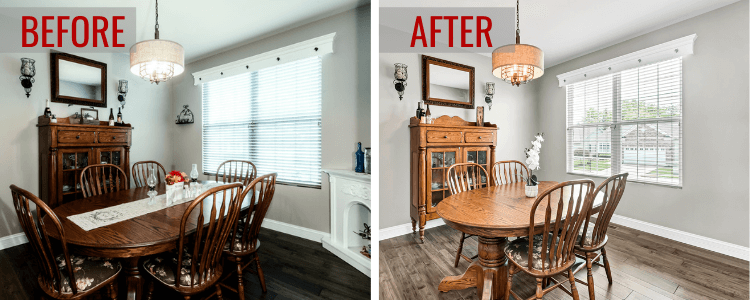 Staging makes rooms look bigger
Home staging is an art, and it has to do a lot with space. Stagers will work with you to get rid of clutter and help you arrange your furniture in a way that maximizes the space you are working with. When you first moved into your current home, and you walked into the empty rooms, it probably seemed a lot bigger before you started filling it with your furniture. The more you put into a space, the smaller and more cramped it seems. By simply cutting down on the amount of things you put into a space, along with some strategic placement of items to keep a good flow, you can make even the smallest rooms appear open and airy. If your house feels cramped or crowded, you will quickly turn buyers off to the idea of living there.
Staging helps buyers visualize room use
Decorating and maintaining a home is innately personal, as individuals have different styles and tastes that are reflected in the home that they are most comfortable in. When you are selling your home, it is not yourself, but the buyers who you must appeal to. By removing personal decor, reducing clutter, and using neutral tones, your house becomes a home to all potential buyers. Since not everyone has the same tastes, something as simple as a wall color can easily turn off potential buyers to the idea of your home. By effectively staging the various rooms of the home, your buyers are much more likely to make an emotional connection with what they see. They are able to imagine their own family in this space. Seeing a nicely staged home can also give them ideas for what it might look and feel like when they move in. The more buyers can connect with a home on an emotional level, the more likely they are to put in an offer. You want buyers to walk into your home and think, "I could live here". Professional staging is one of the absolute best ways to accomplish this.
Staging defines the purpose of a room
When buyers walk through your home, they should never have to guess the purpose of a room. While many of us live in a home with rooms that may serve multiple purposes (I personally have a space that serves as both a living room and an exercise room), when you go to sell, you should give each space a defined, single purpose. While you may think the purpose of a room is obvious, some people have a harder time visualizing the use of a space. If I were selling my home, I would not want buyers leaving with a question as to whether it has two living rooms or a living room and a workout space. Stagers will use your items to define a clear use for every space in the home.
Staging highlights the home's best features and distracts from its flaws
Maybe your home has amazing built-in shelving, but it's covered in DVDs and games. Or it has a beautiful trey ceiling and crown molding, but there is a huge four poster bed in the room distracting the buyer's eye. These are the features that make your home unique, and you want to make sure those who walk through the home don't miss them. Stagers will work with you to make sure nothing in a space takes away from the beautiful and unique features that buyers will go after.
Additionally, you have to remember that homes are lived in. While you may have addressed many small repairs as you prepared the home, it is never going to be completely perfect. Some homes also have downsides like size, or proximity to busy streets that can't be changed. A well-staged home will present itself in such a way that buyers can forget about, or maybe not even notice, some of the flaws because they are so blown away by the beauty of the home.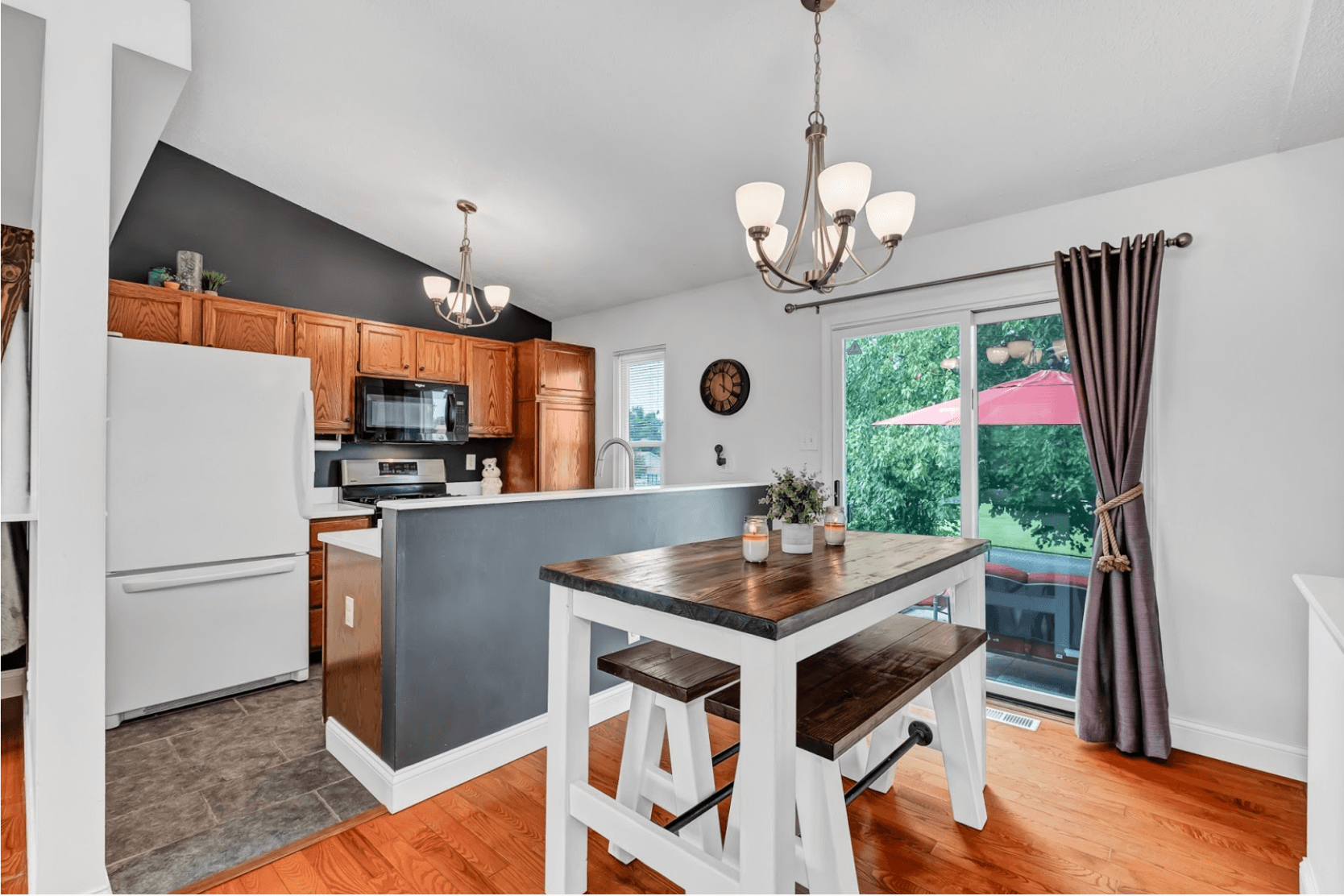 Take the home in the photo above for example. The kitchen was so small, you had to lift the fridge over the counter to remove it! The sellers knew they had little space to work with, so they were very strategic about making sure everything was pristine and the furnishings were minimal. They made sure to let in a lot of light without heavy draperies. The buyers were so impressed with the condition and emotionally connected with the home, the potential negatives, like no entrance from the garage into the house and that the home backed to commercial property, didn't seem to matter to them. The Chad Wilson Group sold this home in 2019 the first weekend on the market with multiple offers at $12,500 over asking!
Take it to the next level with professional photography
The National Association of REALTORS® (NAR) 2020 Home Buyers and Sellers Generational Trends Report shares that 93% of all buyers went online to search for their home. With the rise of online shopping, browsing the internet for houses is no exception. Home sellers must maintain a strong online presence to stand out from the crowd. Staging will play a big role in this, but what will catch the eye more than anything in an online listing is great photos. Professional real estate photographers know what it takes to capture the home's beauty through the lens of their camera. Combined with post production editing, and in some cases, video, a professionally photographed home listing is guaranteed to stand out from the crowd.
The Chad Wilson Group has seen the power of professional photography on many occasions. Not long ago, our team inherited a listing that had been sitting for a month on the market with no staging or professional photography. Our team updated the listing with new photos from our professional photographer, and it was under contract almost immediately, and at full asking price. All we changed was the listing photos!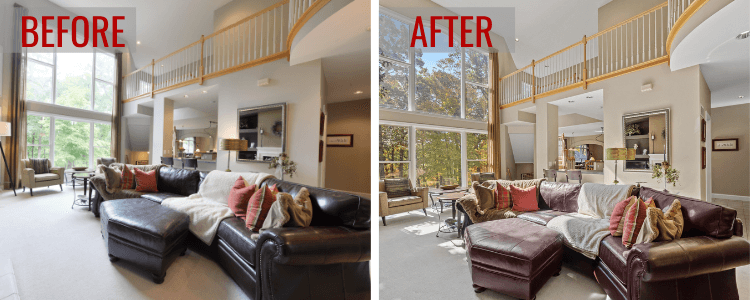 In the photos above, no additional staging was completed at all. Nothing was changed except the photography. Isn't it incredible what a difference something so simple can make?
So if you want to net the most amount of money within the least amount of time, then staging and professional photography are the key. The Chad Wilson Group implements a top-of-the-line marketing strategy, including professional staging and photography, with every home we sell, and we absorb those costs, which sets us apart from many other REALTORS®. You will see the difference when you work with our team. We would love to talk to you about how we can help you with your home sale.