Pricing Your St. Louis Metro Area Home
Learn how and why our data-driven pricing strategies are a key component to our strategic marketing plan to help get your home sold faster and for the most money possible.
The simple fact is, price is the number one factor that most homebuyers use to determine which homes they want to view. Pricing your home properly from the start sets the course for how long it will take to sell and how much you will ultimately receive for your home.
Pricing is a delicate balancing act that, when done properly, positions your home perfectly in the marketplace with maximum exposure to the right buyer pool for the highest possible price.
Hope is not a pricing strategy. What you "need to sell for" is not a pricing strategy. Avoid allowing emotions and enthusiasm to impact your better judgment and the expert advice you seek when pricing your home.
The first days of a new listing are the property's best shot at attracting the highest offer. Don't waste this opportunity. Price it properly to tap into the correct buyer pool. Pushing the asking price beyond what the market can bear statistically results in disappointing price reductions later, while the days on the market accumulate. For most homes, every day that the home sits on the market makes it less valuable in the mind of buyers.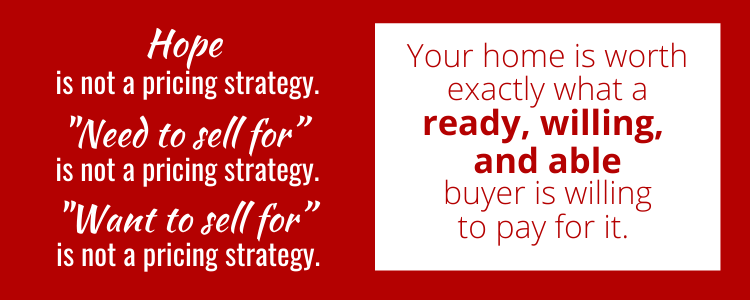 SO HOW DO YOU KNOW THE CORRECT PRICE FOR YOUR HOME?
Our listing agents have years of experience and training in pricing strategies. Our data-driven pricing strategy involves careful evaluation and objective research of the current market, comparable properties, and your home's condition to arrive at the optimal price.
What really matters is how your home stacks up against the others currently offered for sale and recently sold in your neighborhood. Buyers will be comparing.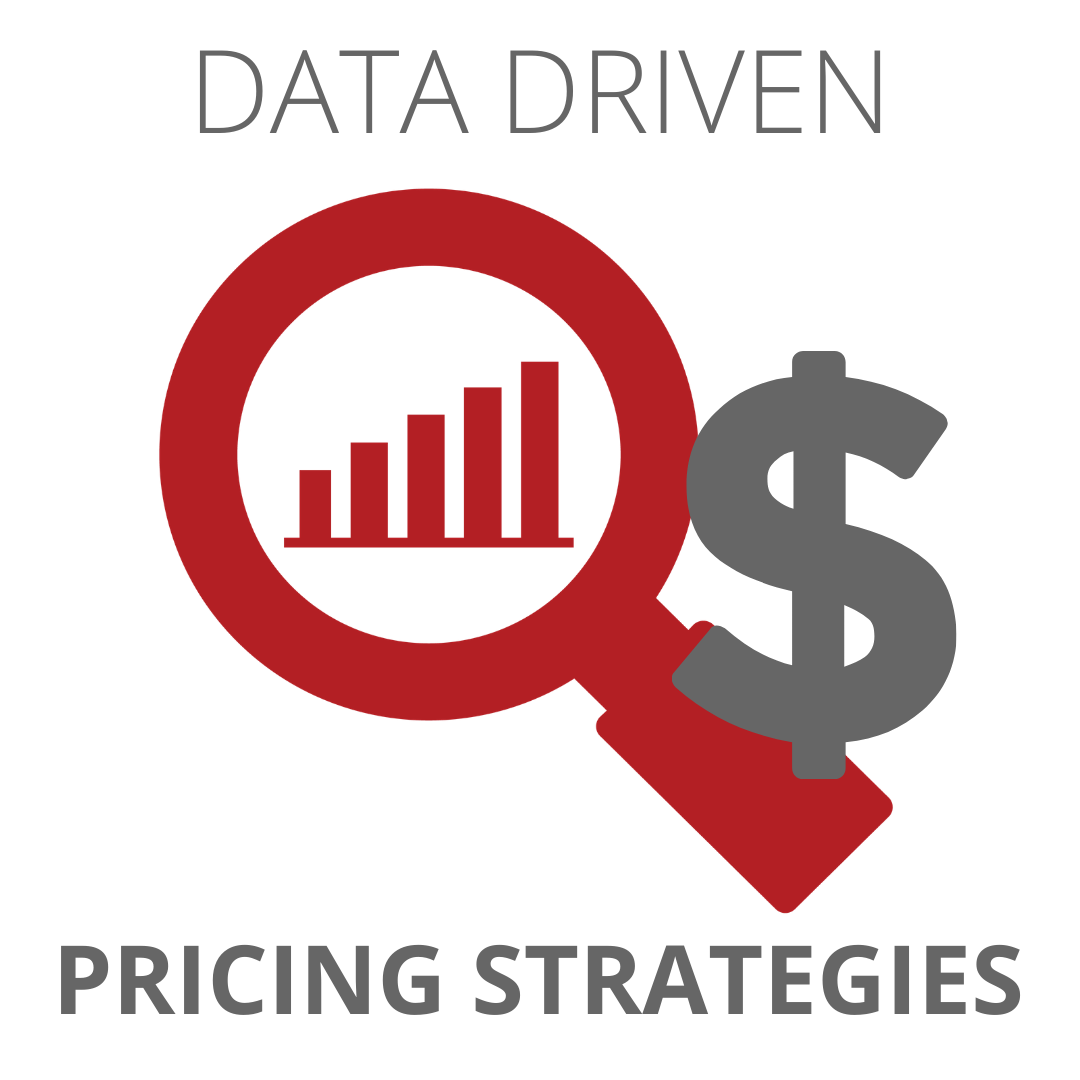 Ask our listing agents what their list-price-to-sales-price ratio is. It is something we track diligently and is a source of pride for our agents. Their goal is to always be as close to 100% as possible, which means they are providing sound advice and service to our sellers.
Rely on our professional listing agents to recommend a price after careful and concrete evaluation. They will show you the research they used to come to their pricing decision so you can feel confident about your sale.
WHAT ARE THE DANGERS OF OVERPRICING?
Buyers who have seen most available homes in their price range are waiting for the "right house" to come on the market. That's why, if a house is priced right, it will sell quickly. The buyers are waiting for it.
Starting with a high price and assuming you can reduce later is very risky. By the time you decide to lower the price, it may be too late, as interest will have already waned.
In today's market, buyers will generally not make an offer if what they see as a fair price is significantly lower than your asking price. Sellers are sometimes under the misconception that selling a house is like negotiating to buy a car. The "sticker price" is just a starting point and after negotiating, the final price is achieved. That is not the case with home sales. If a buyer feels the home is priced too high, they will often walk away rather than make an offer they feel is appropriate. That's a missed opportunity that often can't be retrieved.
Overpricing can cause your home to sit on the market for a longer period of time, causing buyers to fear something is wrong with the property.
Even if it is possible to secure a contract at a higher price for your home, you can encounter appraisal problems as the buyer secures their financing, which can complicate sales and may result in no sale at all.

WHY HIRE THE CHAD WILSON GROUP TO SELL YOUR HOME?
We will help you price your home using comprehensive, data-driven analysis. Anyone can LIST a home...we price and market a home to SELL IT.
What's the real current value of your home?
Thinking about selling? Find your home or condo's value in today's market, for free.
LET'S TALK
What real estate questions do you have? Or are you ready to talk about how we can help you sell your home? Let us know how we can help you. Fill out the "Request a Call" form below to start a no-pressure conversation with us. We look forward to talking to you.
What our clients are saying...
Huge shout out to The Chad Wilson Group at Keller Williams Realty West Partners for selling our home FAST & for a significantly higher price than we listed it for. Their marketing is outstanding and the whole team is the most exceptional we have ever worked with. We had 15 showings in the first 24 hour period. 5 of those made offers. Now it's time to get serious about buying something! We've been praying for months that God would confirm that selling this house was his will for us. He answered that and we are trusting his provision for the next step!
The Meyers, Wentzville Sellers
Chad and his team are the best real estate professionals I have ever had the pleasure of doing business with. They take a holistic approach to selling your home and are with you every step of the way. Their novel, proactive approach to marketing, listing your home, and presenting it to perspective buyers will ensure the fast, easy sale of your property. Chad is also an expert when it comes to negotiation and will be upfront and honest with you regarding expectations. I would highly recommend him and his team to anyone I know on the buying or selling side. They sold our home in two days and were able to help us secure an incredible deal on our new home. If you're in the market for a real estate team, look no further.
The Majors, O'Fallon Sellers and Wentzville Buyers
The Chad Wilson Group was fantastic! Extremely organized and the constant communication was what we needed. Everyone who works for the group was sincere and went out of their way to make sure we had the best experience. Chad knew exactly where to price our house & we ended up getting more for our house. We have worked with two other realtor groups in the past and The Chad Wilson Group is by far the BEST! If you are buying or selling a home I highly recommend this AMAZING group of people.
The Schultes, Wentzville Buyers and Sellers